Amou Haji manusia yang betah tanpa mandi (Amou Haji humans who feel at home without bathing).!!!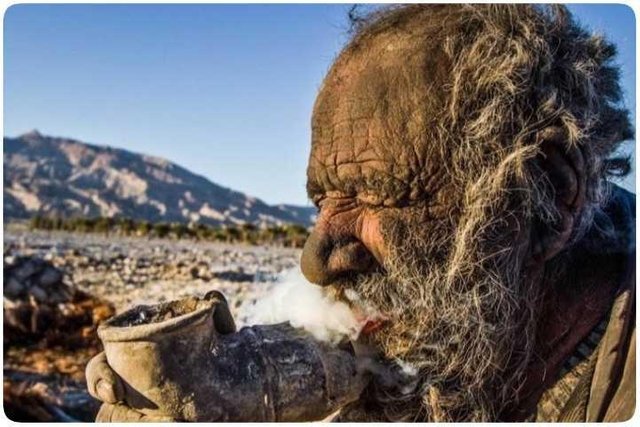 Hallo sahabat stemian, berjumpa kembali dipostingan menarik dan menggelitik dimana lagi kalau bukan di @akunplagiat, kali ini admin sudah merangkum tentang kehidupan seseorang yang bukan terkenal karena kisah yang heroik,bukan pula terkenal dengan tingkah lucunya, namun dia terkenal dengan hidup tanpa mandi selama 64 tahun.
Hallo stemian friend, re-met with interesting and intriguing where else if not in @akunplagiat, this time admin already summarize about the life of someone who is not famous for heroic story, not well known for his funny behavior, but he is famous for living without bathing for 64 year.
Amou haji, seorang yang tinggal di Desa Dejgah, Selatan Iran memiliki tubuh yang bagaikan patung tanah liat, bagaimana dia bisa memperoleh tubuh yang begitu berseni itu 🤔? Jawabannya Amou haji sudah tidak mandi selama 64 tahun, entah apa tujuannya sampai tidak mandi begitu lama, menurut admin dia sudah termotivasi dengan iklan Indonesia yang mengatakan "berani kotor itu sehat" 😂!
Amou Haji, a man who lives in Dejgah Village, Southern Iran has a clay-like body, how can he get such a beautiful body 🤔? The answer Amou Haj has not bathed for 64 years, whatever the purpose until not bathing for so long, according to the admin he was motivated by the Indonesian ad saying "bold dirty is healthy" 😂!
Bukan hanya itu Amou haji juga meminum minuman dari kaleng yang sudah berkarat, bahkan biasa memakan daging landak yang sudah tidak segar walaupun demikian Amou haji tetap sehat, admin jadi berfikir apakah iklan Indonesia mengambil kutipan dari Amou haji "berani kotor itu sehat"🤔.
Not only that Amou pilgrims also drink drinks from cans that have rusted, even used to eat meat hedgehog that is not fresh even though Amou haj remained healthy, admins are thinking whether Indonesian ads take quotes from Amou haji "bold dirty is healthy" 🤔.
Amou haji bahagia dengan kehidupannya walaupun tidak mandi tidak ada keluarga dia tetap hidup, bagaimana dengan anda yang hanya kehilangan cinta monyet saja sudah seperti mati, atau karena tidak kaya saja anda sudah tidak bernyawa, saya rasa ada hal baik yang bisa kita ambil dari kisah kehidupan Amou haji yaitu "berani kotor itu sehat" 😑.
Amou Haji is happy with his life even if he does not shower no family he's alive, what about you who just lost the love of monkeys just like dead, or because not rich you just do not live, I think there is a good thing we can take from life story Amou haji is "bold dirty is healthy" 😑.
---
Sekian postingan sederhana saya, semoga memotivasi sahabat stemian, sekecil apapun harta yang anda miliki, anda punya ruang yang besar untuk menciptakan kebahagiaan versi anda sendiri, salam hangat
@akunplagiat
, sampai jumpa dipostingan menarik lainnya, terimakasih 🤡.
---
So my simple post, hopefully motivate your stemian friend, no matter how small a treasure you have, you have big room to create your own version happiness, warm greetings
@akunplagiat
, see you posted another interesting, thank you 🤡.
---