Akhir dari cerita piala dunia 2018 (End of World Cup 2018 story).!!!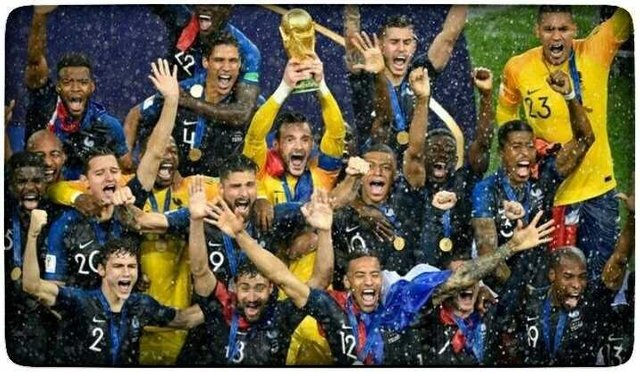 Hallo sahabat steemian berjumpa kembali di postingan @akunplagiat, apa kabar anda hari ini semoga dalam keadaan sehat dan bahagia, pada postingan kali ini admin sudah merangkum postingan yang bertemakan "akhir dari cerita piala dunia 2018".
Hallo steemian friend met again in post @akunplagiat, how are you today today hopefully in good health and happy, in this post admin already summarizes the post with the theme "the end of the world cup story 2018".
Semua pasti sudah mengetahui siapa yang menjadi juaranya, tentu prancis yang pada final membuat penantang baru Kroasia kalah dengan skor 4-2, namun dibalik itu semua ada beberapa gambar unik yang menggambarkan kondisi dan akhir cerita piala dunia.
All must have known who the champion, of course the French in the final to make the new challengers Croatia lost with the score 4-2, but behind it all there are some unique images that describe the condition and the end of the world cup.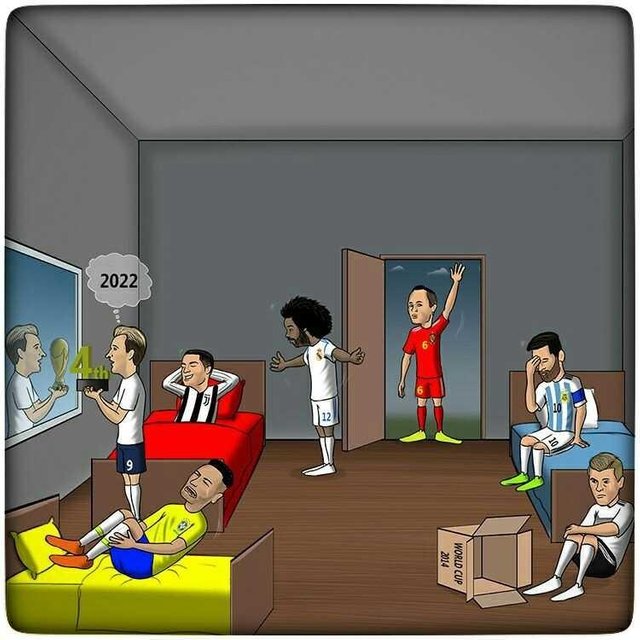 Gambar ini adalah gambar para kontenstan favorit juara yang pulang lebih dulu dipiala kali ini, gambar cristian Ronaldo dan marcelo menjadi perhatian, seakan mercelo mengatakan "kenapa tidak ajak saya" atau "kenapa anda pergi" itu masih menjadi misteri sampai saga transfer pemain berakhir, Messi yang terlihat frustasi dan neymar dengan akting guling-guling menambah menarik cerita piala dunia kali ini, tidak lupa pula hary kane yang berharap 2022 menjadi juara, sedangkan kroos terpuruk, hingga Iniesta yang berpamitan.
This picture is the favorite content of favorite champions who come home this time trophy, Ronaldo and marcelo's images are of concern, as if mercelo says "why not invite me" or "why do you go" it remains a mystery until the transfer saga of the player ends, Messi who looks frustrated and neymar with acting guling-guling add interesting story of this world cup, do not forget also hary kane who hopes 2022 become champion, while kroos slumped, until Iniesta the farewell.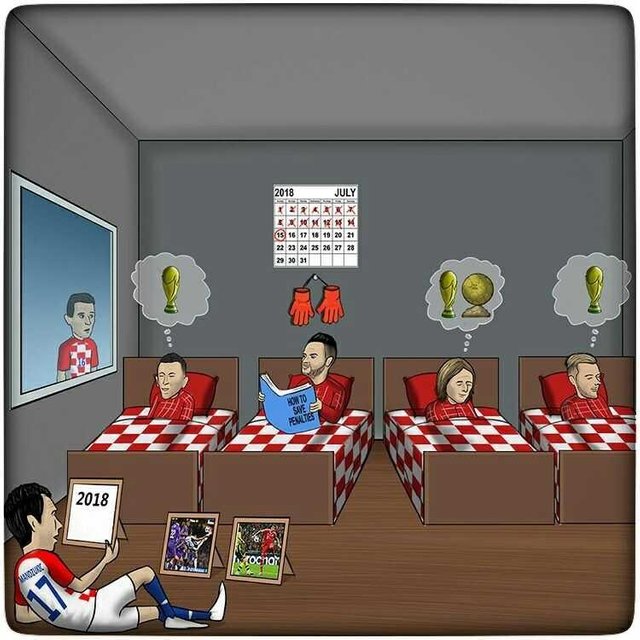 Gambar ini menceritakan tim Kroasia yang dengan mimpi indah mereka mampu menjuarai piala dunia untuk pertama kali dan mengukir sejarah, tidak lupa pula kiper andalan mereka Subasic yang bermimpi meraih penghargaan kiper terbaik namun semua hanyalah mimpi ketika prancis membangunkan mereka dari mimpi indah, setidaknya salah satu mimpi dari pemain Kroasia terwujud yaitu modric yang meraih penghargaan pemain terbaik mengalahkan griezman.
This picture tells the Croatian team with their beautiful dream of being able to win the world cup for the first time and carve out history, not to mention their flagship goalkeeper Subasic who dreams of winning the best goalkeeper award but it is all a dream when the French wake them from a beautiful dream, at least one of the dreams of the Croatian players materialized the modric who won the best player award beat the griezman.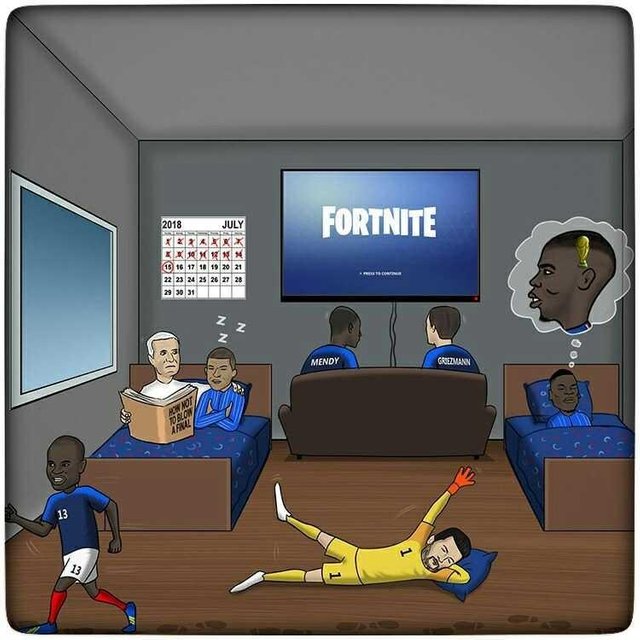 Yang terakhir tentu gambar yang menceritakan skuad prancis yang santai menjelang final, dan mimpi dari pogba dan kawan-kawan terwujud dan menjadi juara Piala Dunia 2018, ini akan menambah bintang di baju mereka menjadi 2 Bintang, berakhir pula kisah di piala dunia 2018 Rusia kali ini, sampai jumpa di piala dunia 2022.
The latter is certainly a picture that tells a casual French squad ahead of the finals, and dreams of pogba and friends materialize and win the 2018 World Cup, this will add a star in their shirt to 2 Stars, ending the story in the 2018 World Cup this year Russia , see you in the world cup 2022.