selamat hari raya idul fitri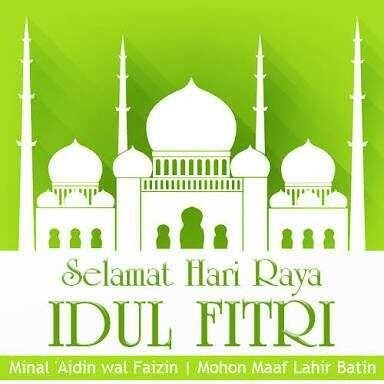 sumber
Selamat pagi para stemian yang sangat saya cintai...
Dipagi yang cerah ini saya ingin berbagi cerita.hari ini hari raya yang ke 2 bagi umat muslim dimana pada pagi ini saya akan melakukan kegiatan berjiarah kemakam ibu.ada juga umat muslim yang lain yang bermakam di hari raya pertama.tetapi saya mengambil hari raya ke 2.
Good morning the stemians I love very much ...
In this bright morning I want to share the story. Today is the 2nd holiday for the Muslims where in this morning I will do the pilgrimage activity of the mother's mother. There are also other Muslims who are buried in the first feast. But I take the feast day to 2.
Sesampai di makam saya melakukan doa bersama keluarga saya dan tidak lupa membersihkan makam dari rumput liar yang merambat hampir menitupi makam.setelah selasai saya dan bersama keluarga beranjak menuju rumah family yang belum sempat kami datang kemarin.dikarnakan kemarin hari jumat dan waktu yang singkat.
Arriving at the cemetery I pray with my family and do not forget to clean the tomb of weeds that propagate almost mimicked makam.setelah my selasai and family moved to the family home that had not had time we came yesterday.dikarnakan yesterday Friday and a short time.
Seperti biasa kami saling bermaaf maafan dari rumah ke rumah sanak saudara.ditambah lagi dengan anak-anak menambah suasana begitu ramai.
Walau demikian tanpa mereka juga pasti terasa teramat sunyi.
As always we apologize to each other from house to house relatives. Plus more with children add atmosphere so crowded.
However without them also must be very quiet.
Setelah selasai semua rumah yang kami datangi kami beranjak pulang, dan istirahat sejenak karena setelah itu kami akan pergi jalan mengunakan mobil untuk menyenangi hati anak-anak. Seperti biasa mereka meminta kepadaku agar membawa ke mall suzuya lhokseumawe untuk bermain timezone dan belanja barang mainan.
After we got home all the house we went home, and rest for a moment because after that we will go the way using the car to like the hearts of children. As usual they asked me to bring to the suzuya mall lhokseumawe to play timezone and shopping for toys.
Setelah selesai belanja barang,mereka meminta padaku untuk pergi ke jomblang lhokseumawe.. Jomblang lhokseumawe adalah salah satu ikon kota lhokseumawe yang terlama dan dikenal untuk wilayah kota dan aceh utara.disana mereka meminta kepadaku untuk mandi mamakai pelampung tetapi aku tidak memberinya dikarnakan ombak besar air laut sedang pasang.
After finishing shopping, they asked me to go to Jomblang lhokseumawe .. Jomblang lhokseumawe is one of the oldest icons of lhokseumawe city and is known for the area of the city and north aceh.disana they asked me to bathe mamakai buoys but I did not give him due to big waves of water sea is tide.
Saya memilih untuk pulang karena salah seorang anak saya menangis minta agar diberikan untuk mandi laut.saya bergegas untuk pulang dan membawa ke tempat lain yaitu si lapangan hiraq.. Disana juga banyak terdapat mainan yang aman bagi anak-anak.ternyata mereka menerima main disana.
I chose to go home because one of my children cried asking to be given to take a sea bath. I rushed to go home and bring to another place that is the field hiraq .. There are also many toys that are safe for the children. In fact they accept to play there.
Setelah selesai bermain kami beranjak pulang untuk mandi di sore hari...
Selama lebaran saya banyak menghabiskan waktu bersama anak-anak
After we finished playing we went home to bathe in the afternoon ...
During Lebaran I spent a lot of time with the children