My favourite battle for 17/02/2020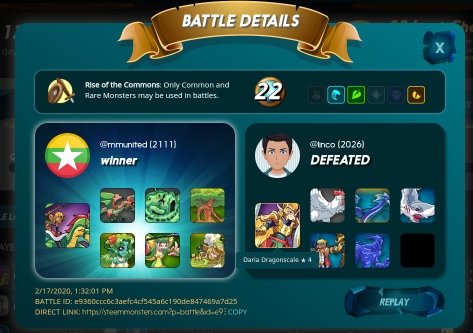 https://steemmonsters.com?p=battle&id=e9360ccc6c3aefc4cf545a6c190de847469a7d25&ref=mmunited
| Rule 1: | Rise of the common |
| --- | --- |
| Rule 2: | Nil |
This is very unbalance battle because he has Daria dragonscale lvl 6 and sea monster lvl 6 but sabre shark and water elemental are lvl 3. Pirate archer is lvl 4.
I have maxed lvl monsters for my summoner. This is the different. I can not chose fire spitter because of the rule.
I tried to stop his healing units with Goblin chef. It works. His sea monster can not survive as expected and the battle is over very quickly. Thanks.