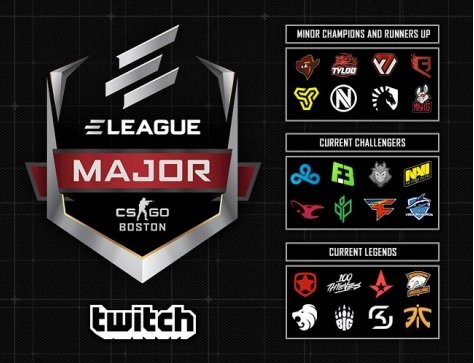 Hello CS:GO fans!
After round 2 matches ELEAGUE has revealed the match-ups for the third day of the Boston Major Main Qualifier. Below you can find the draw in full: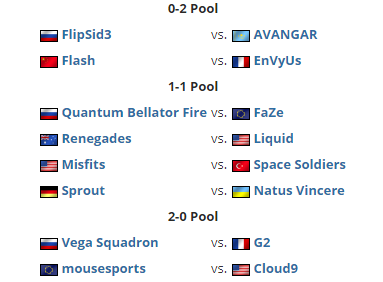 With that occasion I want to share with you my predictions on day 3 matchups with analysis. Check it out!
Let's start with first match of the day!
Quantum Bellator Fire 6 vs. 16 [W] FaZe
Tbh it's propably the easiest pick today. I'm sorry to say that to QBFire fans but after yesterday FaZe's setback against Vega Squadron there is no other winner. FaZe's main goal on major isn't even to qualify for a main event, but AT LEAST to secure top4 place. So I will choose FaZe over QBForce.
Flash 13 vs. 16 [W] EnVyUs
For one of those teams it's a last match in Atlanta. EnVy is underperforming in USA and Flash are a stand-ins for TyLoo absence because of BnTeT US visa problems. The Chineese teams are always unpredictible but I belive that their less time for a preparation for major qual will take an advantage and EnVy will close it for their side (they are also playing with Karsa who is not linked with Flash anymore). EnVy show me your potential finally (xms will show us today that he's not onliner anymore).
[W] Misfits 13 vs. 16 Space Soldiers
A structured US team lead by [email protected] vs raw aim Space Soldiers with two stars: CalyX and XANTARES. Imho [email protected]'s Misfits are able to make it to main event and today they will show us the proof of that. They've had some great matchups before. I hope that Sean will come back and take a major spot again. I don't belive in raw aim at this level. Let's go Mistits!
Sprout 3 vs. 16 [W] Natus Vincere
I would be suprised if Na'Vi will lose that. The team which is aiming for at least a Legends status after Atlanta with Zeus - the IGL of previous winners from PGL Cracow Major with Gambit couldn't go with 1-2 record. Even if I'm a git fan of innocent there is no chance to go past Na'Vi in this match.
Vega Squadron 16 vs. 19 [W] G2
Match for a first spot on main event. Teams with 2-0 record on borad. It's hard to predict what VG will show us this time and I hope they will go trough the qualify, but not with a 3-0 record. G2 is the best team out there in quals (sorry C9 fans :D) and there is no option for lose to them. They showed us yesterday how could they outplay teams even on cbble with 14-1 score after CT-half at the most t-sided map after cache. G2 hush hush!
[W] Renegades 14 vs. 16 Liquid
Ehhh. this zews. Liquid is playing 4v5 in this tournament. We couldn't hide this. I'm impressed with Renegades at this event so far so I will choose them over Liquid. It's hard for me cuz I know if steel will be able to play for Liquid it should be an easy road to main event but now it's pretty hard.
[W] FlipSid3 7 vs. 16 AVANGAR
Second match with 0-2 teams on board. Is it an end of back to back major streak for markeloff? I don't think so, at least not today. Avangar is a goot prospective team but major id not for them at least at this moment. They are a little bit unstructured for now and when we compare that with B1ad3 IGL'ing, markeloff and siezed experience and wayLander's + WorldEdit's raw talent I couldn't go with other conclussion than that. F3 don't disappoint me. Fight for that Challenger spot!
[W] mousesports 5 vs. 16 Cloud9
Last match of the day. For me it's most entertaining pair today with a lot of yougnstars there. I will not try to predict this match, everything could happened there, but if I should choose someone I will go with mouz. They showed us a good form in Atlanta and I hope that they will dot the 'i's and cross the 't's today.