Super Blood Blue Moon Lunar Eclipse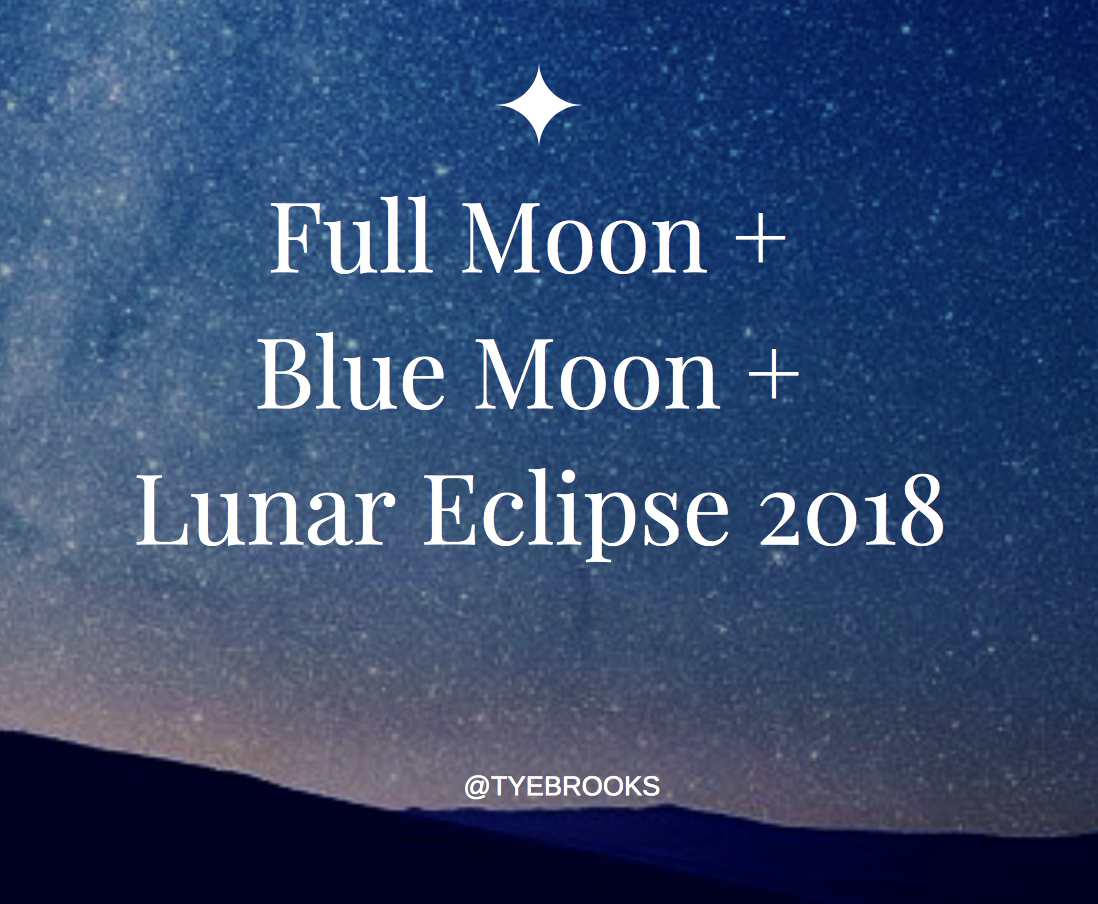 January 31, 2018 will bring forth an astonishing luminary display with the second Full Moon in the month of January and a Lunar Ecplise. Thisis an extraordianry event that has not happened in about 150 years! This is a once in a lifetime opportunity to take advantage of to tap into the energies that this moonwill be bestowing upon Earth.
To start let's breakdown what exactly this moon is bringing forth
Super Moon
This type of Full moon is in close proximity to the Earth, and with a Lunar Eclipse happening, the visibility of the moon will be high and full of strong energy.
Blood Moon
This is to describe a series of three or more Total Lunar Eclipses, however this name is give light to the fact that this Total Eclipse with cast a reddish glow on the Moon. These types of moons are very rare, with one more to later in 2018 and another in 2019.
Blue Moon
This the name of a second Full Moon that occurs in a month. We experienced our First Full Moon of the year and month on January 1st; with the second one being on January 31st. This is extremely rare as well, in addition to it being a Lunar Eclipse. Even more interesting, we can expect to see two more Blue Moons this year. 2018 is definetly prepping us for some pwerful energies to boost to our daily living this year!
So what does this moon mean to you in your present day?
This moon and eclipse is directly connected to the past cycles of eclipses and Super Moons from 2017. Reflect back to what was stirring up for you during the Total Solar Eclipse; reflect on events and lessons you learned and experienced. This moon is stirring us to pay attention to what is flowing in our lives on an emotional and spiritual level. Eclipses represent a turning point in our lives and can present closure and resolution to our lives.
In addition, this particular moon will be activating an incredible and rare 11-11-11 energy portal marking as a time to reset, release, heal, and celebrate the abundance that is to flow and is flowing in your life. Just as the moon governs over water as it tugs the tides, this moon's energy will be tugging at our inner emotional state calling for us to release negative emotions, fears, or energies that is not serving our highest potential. This moon is calling for us to step out like a Mighty Lion so that we make room for growth and new opportunities flowing our way.
The message behind this Super Blue Blood Moon is loud and clear. You have the inner power and strength to face all that has resurfaced in your life. While you will experience an increase in sensitivity and may feel an array of heated emotions from old wounds from the past, remember you are tuning into your power to take a postive change in your life as they resurface.
The Universe is full of love and grace for us; however, when we intimately take the time to undersatsnd our selves and learn to tap into the abundant power of the Universe, we can manifest all that our heart desires in 2018 and beyond!
To learn more about Moon Cycles, Join us in February for Live online workshop. Register here
We look forward to sharing sacred space with you!
Join Our Discord Server! The Afro Magic Sacred Soul Network is Here! Click Here


Join the Girl Powa Team