Devouring Jane - an erotic story (NSFW)
This is an excerpt from my erotic WIP novel. It has definitely NSFW language, so proceed with caution.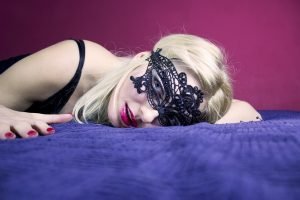 Jane looked around the room. The room was lit by candlelight and it was darker than it had been in the hall. She let her eyes adjust and looked around. She tried to spot Caroline, but couldn't see her. There were a number of people already in the room, none of who paid attention to her. She could see why: they were all engaged in some sort of sexual conduct. Jane didn't know where to look. It felt wrong, somehow, to outright stare at people as they gave themselves over to another person in lust and pleasure. It wasn't too dark to make out what was going on and as Jane tried hard to look anywhere but at the people spread out on the various couches and settees, she noticed others who just sat and watched. She was not the only person who didn't engage and after a while her nerves steadied themselves. Caroline and Rachel had both told her that she didn't need to participate; she had not realised that there were more who felt the same. Some people evidently only came to watch.
This realisation made her feel better and she sank back into the cushions of the couch. It would be fun to watch and maybe she could pick up some pointers. She smiled to herself; leave it to her to make this into an educational session.
Her eyes were drawn to a group of people in the middle of the room. At the centre of the group, reclining on a lounge chair, was a blonde woman. She was completely naked, her legs spread wide so her sex was on full display. She was close enough by that Jane could see she was very wet. Another woman was rubbing her breasts, pinching her nipples. A man was standing by the head of the blonde woman and he thrust his cock in her mouth. Jane's eyes widened as the woman took him completely into her mouth. How was that even possible?
Another man knelt between the blonde woman's legs and rubbed her cunt with his fingers. She wasn't able to speak due to the cock in her mouth, but she uttered a low moan. The man pushed her legs back so her knees hit her chest and he took his cock in his hand. He slowly pushed himself inside her and Jane moved slightly to get a better view. The blonde woman had two cocks in her now: one in her mouth and one in her cunt. She seemed to really enjoy it and the other woman kept fondling her breasts, every now and then reaching over to rub the blonde woman's clitoris.
Jane could feel het wetness gather in her own cunt. It looked delicious to be so used and pleased by so many people. She shifted on the couch in an attempt to relief the throbbing in her cunt, but to no avail.
'She makes a beautiful display, doesn't she?' a voice sounded next to her.
Jane looked up to see another woman stand next to her, looking down on her. She was naked, but didn't show and sign of being self-conscious about this fact. She sat down next to Jane and held out her hand.
'I'm Laura,' she said.
Jane shook her hand. 'I'm Jane.'
'Is this your first time?'
Jane blushed. 'Is it that obvious?'
Laura shook her head. 'No, I have just never seen you here before. It's great, isn't it?'
Jane looked at the blonde woman and her attendees and she gasped when the first man pulled his cock out of the woman's mouth and sprayed a milky white liquid all over her face.
Laura laughed softly next to her. 'You are very new to this, aren't you?'
Jane turned back to her. 'Yes I am,' she admitted. 'It's very arousing though.'
'Yes, it is. Are you just watching, or...?' She left the rest of the sentence hanging in the air.
'Just watching for now,' Jane said.
'Have you ever had someone go down on you?' Laura asked as they watched the other man fuck the blonde woman vigorously. He slammed into her, emitting cries of pleasure.
'No,' Jane replied. She didn't really know what Laura was talking about, but felt sure that she had never experienced it.
'Shame,' Laura said. 'You are missing out.'
Jane felt a wave of annoyance swell inside her. Who did this woman think she was, judging Jane and laughing at her innocence?
She turned to Laura and said, 'Am I? Who don't you show me then, since you know everything so well?'
She realised she had spoken quite loudly when several people in the room looked their way. She wished the ground would open up and swallow her up. She had been foolish. Laura was probably just making conversation, trying to put her at ease, and she had flown off the handle.
'Very well,' Laura replied calmly, much to Jane's astonishment. 'Take off your robe and spread your legs.'
Jane almost yelped with surprise, but she found she was too aroused to say no. She stood up and took off her robe. When she sat back down Laura stood up in front of her.
'Spread your legs,' she said, nudging Jane's knee with her leg.
Jane looked around at some of the faces which were now turned her way. If she did as Laura asked, she would be fully on display. To her shock, she found that rather than repel her, this turned her on even more. She inched forward on the couch and spread her legs. She felt equal parts shame and excitement at being ordered around by Laura in front of all these people. She was happy it was a stranger doing this; she would not have to feel embarrassed about it the next day.
'Look at this beautiful cunt,' Laura said to the room at large. A number of people had stopped what they were doing and were now standing in a semi-circle around Jane and Laura. 'Can you believe it has never had the pleasure of being licked?'
The people around her didn't laugh and Jane felt another rush of excitement. This was a game, one everyone was used to, and they would not laugh at her.
Laura bent over and whispered. 'You asked for this, but you can stop it at any time. All right?'
She looked searchingly in Jane's face and Jane nodded. 'Don't hold back,' she whispered back.
Laura grinned and straightened up. Jane wondered what had made her so bold, so reckless. She didn't know Laura, didn't know what she would do. But she wanted to be teased, yes, humiliated even. She loved hearing Laura talk about her to her audience. She loved having an audience for this.
Laura knelt between Jane's legs and spread them wider. She used her fingers to spread Jane's inner labia and slid her fingers through them. Jane whimpered softly.
'Look at how wet this little slut is,' Laura said, holding up her hand for her audience to see. 'I think I will need to give her a proper fucking.'
'Hell yeah,' someone muttered in the crowd.
'I will need someone to take care of those perky little breasts as well,' she called out. 'Do we have any volunteers?'
To Jane's relief the person who stepped forward was Caroline. She knelt next to Jane on the couch and kissed her on the forehead. 'You all right?' she asked.
Jane grinned. 'Never better.'
Caroline nodded, then reached out and pinched Jane's nipples hard. Jane gasped at the stinging sensation, but the next moment, Caroline's mouth was on her nipple, licking and sucking. The feeling was exquisite and Jane felt her body become weightless with pleasure.
Laura focused her attention back to Jane as well. She bent down and the next moment Jane felt her tongue slide over her hot cunt. Laura curved her tongue to tease the entrance to Jane's cunt and then it hit her clit. Jane moaned and bucked, but Laura held her firmly in place. With half-closed eyes Jane watched the people around her. Some of the men were stroking their cocks and two women had their hands between their legs, rubbing lazily as they watched Jane. Jane felt sexier than she ever had in her life, powerful despite being subjected to Laura and Caroline's ministrations. Her pleasure aroused the people around her and this served as an extra stimulus for her.
Laura's tongue did not let up on Jane's cunt. Jane felt the tension build in her lower body; her legs stiffened as wave after wave of pleasure crashed over her. She moaned and writhed, drifting into her own world of pleasure. Suddenly Laura stopped and Jane's eyes snapped open. She had not reached her orgasm yet, why did Laura stop?
Caroline stopped as well and she looked up. Jane exchanged a glance with her, but Caroline's face did not reveal anything.
'So close to coming,' Laura said, her voice purring. 'So wet and hot and delicious. But I think she needs something inside that greedy cunt of hers. She needs to be filled up.'
Jane struggled to sit up. She did not want a strange man entering her, was this what Laura was asking. Caroline gently pushed her back down onto the couch with a shake of her head. A number of men in the audience moved forward as if to volunteer, but Laura laughed.
'No, boys, this is between us ladies. You have the pleasure of watching. I have enough here to work with.' She reached over and picked something up from the couch, next to Jane. She held it up for her to see and arched her eyebrows. Jane saw with relief that it was a dildo, bigger than the one Caroline had used on her, but nevertheless a reassuring sight. She nodded to Laura and Laura held it up in the air.
'Now this is something I can work with,' she said to the cheers of the bystanders. 'Let's see if this little slut can accommodate Mr Big here.'
Several people crowded forward to get a better look. Caroline returned to licking and rubbing Jane's nipples again and Jane relaxed. Laura rubbed the dildo through Jane's slit, coating it in her own juices.
'Here we go,' Laura called out and positioned the cock at Jane's entrance. She started pushing and Jane gasped. It was significantly bigger than the one Caroline had used and she felt her cunt stretch impossibly. Laura started rubbing Jane's clit and spasms of electricity run through Jane. 'She's very good,' Laura said, 'look how well she stretches. So wet and so hot. Doesn't that feel nice and full, darling?'
'Oh yes,' Jane said, panting.
'Just a little bit more,' Laura said, just as Jane thought she couldn't possibly be filled up more. Laura did not let up her assault on Jane's clit which made all the difference. She could feel her vaginal walls contracting against the huge dildo inside her and she knew she was close to an orgasm.
There were some gasps from the audience as Laura pushed the dildo all the way inside Jane. 'Let's leave that in place for now,' Laura said. 'Her cunt looks stunning, doesn't it?'
Jane looked around. Some of the men were rubbing their cocks hard and she could see the tips of some of them wet with their fluid. One of the women had taken out a dildo of her own and was thrusting it hard into her own cunt, her eyes riveted on Jane's. Jane felt exhilarated in that moment. She was stretched out, on display and the object of lust for all these people and it felt glorious. She had never felt so hot in her life. She pushed against the dildo inside her, eager for Laura to thrust. The clitoral stimulation felt amazing, but she wanted more.
'Fuck me,' she panted at Laura.
'Excuse me?' Laura said. 'What was that?'
Abandoning all decorum, Jane cried out, 'Fuck me with the dildo, Laura.'
There were several gasps around the room and Laura laughed. 'Look at how wanton my little fuck slut has become,' she said. 'Well, I will have to give her what she wants, don't I?'
Jane saw Caroline eye her with concern, but she was past caring. She wanted to be fucked, used, displayed, and she didn't care who did it.
Laura didn't waste time. Seizing the dildo in one hand while still working Jane's clit with the other, she pulled the big dildo almost all the way out before slamming it back into her. Jane cried out in passion, bucking her hips to meet the dildo in the same rhythm. Caroline kissed her nipples, her neck, her face and Jane let herself be carried on the tide of her wantonness, the tension inside her body building to impossible heights until, finally, the dam broke and she came harder than she ever had. She cried out and felt a gush of liquid spill out of her when Laura withdrew the dildo. She heard gasps from around the room and thought she saw one or two of the men ejaculate, but she was too far gone. Caroline cradled her, whispering sweet nothings in her ear while Laura kissed and licked Jane's swollen and abused cunt. Finally Jane came down from her orgasm and the crowd around her dispersed. Laura and Caroline helped her sit up and pulled her kimono around her.
'Are you all right?' Caroline asked.
Jane shook herself, as if coming out of a daze. 'I think so,' she mumbled.
'You were fabulous,' Laura said, kissing Jane's forehead.
'Do you want me to take you upstairs?' Caroline asked.
Jane didn't know what she wanted. She felt amazing, but strangely detached from reality. She wanted to hang on to her high, but she also felt as if all eyes in the room were on her.
'I need some air,' she said.
'I'll take you outside,' Caroline said, taking her arm.
Jane was dimly aware that she should say something to Laura, but words failed her. She nodded vaguely to the woman who had, minutes ago, given her so much pleasure. Laura smiled and brushed her cheek with her hand. Then Caroline steered her to the door.