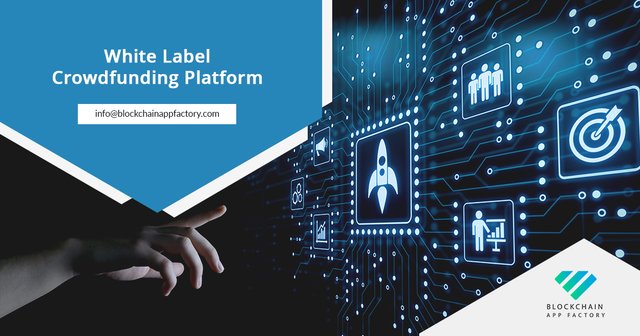 Crowdfunding helps entrepreneurs and businesses collect money from a large number of investors in order to fund a new venture. It makes use of social media or various crowdfunding platforms to connect companies with investors. Crowdfunding helps extend the sources of capital from traditional investors to retail investors all around the globe.
With the advancements in technology, crowdfunding has become more efficient. Now, the industry has progressed so much that companies even accept funds in cryptocurrencies, a blockchain-based currency. We are all familiar with the famous Bitcoins and the huge impact they had when they were introduced. Post Bitcoins, there have been numerous innovations - from alternate cryptocurrencies to ICOs to STOs. Blockchain has enabled entrepreneurs to perform crowdfunding in various ways, the most popular being ICOs and STOs.

ICOs or Initial Coin Offerings are a method of crowdfunding where companies issue their digital tokens in exchange for fiat currency or cryptocurrency. An ICO, in the recent past, was not regulated by any central authority. But now, the SEC of USA, the MFSA of Malta, and a few other countries have started regulating the space. This is great news for the industry. After the introduction of ICOs, the next big thing to hit the market was the STO.

STO, an initialism for Security Token Offering upped the security of crowdfunding by providing digital tokens that were backed by collateral - shares, tangible assets, and more. Unlike ICOs, an STO is regulated by the Securities and Exchange Commission as it is categorized as a security. An entrepreneur or startup needs to go through certain regulatory processes in order to launch their STO. The risk of scamming and fraud is greatly reduced with STOs.

Initial Exchange Offering
The latest trend in the market, IEOs or Initial Exchange Offerings provide some relief to startups. With an IEO, an exchange takes up the responsibility of issuing the digital tokens and marketing them to  their already existing user base. Startups can tie up with renowned exchanges thereby, having better opportunities to raise funds. The exchange provides an extra layer of protection for investors as they screen all the startups that approach them before listing the tokens. The burden of performing KYC/AML is also taken up by the exchange thus providing issuers with peace of mind.

With all these options to choose from, it has become considerably easier for an entrepreneur or startup to raise capital. Now, if you've got a great idea that you can commercialize, go ahead and issue some tokens, raise funds and earn revenue in no time. If you need assistance, then I suggest that you seek a reputed blockchain-based company's development services. There are many that can build you a Cryptocurrency Crowdfunding Platform. Blockchain App Factory is a top recommendation. Visit them to gather information about their White Label Crowdfunding Platform development services and experience hurdle-free business!