The gift of Equanimity: Good things and bad, life and death, poverty and wealth, come from the Lord
Equanimity is one of the aspects of the fear of God. Equanimity is emotional stability in the face of positive as well as negative things. The Bible dedicates a teaching to this important spiritual gift: "Good things and bad, life and death, poverty and wealth, come from the Lord", Sirach 11:14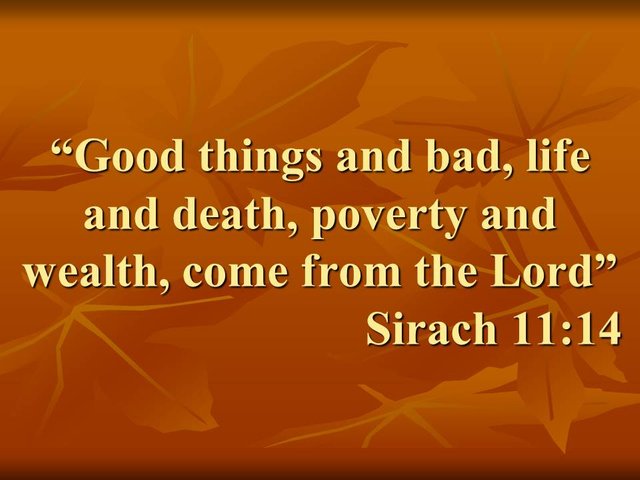 God's providence tests us for both good and bad, and the clearest example of this in the Old Testament is Job. In God's creation there is an order constituted by natural laws, but we must accept that with the good, the bad can also come.
The book of Job is an extremely particular book and has a different message from the other books, what the book of Job is telling us is that good and wisdom are not a guarantee of anything, everything is submitted to providence: "He causes his sun to rise on the evil and the good, and sends rain on the righteous and the unrighteous.", Matthew 5:45.
Without equanimity we cannot offer devotion to God, Job explains to us that if God brings us evil, we must not lower our arms, and accept difficulties without hatred. And in this consists the true value of hope, facing the bad waiting for the good with meekness.
The common people think that if one is good, bad things do not have to happen and that is a mistake. Equanimity is that balance, that harmony necessary to accept difficulties without getting discouraged or depressed and on the other hand, not getting overexcited when things are going well. Many people when things go wrong start to cry, a person with equanimity never does that, the equanimous person suffers with perseverance, like when Jesus carries his cross.
We can see the importance of equanimity in another biblical passage, everything has his own time:
"There is a time for everything,
and a season for every activity under the heavens:
a time to be born and a time to die,
a time to plant and a time to uproot,
a time to kill and a time to heal,
a time to tear down and a time to build,
a time to weep and a time to laugh,
a time to mourn and a time to dance,
a time to scatter stones and a time to gather them,
a time to embrace and a time to refrain from embracing,
a time to search and a time to give up,
a time to keep and a time to throw away,
a time to tear and a time to mend,
a time to be silent and a time to speak,
a time to love and a time to hate,
a time for war and a time for peace." Ecclesiastes 3:1-8
For more information visit my profile follow the link and download for free my ebook.