EPIC Token Plan Revealed | Bonus Mining Rate for Early Birds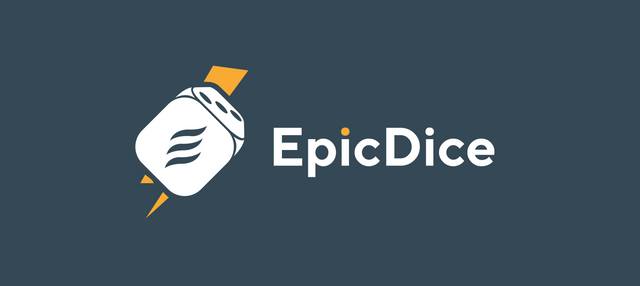 EpicDice is the fairest dice game built on top of Steem blockchain which aims to provide a refined gambling experience while keeping simplicity intact.
Let the fun begin
---
Real Token System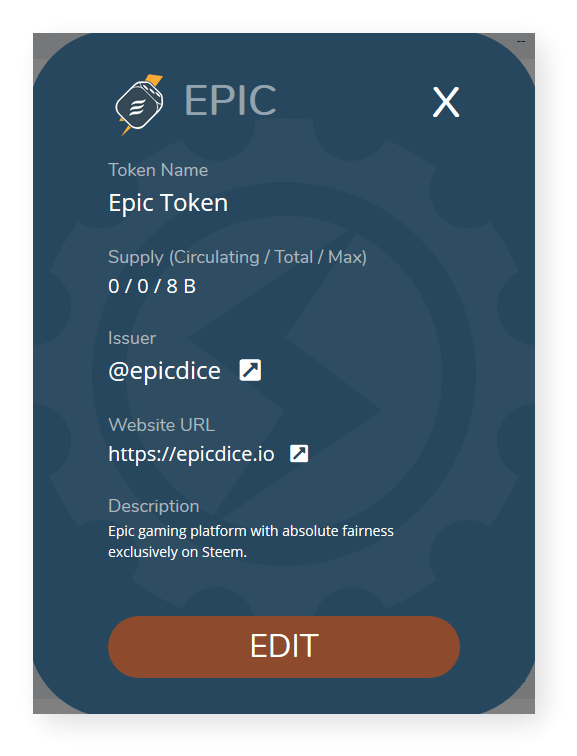 We've seen enough drama of what the in-house token systems could bring in the recent Steem DAPP development. With a token system that is centralised closed-source, potential manipulation by the house will put players at a huge disadvantage.
Steem-Engine introduced by @aggroed and @yabapmatt utilizing brilliant Steem Smart Contract by @harpagon, is the exact solution we need at the very moment. Token status and transaction are now fully transparent and auditable to everyone. The integrity of custom token had never been this great on Steem.
Even better is, Steem-Engine DEX and Keychain makes all tokens tradeable and transferable with ease. Tokens are as real as any crypto coin. Information like who holds the most tokens, did the maximum supply change, what transaction has been going on, and more, are now at your fingertip. Everything is transparent and stored forever on the blockchain. Just like STEEM.
We expect to launch EPIC Token within 2 weeks from now.
---
EPIC Token Specification
Token Name: Epic Token
Token Symbol: EPIC
Max Supply: 8,000,000,000
Decimal Places: 3
Halve every: 10% of max supply
Initial token per STEEM/SBD for user: 100 EPIC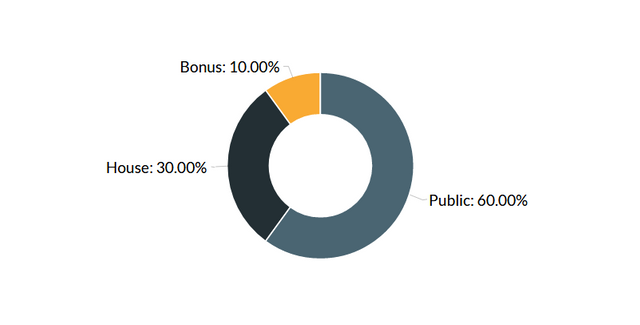 Public 60%: Distributed to players via games.
Team 30%: Reserved for development funding and a maximum 30% of this portion will be used for token burning in order to promote better health of token economy.
Bonus 10%: Distributed to house first and release to the public via various ad-hoc marketing events like delegation, contest, giveaways, airdrops, coin offering and more.
How is EPIC distributed?
Gaming
Playing in EpicDice is the main way to earn EPIC out of the token contract. This is not limited to the current dice game but to all the games we are going to publish in the near future.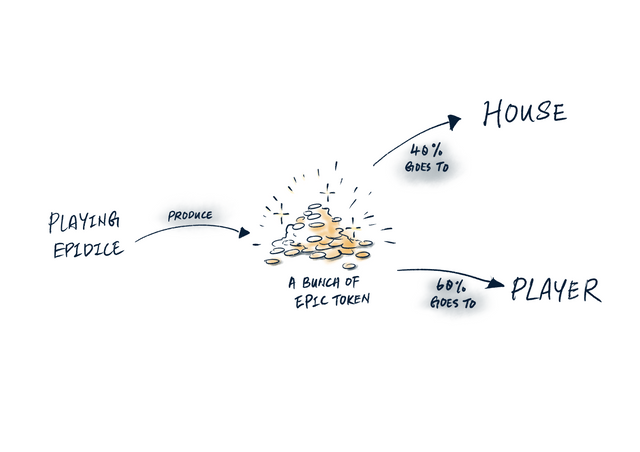 For example in the earliest stage, 1 STEEM/SBD wager will trigger issuance of 100 EPIC(60%) for players and 66.667 EPIC(40%) to the house(@epictoken). After 10% of maximum supply has been mined, the mining rate will be halved and become 50 EPIC for players and 33.333 EPIC for the house.
Delegation
Delegation is one of the most unique features on Steem and those who show their support via delegation, earn EPIC at the ratio of 1 SP : 1 EPIC. Delegation reward would be issued daily and coming from the Bonus(10%) portion of max supply.
Although the effective delegation reward is not yet launched, we appreciate all the delegation we've received thus far.
---
Bonus mining rate for early birds
EpicDice now has over 140 players to date, as we promised on the first day that all bets will be honoured and paid accordingly once the token is ready. Here is how we are going to show our gratitude to the early supporters.
All wager before the token launching will receive a ratio of 1 STEEM/SBD : 110 EPIC. The 10% extra token represent as our token of gratitude to the early love we've received and would be effective until the token is launched.
Below represent the timeline of early birds reward and token launching:
A snapshot of the total wagered amount by each user will be taken and we will make a post stating all registered players and their eligible tokens in a table form.
House issues token accordingly to all players.
The EPIC token is officially launched and goes live after early adopters are all paid.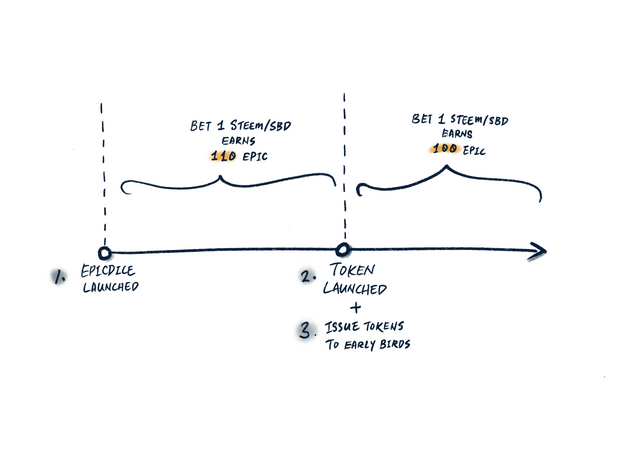 After the token has been launched, the default mining rate will be resumed (1 STEEM/SBD : 100 EPIC).
---
Daily Dividend with Absolute Transparency

Sharing the house profit with players is the main reason why we are introducing the token system. Nothing is more exciting than the concept of the more you play, the more you become the house. And we would like to take it to another level by making everything transparent to the community.
We will show the total house daily profit in real time. Only game-related transaction is permitted during the windows of house opening balance and closing balance. 50% of the positive profit will be credited directly in the Dividend pool and distribute to all EPIC holders at the end of the day.
This is probably the first time a house attempts to actively showcase its profitability. Often people are wondering how true is the dividend pool that is putting up by the house, by putting everything under the sun, players can rest assured that nothing shady is going on in our platform.
---
Resteem for 50 STEEM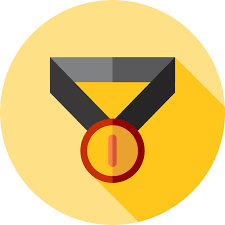 Resteem this post to stand a chance to win 50 STEEM! One winner will be chosen randomly after 7 days when this very post is expired. If you have at least 200 followers and 40 reputations, just resteem this post and you will be in the list which we will be used for winners picking via a provably-fair method.
---
Disclaimer
EPIC token will be running on the sidechain of Steem, aka the Steem-Engine. While the project is innovative and very ambitious to better the Steem ecosystem, it is still in its infancy and the devs are improving it every day. Should there are any technical difficulties of sidechain hindering the distribution of EPIC, we will try our best to follow up and get the issue resolved. However, players should understand that EpicDice does not hold the responsibility of sidechain's health.
---
Please join our Discord server for better communication.