EOT Loyalty Program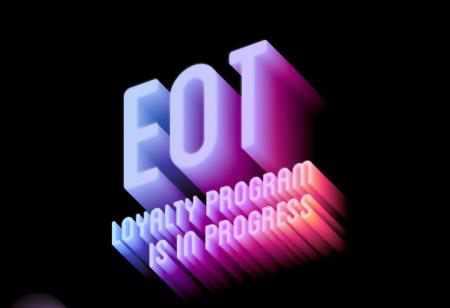 EOT Bounty Campaign has closed on July 25, 2018. We truly appreciate the continued support and enthusiasm of EOT community members!
The loyalty program is designed to provide EOT loyal supporters more benefits. Community members can get loyalty scores by completing different tasks (listed in section B). Members with higher loyalty scores will get lots of benefits. Some of those benefits are as below:
For those EOT members who have joined bounty campaigns, they'll get a faster release of bounty tokens (for more details, see section A)
People with higher loyalty score can get more bonuses in crowdsale (more details will be disclosed later).
People with higher loyalty score will get higher priority in joining EOT events in the future.
Section A: Bounty Token Release
The release of bounty tokens will be in 3 steps:
Step1: every bounty participant will get a first token release (30% of all bounty tokens) in the next 6 days.
Step2: the second token release will happen 1 week before EOT is listed on the first exchange. The number of tokens to be released is affected by the loyalty score. Community members with higher loyalty score will more tokens released in this step.
Step3: the third token release will happen after EOT is listed on the first exchange. Those tokens will be released gradually every month. People with different loyalty scores will have a different release schedule. e.g., for people with loyalty score higher than 10, their tokens will be released 1/4 every month, until all tokens are released.

Section B: Loyalty Score
Community members can get loyalty scores (maximum is 15 now) by completing different tasks.
Task 1: Set Twitter account and ETH address with EOT bot (Score +1)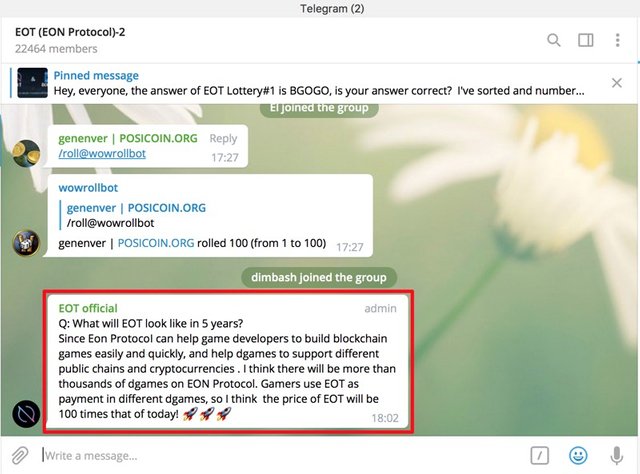 c. Find and start a private conversation with @eotmaster_bot on the telegram, then bind your ETH address and Twitter account. You can also use this bot to get your loyalty score
(Notice: @eotmaster_bot or mention eotmaster_bot in EOT group DOES NOT WORK.)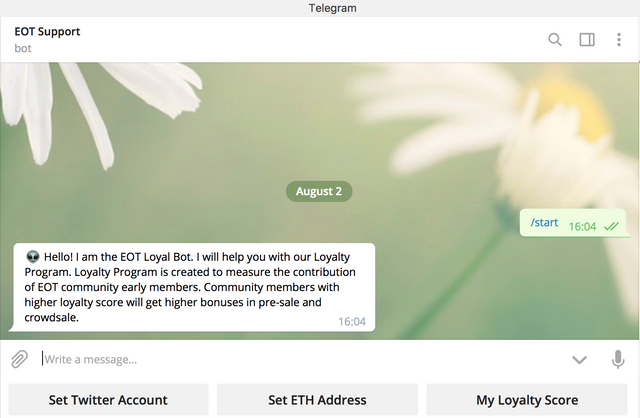 Task 2: Bounty Contribution Conversion (Score +1~3)
The contribution of bounty participants will be converted into loyalty score directly, based on the formula below (remember to bind the correct ETH address you used in bounty campaigns):

Task 3: Participate in Quiz about EON Protocol (Score +1~5)
a. There will be 1~2 quiz each week
b. Quiz score over 80 points, loyalty score +1
c. Maximum +5
Task 4: Participate in EOT Pre-Sale and Share on Social Media (Score +3)
a. The total amount of Pre-Sale is 1000 ETH
b. Fixed personal allocation: 0.3 ETH
c. Time: TBA
Task 5: Create Content of EON Protocol (Score +1~2)
a. Original and high quality articles and videos
b. Send your article/video link to Admin in EOT official telegram
c. Reviewed by Admin as qualified, score +1
d. Maximum +2
Task 6: Play to Earn (Score +1)
Get 4 badges in blockchain game CryptoAlpaca, which is the first dgame that has integrated with EON Protocol.
Join EOT official community:
Homepage: http://eontoken.io/
Telegram: https://t.me/eontoken3
Twitter: https://twitter.com/EonToken
Facebook: https://www.facebook.com/eontoken/
Reddit: https://www.reddit.com/r/eontoken/