EOT has been Featured on CNBC- EON Foundation Changes Name to EOT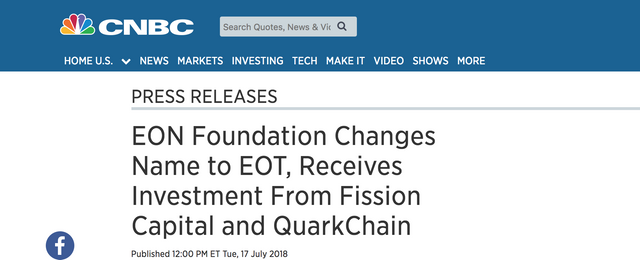 EON Foundation, a blockchain games company, announced today that it has changed its name to EOT and received an investment via a token fund from Fission Capital and QuarkChain. EOT has also formed a new partnership with SegmentFault, the largest developer community in China.
Via the partnership, SegmentFault will support EOT in recruiting more great engineers to build dApps for the EOT ecosystem. EOT stands for 'entertainment open protocol,' which is the protocol for DGames.
"Our vision is to bring cryptocurrency to more people through DGames, as games are the best way to educate people about new technologies," said Aron Lyu, EOT's CEO and founder.
QuarkChain is a high-capacity peer-to-peer transactional system built by experienced engineers from Uber, Google, and Facebook.
Fission Capital, founded in 2018 and headquartered in Hong Kong, is a revolutionary service platform that focuses on investing top-notch blockchain projects and providing professional management services for digital assets. Fission Capital is a super node of the leading cryptocurrency exchange, huobi.pro. In addition, Fission Capital founded the BCH Angel Fund with Bitmain and IDG Ventures in June 2018. Fission Capital is dedicated to building an ecosystem that is much more efficient, convenient, and practical for its blockchain.
SegmentFault is the biggest online developer community, with over 2 million registered programmers and 22 million monthly visitors (Similarweb). SegmentFault is also the largest Chinese organizer of hackathons, holding over 50 hackathons in Singapore, Shanghai, and Silicon Valley.
About EOT:
EOT (formerly the EON Foundation) is a blockchain games company based in Palo Alto and Singapore. EOT is developing a protocol to help blockchain game developers. EOT also created Crypto Alpaca, a decentralized pet-raising simulator. EOT's team is made of veterans from Bytedance, Facebook, and Tik Tok Kwaishou. To learn more about EOT, please visit their website: http://eontoken.io/
View original content: https://www.cnbc.com/2018/07/17/pr-newswire-eon-foundation-changes-name-to-eot-receives-investment-from-fission-capital-and-quarkchain.html