The core ethos of EOSphere is to effectively serve the entire "EOSphere" meaning we aim to represent the EOSIO global community regardless of geographical or cultural boundaries.
Considering our latitude in Australia it would make sense that we would be working and partnering with Chinese initiatives and EOS Block Producers. For the most part this has happened with our working with MEET.ONE to bring new users to the EOS ecosystem through the MEET.ONE Wallet Initiative and also running as Block Producers on the MEET.ONE sidechain as well as on EOS Force and BOSCore sidechains.
Considering our involvement in the above, a clear aspect that we have been missing is a native Mandarin speaking team member. To this end we are extremely happy to announce that this has now been rectified.
We welcome Jason Lee (爆炸的kk) to our EOSphere family.
Jason is a maths teacher and believes that the underlying architecture of the world is built by mathematics. After first hearing of blockchain, he was deeply attracted to all things behind it's functionality, however was unsure of how it would achieve widespread adoption.
The emergence of EOS allowed Jason to see the hope of a large-scale application of blockchain, which would be huge in his view.
In the Chinese EOS community, Jason has always played the role of a preacher or evangelist of EOSIO technology. He has written more than one hundred EOS articles covering such topics as, introductions to EOS Block Producers; the design logic behind EOS and calling for token holders to exercise their vote for the health of the network to name a few.
Jason is also an accomplished writer on bihu.com and has more than 10,000 fans, he will be administering our EOSphere bihu.com page ensuring that our EOSphere messaging is effectively presented to the Chinese community.
---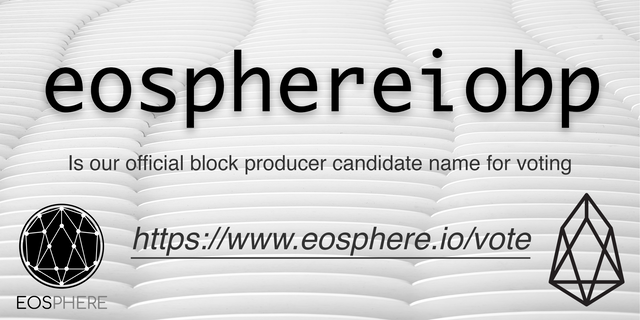 Website https://www.eosphere.io
Telegram https://t.me/eosphere_io
EOS Voter https://eosvoter.eosphere.io
EOSphere are a passionate group of EOS enthusiasts and data centre professionals currently Standby Block Producers providing services for the EOS Mainnet and Block Production services across multiple sister chains.
Based in Australia, EOSphere are focussed on supporting the EOS community and serving the entire EOSphere through provision of infrastructure, governance and community benefit initiatives.
Follow us @eosphere - twitter @eosphere_io - YouTube EOSphere - Facebook EOSphere- Medium EOSphere- bihu EOSphere
---
EOSphere 的核心理念是有效地服务于整个"EOSphere",这意味着我们的目标是代表EOSIO全球社区,无论地理或文化边界如何。
同时考虑到我们在澳大利亚的自由度,我们将与中国的倡议和EOS Block Producers合作并合作。 在大多数情况下,我们与MEET.ONE合作,通过MEET.ONE Wallet Initiative将新用户带入EOS ECOsystem,并在MEET.ONE侧链上作为Block Producers运行,并在EOS上作为Block Producers运行 Force和BOSCore侧链。
考虑到我们参与上述活动,我们团队中缺少的一个明显方面是讲普通话的团队成员,我们非常高兴地宣布这已经得到纠正。
我们欢迎Jason Lee(爆炸的kk)加入我们的EOSphere家族。
Jason是一名数学老师,他认为世界的基础架构是由数学建立的。 在第一次听到区块链之后,他对其功能背后的所有事情深深吸引,但不确定它将如何实现广泛采用。
EOS的出现让Jason看到了大规模应用区块链的希望,他认为这将是巨大的。
在中国的EOS社区,Jason一直扮演着EOSIO技术的传教士或传道者的角色。 他撰写了100多篇EOS文章,内容涉及EOS Block Producers的介绍; EOS背后的设计逻辑,并呼吁令牌持有者对网络的健康状况进行投票,仅举几例。
Jason在bihu.com上也是一位多才多艺的作家,拥有超过10,000名粉丝,他将管理我们的EOSPhere bihu.com页面,确保我们的EOSphere消息传递有效地呈现给华人社区。
---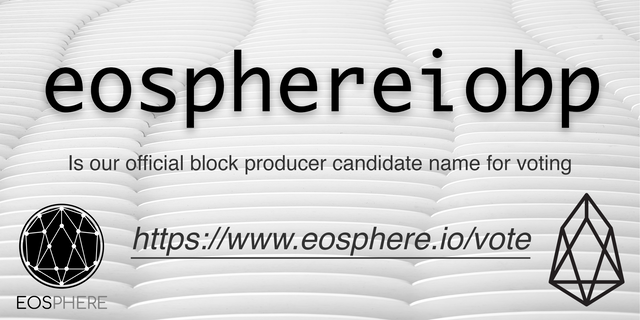 Website https://www.eosphere.io
Telegram https://t.me/eosphere_io
EOS Voter https://eosvoter.eosphere.io
EOSphere是一群充满激情的EOS爱好者和数据中心专业人士,他们目前是Standby Block Producers,为多个姐妹连锁店的EOS Mainnet和Block Production服务提供服务。
EOSphere总部位于澳大利亚,致力于通过提供基础设施,治理和社区福利计划来支持EOS社区并服务整个EOSphere。
跟着我们 @eosphere - twitter @eosphere_io - YouTube EOSphere - Facebook EOSphere- Medium EOSphere- bihu EOSphere