EOS blockchain applications will run 2000 times faster than Ethereum or Bitcoin !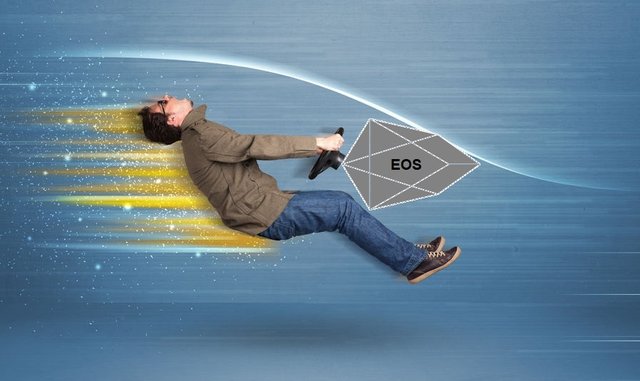 The more one looks into EOS, the more it become obvious that this project is a spectacular game changer in most aspects of human interactions.
From my understanding, the testnet should begin around sept 14th and the full version should be ready on the testnet by the end of 2017. The mainnet will begin in summer 2018, giving block.one team a few months for debugging and fine tuning. So if you still think that this project will begin at the end of the Token Distribution (july 2018), think again.
In the meantime, developers around the world will be able to begin DAPP and smart contracts development on the testnet, so that they will be ready to deploy when the mainnet begins.
Block.one has done a very good job at defining and managing the project in a way that it does not interfere with any law. They will soon announce how they will re-invest funds from the token distribution into the EOS Ecosystem.
The mainnet will probably start in a single thread mode with approximately 50,000 TPS, ready to scale to parallel processing as the demand grows (unlimited TPS).
Bitshares DEX will be ported to EOS within one year. Steemit team will have great pressure to also consider moving as a DAPP on EOS before competition does. The EOS power and capabilities will easily handle a Facebook alike DAPP.
These are exciting times for the blockchain revolution. Sometimes soon, POW miners may have to let go their hardware, revenues and electricity bills and invest in DAPP Development on EOS :)
If I were an Ethereum developer working on prediction markets applications or any other type of smart contracts (or DAPP), knowing that Casper/Sharding/Lightning Network/any other scaling attempt will not really resolve the limitations of the ETH Network, I would seriously consider porting my code to EOS asap.
Knowing that almost any actual coin or blockchain project could be run on top of the EOS network as a DAPP, it is difficult for me to understand the actual frenzy around DASH, NEM, ETH, BTC, LTC, etc., not to mention all the fuss about bitcoin forking and technical attempts to change the 7TPS limitation to 28 TPS at the most, taking in account that the miners run a show that does not respect the Satoshi (blockchain) mindset.
Most blockchain projects try to reinvent the Wheel (network effect, token distribution, consensus) instead of focusing on delivering quality DAPPs. I know, it was not possible before.
But now, we have EOS and it is time to celebrate.
During my whole lifetime, I never got so excited by a technological feat, even Internet, Email and smart phones. EOS blows my mind in all aspects.
The future of my favorite DAPPs (Bitshares and Steemit) also looks great, thanks to EOS.
@dan and @stan, thanks so much for your dedication. Humanity owes you.
Stay Sharp!