I posted about the EOS price here yesterday and many people liked the post so I am going to continue and provide updated analysis on a somewhat regular basis. I enjoy doing it just haven't really thought about sharing. Steemit provides an excellent platform to do so. Full disclosure I am also promoting an exchange because 1. I trade alot and it makes sense 2. I will receive a commission if anybody actually uses the site once it is up. I do not know if the exchange will do well but it seems to offer some pretty decent perks for getting involved early. Thought i'd be transparent about that but I hope to provide some decent insight into price action as well. Below is my previous post on Steemit and below that is my referral link. If you dont click on either, I hope you atleast enjoy the post!
https://steemit.com/eos/@verdes22/eos-to-take-over-rising-wedge-combined-with-cup-and-handle
https://upcoin.com/?ID=58b482f3
Since my last post EOS has risen overnight from the $12 area to just over $14. My opinion at the time was that once the price broke through resistance it would shoot up to around $20. Ultimately I was off by around $6. That being said my analysis has changed and the outlook is slightly different. Below is an updated chart as of 3:05pm CST -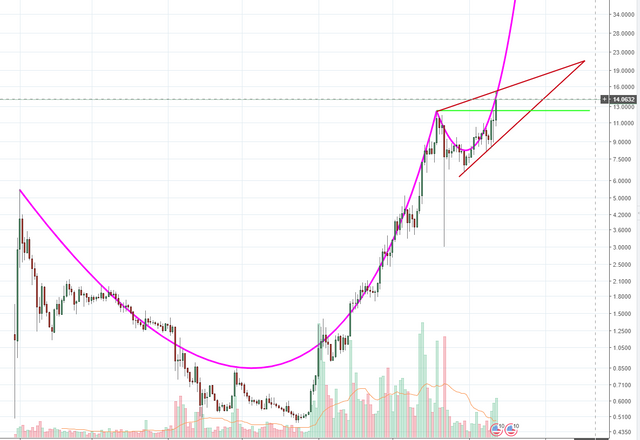 The green line was the resistance level that needed to be broken to go higher. I think I got lucky calling the breakout but it did what it needed to do and moved higher. That was crucial for moving higher. So, with resistance level broken, the previous rising wedge pattern has been validated and I am now using an ascending triangle for specific price level targets.
The ascending triangle is illustrated in red. There is a decent chance of price moving around within that range for the next week or so. Moving beyond those lines either positively or negatively will prove whether or not EOS continues to climb or has a reversion to the mean. I'm going to move to a shorter time frame in order to glean more accurate short term data.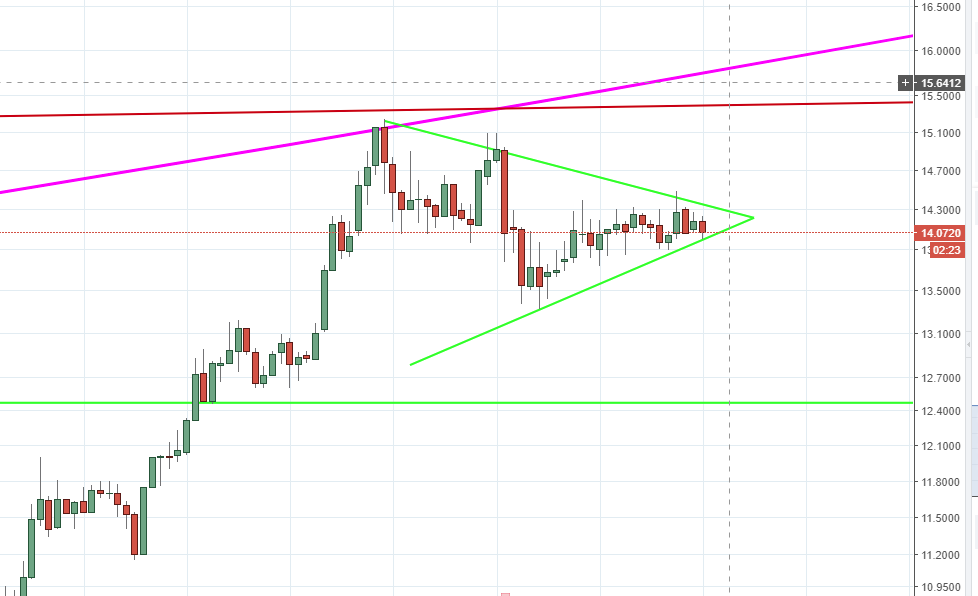 Above is a 15 minute chart with an additional short term triangle. This triangle isn't really telling me much other than it's got to cross one of the lines to move higher or lower. It's also dynamic and changes as when the price and time continues. Meaning if the price stays the same the lines will get more horizontal relative to previous highs and lows.
In summary I think EOS is still going to around $20 soon. There will be news coming from the EOS team in S.Korea which in my opinion will drive the spike to $20. I am expecting big things though. The odds of EOS not delivering is very low but if they do not meet expectations expect movement to the downside. All of the analysis is stemming from the cup and handle formation which is very much still in-tact. There are others with $40+ price targets but I want to see consistent progress. Either way the EOS project is in my opinion the leader of Blockchain 3.0 and will not slow down for some time.
Good luck to you and I hope you can capitalize of the blockchain movement!