Using MyEtherWallet for the EOS ICO
I heard many people asking about how to use MEW for the EOS crowd sale, so I decided to try my best and create a (hopefully comprehensive) guide on how to do it. Be advised that I take no responsibility and recommend using MetaMask if you are not sure what you are doing!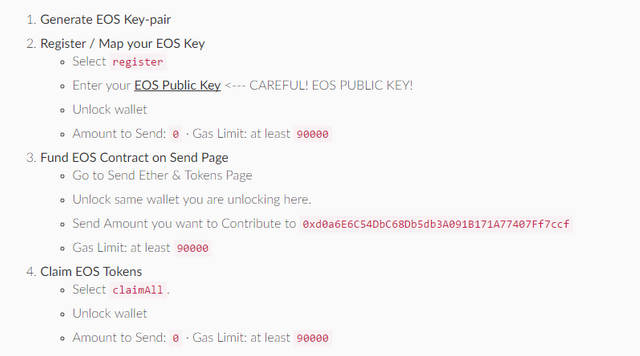 This is the official guide by the block.one/EOS team. For further instructions, keep reading.
Important information:
Contract address:  0xd0a6E6C54DbC68Db5db3A091B171A77407Ff7ccf
ABI / JSON Interface: will be filled automatically
Recommended gas limit: at least 90000

Always check eos.io, this information might be outdated! Last update: 06.26.2017
During the contribution window (First 5 days and every 23 hours afterwards):
Step 1)
To participate in the EOS Token distribution you will need to send ETH to the Ethereum smart contract address set forth below during a period of your choice. The EOS Tokens will be reserved for you to claim when the period is completed. The minimum contribution amount is 0.01 Ether.
First of all, you have to send Ether from your MyEtherWallet to the EOS Ethereum smart contract address as you would normally do and wait for the payment to be processed: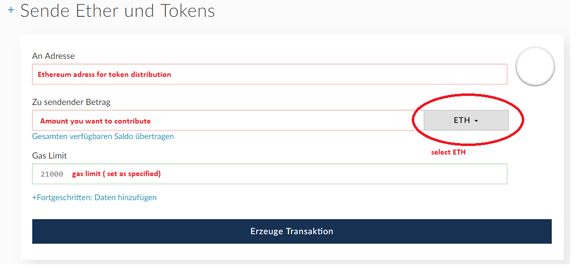 After the end of the window in which you want to contribute (it won't work while the windows is still open):
Step 2) 
Go to Contracts and paste the contract address and ABI / JSON Interface:

Step 3) 
Go to the Read/Write Contract section and select the ClaimAll function from the drop-down list.


Step 4) 
Load your wallet like you usually do (Private key, file, etc.) and unlock it. Click on Write.

Step 5) 
You should see a new transaction window. Type in the following information. This is really important! A lower transaction limit is possible, but I can't guarantee that it will work.
Amount: 0
Gas limit: at least 90000
Click Generate transaction and finish off the transaction.
You should now be able to see your EOS Tokens in your wallet.
Registering your EOS public and private keys
In order to use you EOS tokens after the crowd sale end on June 1, 2018, you will have to register a public and a private key. If you don't do that, your funds will become worthless.
Step 1)
Go to the EOS key generator and generate a public and a private key. (by @nadejde)
Step 2)
Go back to the Contract page and open the same contract as before. Select the register function and submit your public key to link your ETH adress to your public/privat key combination.
To be sure, select the keys function and type in your Ether adress to see which EOS public key is linked to it. If you see the public key you just registered, you are fine.
This is my first post here, any feedback is appreciated! I couldn't test this guide yet as the sale hasn't begun. It is solely based on information from the eos.io homepage. I will update it with pictures and instructions as soon as possible.
Picture: https://www.myetherwallet.com/images/fb-myetherwallet.png