voice - in a nutshell
voice
Edit: Some changes added after great community feedback.
Token Distribution
No ICO
No airdrop
Receive token for registering (know you customer)
Receive token for showing up (daily)
Can be bought from users / exchanges later on


Token Economy (tokenomics)
Receive voice if your post / comment is liked
If you are out voiced ie someone pays more to voice above you, then you get your voiced tokens back + 10-15%
If you are top voiced comment after 24 hours with no further actions on said post, voiced tokens are burned and lost.


Platform
Initially a web app
Mobile app is expected to follow shortly after
Content from other platforms can be linked for likes / comments


Restrictions
Will not host videos but can be embedded from multiple sources inc YouTube etc...


Dependencies
eos.io v1.8 (currently in test-net)


Release
Currently expected in 3 to 6 month (Sep. to Dec.)


I am not working with B1 and above information are what I gathered from various telegram discussions. Some / All of above information might change.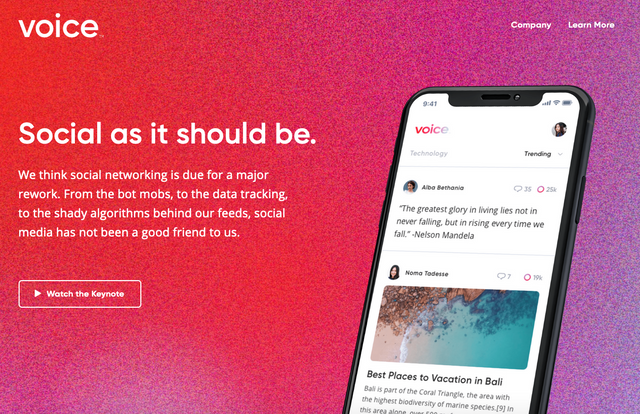 Image source: voice.com