Should EOS price will be huge long term? 2 Best exchanges to buy EOS

EOS is now the #5 cryptocurrency in the world——with a market cap of $6,904,476,858 USD
EOS is $8.76 USD (41.02%) increase Today (April 12,2018)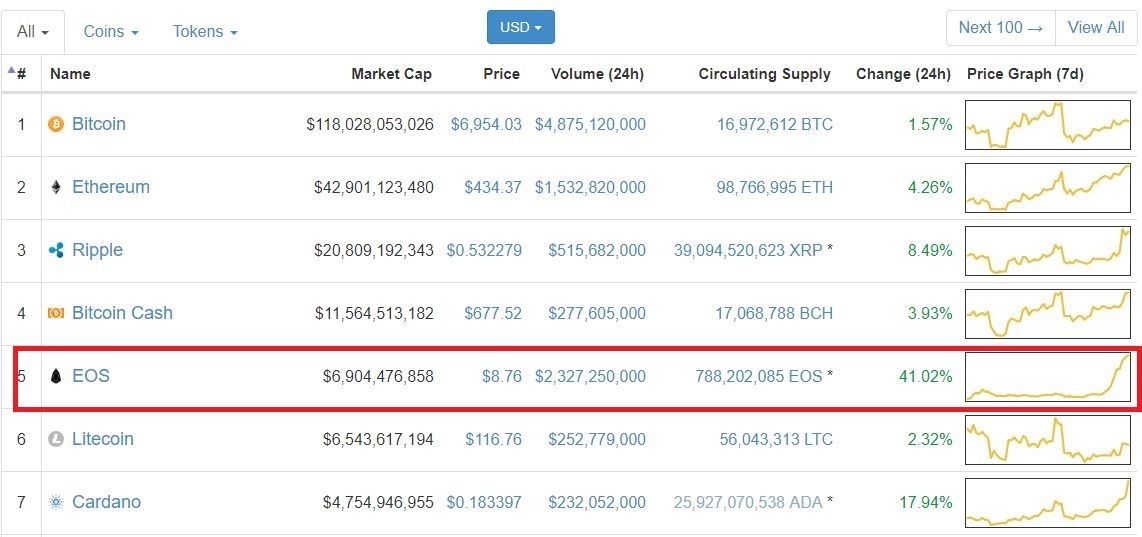 WHAT IS EOS?
EOS is similar to a decentralised operating system, in practice this means that developers can build applications on EOS. Owning EOS coins is a claim on server resources. A developer needs to have EOS coins to use the EOS blockchain. Developers will not spend the coins to use the server resources, They just need to prove they hold them.
This operating system will be hosted on servers (data centres) which in return will also be block producers. Block rewards in EOS are the incentive for these servers to host EOS applications.
The applications running on this decentralised OS will be able to communicate with each other, there will also be measures to "firewall" applications.
Applciations use very common functions such as user/password, user interfaces, backend (database) management. This means that applications can share frameworks or libraries which make development faster, more secure and less technical. For example, applications will have their own secure database and file space on EOS.
EOS will allow developers to create blockchain applications with which end users will easily interact with. Probably most users would not even know that they will interact with one when using EOS as this will be completely transparent to the users.
Etherum does a very poor job of making interacting with their blockchain a user-friendly process.
EOS main competitor Etherum, demands users to pay for every transaction. EOS will not do so. This will increase adoption.
Where to buy EOS - 2 Best exchanges to buy EOS
Binance.com is No. 1 crypto exchanges Pair EOS/BTC ( Volume $177,961,000)
bitfinex.com is a cryptocurrency exchange, which also provides margin trading. Pair EOS/BTC Volume $28,693,900
EOS Review - Should EOS price will be huge long term?
For more information about EOS visit : https://eos.io/
Binance review : There are a tons of Promising coins to trade at Binance exchange example, Binance, VIB,IOTA , Cardano, EOS ,Verge, Ontology,Ripple, Power Ledger ,Populous, Stellar, TRON, AdEx, Substratum ,WTC, RDN,
Please visit Binance.com
Bitcoin information for newbies visit ; Bitcoinnewbies.com