The EOS Blockchain is Going Live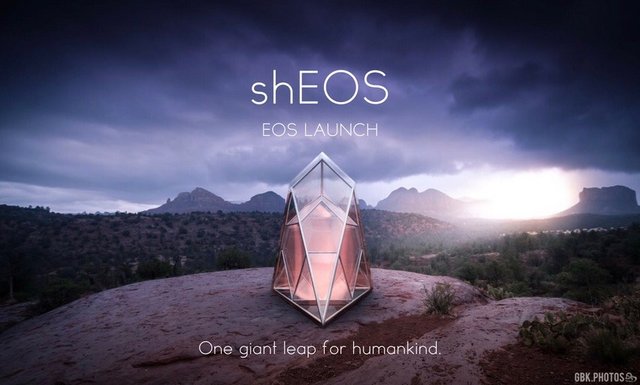 One Giant Leap for Humankind
EOS is launching. After several weeks, with Block Producers working tirelessly around the world and around the clock, the unanimous decision reached on June 9, at 1:45 UTC, by this international group of dedicated professionals was "GO!"
shEOS, a leading Block Producer candidate, was represented in the global EOS Mainnet Launch Group video conference by Emily Bush, @CrystalRose, Pamela Day and @BenSig, who cast our vote. There were 130 others present on screen at the meeting that was live-streamed on several channels including EOS GO, which reached over 2000 viewers.
One BP, calling in from Asia, seemed to be driving his car and simultaneously translating the comments of the English speaking members. All in all, it was a most impressive and talented group!
Observers commented, after the fact, that it was truly heartwarming to witness this group of brilliant humans coming together as one global community to create history.
David Moss, who headed up the meeting as a non-voting witness, said afterward, "We should all be so proud to have reached consensus in record time with so many people from different cultures and backgrounds. Compared to the United Nations or any other governing body, this is a first. Historic."
For us at shEOS, our work is just getting started. In the next 12 hours, our Data Center will be working straight through to make sure that our node is flawless and secure.
All of the BPs acknowledged that we have a shared responsibility to start validating the EOS chain.
We are honored and optimistic to gain your votes for Block Producer in the coming days. But the important thing to remember now is, until the easy-to-use voting portals are ready, the only truly safe and secure way to vote for the BP candidates is to install 'cleos', the command line tool provided as part of the EOS installation package available for download from Github. All EOS Token holders are strongly advised to proceed with caution until we announce portals that have been thoroughly audited.
For now, we at shEOS are sending our congratulations and gratitude to everyone who participated in the creation of EOS.
History was made.
Herstory was made.
Ourstory is in the making.
Stay Updated