shEOS Mission Statement, Principles, and Code of Conduct
shEOS submits our Statement of Principles and Code of Conduct for the consideration of the EOS voting public. Over the last few months, many BP Candidates have published their own similar documents, making their intentions and beliefs clear to voters. We acknowledge that some of their ideas have inspired our own commitment to like-minded principals. We hope this statement is valuable as you engage us as a Block Producer on the EOS.IO network, and that you will support our work with your ongoing votes.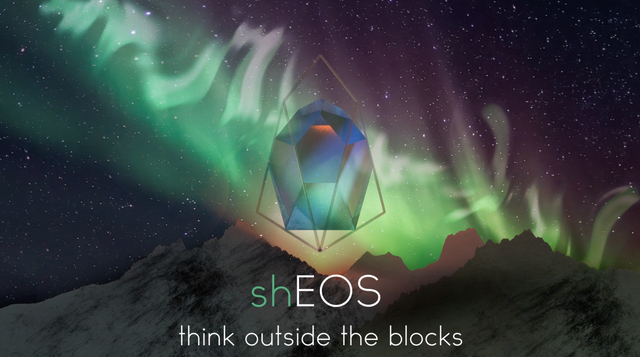 shEOS Mission
The mission of shEOS is to position the EOS blockchain as the most attractive, reliable, and efficient decentralized application development platform in the world to its developers. We will achieve this by increasing the value of the EOS blockchain in a transparent and secure way by producing blocks, and through community outreach, increasing adoption through education programs.
shEOS Principles
We maintain that, in our collective effort to create a cryptographically secure and censor-free internet, the EOS.IO blockchain should remain open to all and serve the betterment of the world's citizens.
We maintain that individual life, liberty, and property should be held in the highest regard.
We maintain that we will act in open transparency commensurate with the will of the community.
shEOS Code of Conduct
Adherence to the EOS.IO Constitution
shEOS pledges to uphold and abide by the rules of governance set forth in the community Constitution. The EOS.IO Constitution is supreme and the only contract to which we are bound. This agreement includes adherence to the EOS.IO Block Producer Agreement. We will not comply with any requests that are forbidden by the Constitution.
High Network Performance
shEOS commits to reinvestment in the network infrastructure and personnel that enable the EOS.IO network to operate at the highest level and to scale effectively as demand for it grows. Block rewards will be used for no purpose other than maintaining our infrastructure, and we will continue to reinvest those rewards until such time that shEOS is able to prove that the services we offer meet the demands of the network.
Commitment to Token-holders
shEOS acknowledges that our primary function is to serve the EOS.IO community, and that we report directly to the members of that community. We commit to maintaining an ongoing dialogue with the community, and to treat all members of the community with equal respect and consideration. We commit to listening, understanding, and achieving consensus with the token-holders around the world and, to the extent possible, we will communicate in multiple languages.
Honesty, Integrity, and Ethics
shEOS will always act with honesty, integrity and high ethical standards.
Cooperation
shEOS welcomes opportunities to practice goodwill and cooperation with other global Block Producers, regardless of geographic location, so long as doing so does not compromise our financial, political, or operational independence. We believe that cooperation is healthy for the whole ecosystem, and it allows for the completion of tasks larger than ourselves, including, but not limited to coordinating software upgrades, properly diversifying all-inclusive network infrastructure, and always listening to the community's voice.
Political Independence
shEOS vows to maintain full political and operational independence. Additionally, we will not directly manage or operate more than one block producing node within any singular EOS.IO blockchain.
Abide By All Arbitration Decisions
shEOS pledges to abide by and enforce community voted arbitration. In addition, we will abstain from public comment regarding any open cases on the network.
Transparency
We will provide transparency, to our operating team, shareholders, and the community. shEOS promises to stand for cooperation, consensus, open-mindedness and understanding of the community we have been elected to serve.
Amendments to our Code of Conduct
Amendments to our Code of Conduct will be informed by the community's will, and pending amendments will be broadcast to community members through the communication channels available to us before they are formally adopted.
Our Vision
With the tools available on the EOS.IO network, we envision a future with a self-governing civilization of empowerment and creation, on and for Earth, at the root of the emerging post-political movement. We are witnessing the dawn of an age of human agency, and we pledge to serve as responsible custodians of it through collaboration, community, and virtue. shEOS pledges good stewardship as we embark upon a time when people will create and self-select models of governance and economy based around initiatives both inside and outside of primary communities of association for the establishment or improvement of legal and social frameworks to encourage population development, abundance, the universality of human rights, health and equality.