EOS Referendum & "WEOS" Campaign
After months of diligent, collaborative effort between block producers and developers around the world, the EOS.io Referendum system is now live. This is a watershed moment for the EOS community, as EOS token holders can now submit and vote on proposals that may change the course of EOS, our first governed blockchain.
In order to pass, the Referendum requires that 15% of voters participate, and that proposals sustain a 10% advantage over 30 days. The Referendum may well be a vehicle for monumental change in the EOS blockchain, but like any democracy, voter (token holder) participation is required.
To educate token holders on how they can use the Referendum tool, and encourage global participation, the "We are EOS (WEOS)" Campaign was co-created by several EOS block producers, and supported by a broad swath of the block producer and wallet developer communities around the world.
The evidence of goodwill within the EOS community is frequent and widespread, and the execution of this campaign was no different. Community members volunteered countless hours designing graphics, recording videos, and translating instructions into multiple languages so that token holders speaking English, Spanish, French, Chinese, Korean, Russian and Japanese would have a clear path to bring their wishes for EOS to vote. This global collaborative effort was inspiring to witness, and an honor for our team to support.
Below is a comprehensive list of EOS Referendum wallets, interfaces and information resources. The pasted infographic outlines a step-by-step process to interact with the Referendum tool. Any token holders with questions should reach out to their preferred block producers on Telegram or Twitter — you are always welcome in the shEOS social channels. :) https://t.me/sheos_org
We hope EOS token holders will take advantage of the opportunity the Referendum presents to revolutionize EOS, and may this experiment in governance within blockchain succeed and set a positive example for future tech communities.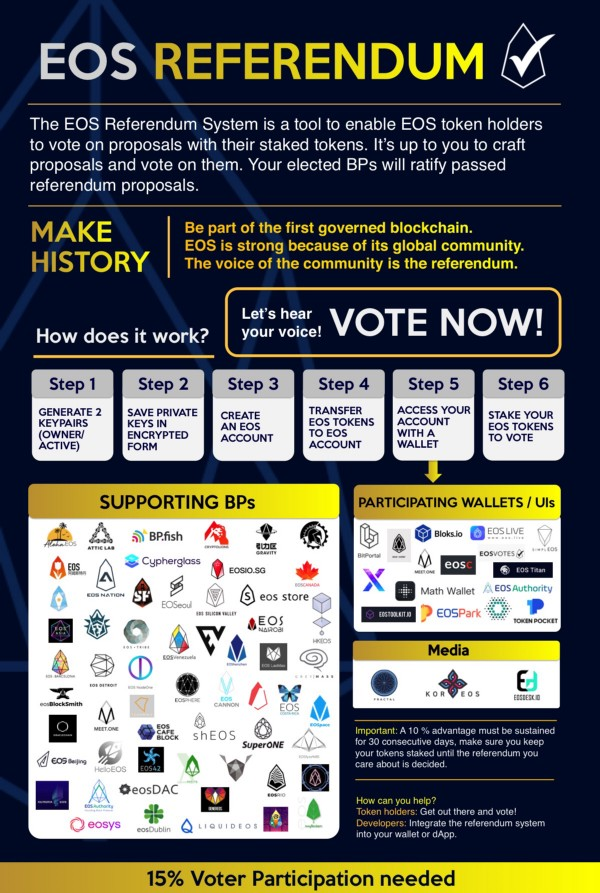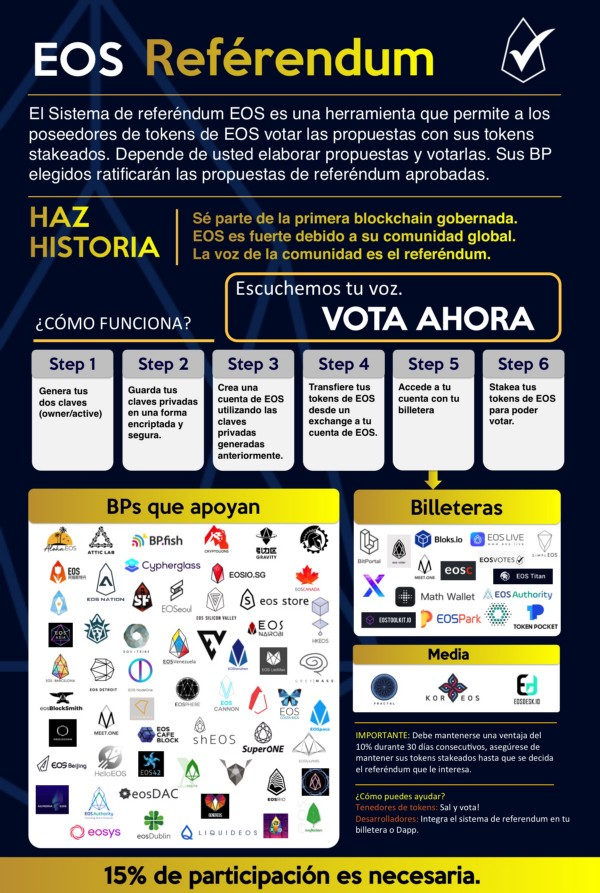 Website:
https://eosalliance.io/eos-referendum/
Referendum Web Wallets and interfaces:
EOSVOTES: https://eosvotes.io/
EOSC: https://eosc.app/
EOS Authority: https://eosauthority.com/polls
EOS Voter: https://github.com/greymass/eos-voter/releases
EOS Cannon: https://tool.eoscannon.io/#/forumVote
SimplEOS: https://web.eosrio.io/simpleos/
EOSX: https://www.eosx.io/tools/referendums/proposals
Bloks: https://bloks.io/vote/referendums , for Asia go here: https://bloks.asia/vote/referendums
EOSPark: https://eospark.com/wallet/referendum/proposals
EOSToolkit: https://eostoolkit.io/community/forum/vote
EOS Forum: https://eos-forum.org/#/e/referendum
EOS Titan: https://eostitan.com/proposals
Tokenpocket: https://dapp.mytokenpocket.vip/referendum/index.html#/
Find shEOS on….
Twitter | Medium | reddit | YouTube | Facebook | Instagram | Telegram