EOS Mainnet Launch Status Update – shEOS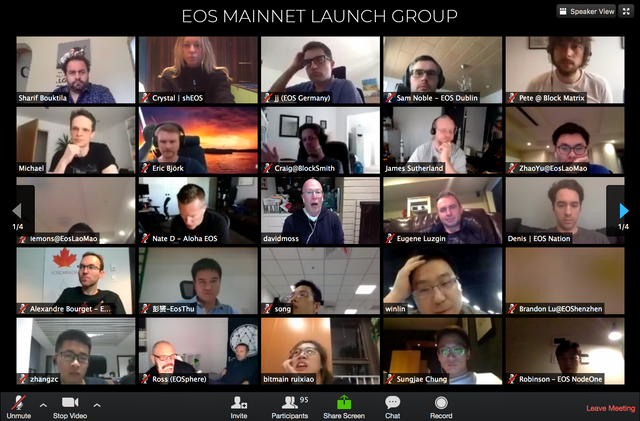 EOS Mainnet Launch Status Update
shEOS and Block Producers around the world are collaborating to launch the EOS Mainnet. Today we joined Block Producers on a global call to come to decisions for the launch. Currently, there are about 35 nodes for the Mainnet and there are two leading Mainnet candidates. While there has yet to be a decision between which Mainnet will be the final one, we are getting closer to consensus.
The EOS Mainnet Launch Group has a call for unity among Block Producer candidates. shEOS and others have pledged to work together to come up with all solutions required for a successful launch. This collaborative competition is what makes the EOS developer community so unique.
We have been working with the EOS Core (Ghostbusters) team on infrastructure and launch scripts and we have committed code to their GitHub repo to make the process more secure and user-friendly (at the same time).
Voting Begins Soon
The EOS Mainnet Launch Team will make an announcement when the EOS community can begin voting. At that time, community-created tools will be available for easier voting, such as producer.vote. The tools available today are still running on the Testnet. The Block.one team has not launched any official user tools beyond the command line, so make sure the portal you are using is secure.
Security and Technical Implementation of the EOS Mainnet Infrastructure
As EOS Block Producer Candidate, shEOS is active in the blockchain community hosting meetups and events, providing education and supporting DApp development. Our main focus is supporting the infrastructure and security of the network. We are working behind the scenes with Block Producers around the world embarking on the next mission of launching nodes to support the EOS Mainnet.
Security is our top priority and we are committed to ensuring the best practices for keeping our nodes protected. Security doesn't mean a lack of transparency. We're confident in our setup and open to share with the community. If the Block Producer community has any ideas on how to improve it, we're open to suggestions.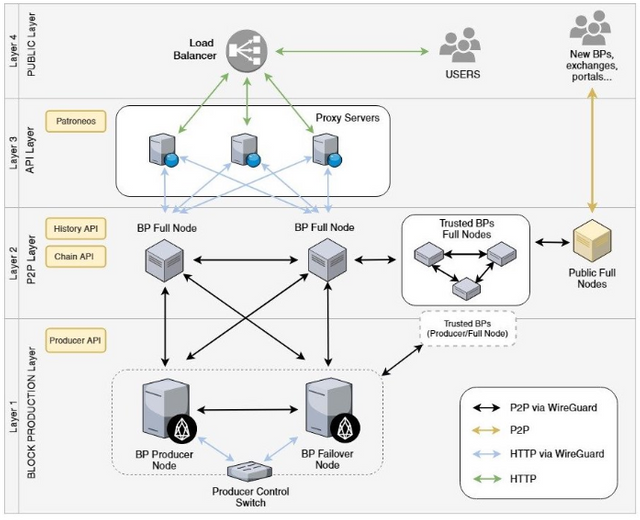 Graphic flow chart from EOS Core
Network Stack in 4 Layers
Our public API layer is a reverse proxy to protect and balance our nodes. This layer is doing rate limiting, load balancing and application filtering for API requests. This means that public requests to our nodes are filtered based on request structure and speed to prevent malformed and flood traffic. We also have DDOS protection on all layers (bare metal and cloud).
As you can see in the image above, our API layer connects to our P2P layer using WireGuard P2P VPN connections for the HTTP traffic
Our P2P layer is connected via the EOS Core (Ghostbusters) WireGuard mesh to peer with all of our Block Producer nodes via P2P VPN tunnels. This will allow secure meshing to the other Block Producers. We are also considering options for public P2P bridge nodes.
The reason we have chosen this infrastructure is that it was built and designed by some of the best network security experts in the community. Of course, we are open to feedback from the EOS and network security communities on how to make this better.
Stay Updated
Join the Conversation on Telegram: t.me/sheos_org
Steemit: @sheos
Website: sheos.org
Twitter: @sheos_org