As the blockchain revolution gains momentum, so has this year brought countless ICOs with mega-hype and mind-blowing multi-million dollar crowdfunding campaigns. It's been a ride. And it's tough to keep up with everything coming out.
Yet, there are a few projects that stand out amongst the many.
And while many ICOs have been projects built on Ethereum, there are a few upcoming platforms that may give Ethereum a run for their crypto: namely, EOS, Tezos, and Tauchain.
Understanding both the finer technical differences between these blockchain protocols and the implications of their successes is not exactly easy. Nonetheless, if we're choosing to play in the blockchain space, it's wise to develop at least a basic understanding of what's what and why each may be important to know about.
Herein, I'm going to attempt to pay forward some of what I've been learning in regards to these different projects - simplifying as much as possible to make it easier to grasp some of the overall concepts that may help in navigating this maze of complexities in the crypto world.
Don't expect explicit technical details here. And I may be missing many points, as I'm by no means an "expert" in these specific matters myself. Yet, it is my intention to provide as much as possible to bridge the worlds of this crazy technical stuff with the more practical, down-to-earth, bigger picture of how these are relevant for the non-techies.
So, here we go...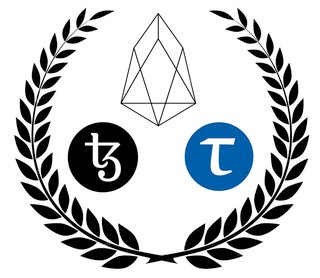 First came Ethereum...
Ethereum launched as the first real "world supercomputer." It wasn't designed for cryptocurrency - but as a platform upon which to build a sort of idealzed decentralized, censorship-resistant internet utilizing smart contracts.
The crypto world got very excited about Ethereum, because it opened new worlds of possibilities for what kind of decentralized applications (dapps) could be developed utilizing smart contracts to rid commerce, economics, and governance of unnecessary middlemen to massively increase efficiencies and level playing fields.
As such, Ethereum has been growing a large community of supporters and developers working on a wide variety of projects and platforms.
But, the growing enthusiasm and interest has far outpaced the technical development.
Ethereum is much faster than Bitcoin, but is still years away from numerous upgrades required to scale to run applications supporting millions of users. And, it's received various criticisms regarding different aspects of its protocols that leave question as to whether it will be fully capable and suitable of everything envisioned for it.
As such, other blockchain projects have been built seeking to solve the challenges inherent in Ethereum's design and/or improve upon the concept of a decentralized smart contract platform.
Thus, we have this new round of contenders appearing on the scene…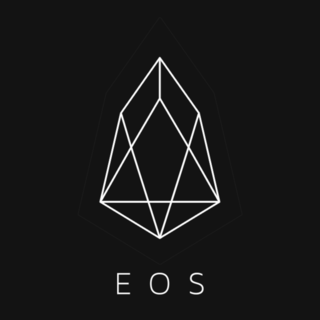 If you haven't heard of EOS yet, you are likely new to Steemit. EOS is the third of a potential power-trio of blockchain projects from Dan Larimar (@dan / @dantheman), who is also the creator of Bitshares and, of course, Steemit.
An excellent primer on EOS would be the following, written by @trogdor:

In short, EOS is being introduced as a blockchain and interwoven blockchain operating system that is both highly scaleable - being built on the MIT-licensed Graphene technology that has well-proven its performance with Bitshares and Steemit - and makes developing decentralized applications much simpler and easier for developers.
Again, I'm not highly technically-inclined so this isn't the place for geeky details and a thorough overview of what programming languages each uses. However, to my understanding, EOS is being developed such that it will be using more commonly-used programming languages and have a foundational set of stuff in place so pretty much any standard web developer can get programming dapps on it right away - versus something like Ethereum, which has a more complicated coding language to learn and requires programmers to moreless start from scratch when building on the platform.
These two things are what really make EOS stand out - at least for me. Scaleability is a major issue, and this tech is designed for scaleability, whereas Ethereum and others are struggling to figure out how to scale. And, EOS "should be" much more accessible to developers - enabling a wider range of applications to be built on it faster. Both huge points in regards to increasing adoption and implementation.
Also very noteworthy: Dan Larimer's track record.
Bitshares has been up and running for years. Steemit's been blazing for a year now. Meanwhile, growth on Ethereum has been moving relatively slow, and other blockchain projects have barely completed their prototypes in the same timeframe. Simply put - the success of Dan's projects speak for themselves. They may not have raised huge hype and been marketed with the same gusto as Ethereum - but the fundamentals have been established solidly with tangible, functional results that are a good indicator that EOS ought to be taken seriously.
And, gauging from their list of partners, this is a serious venture - no crypto underdogs here. From the official launch at the Consensus 2017 summit to the rounds they're making at global conferences (as seen below), and with the power players onboard… EOS is undoubtedly one to keep an eye on through its development.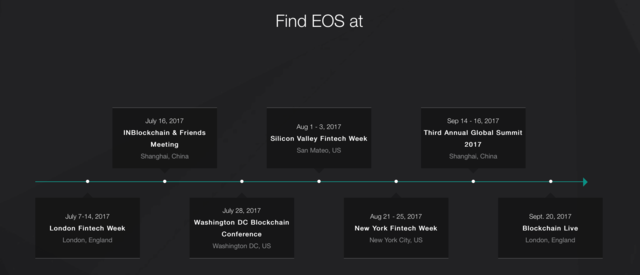 Tezos is another one whose ICO just launched yesterday that's gotten some big hype - partly because they've gotten the backing of some big-name VC guy. Yet, upon investigating any project sauntering through the limelight, one would always be wise to look deeper into what substance lies behind the hype.
As I've been digging, I couldn't totally figure that one out. Partially, because most all the info on it is very technical - lacking a clearly-communicated projection for its implementation from an entrepreneurial standpoint.
To my understanding, Tezos is priding itself on two strengths: Security. And a protocol that incentivizes developers to upgrade its coding by rewarding contributors.
Sounds good in theory. Yet, beyond that…?
The team seems very focused on the technology. However, as to how that tech is to be brought into the marketplace… it doesn't feel they have any vision for that beyond throwing money at business development people to figure it out. And surely, they might get some marketing superstars and dealmakers onboard that could take their technology out to be implemented in the real world. Though that very little has been publicly disclosed in regards to any sort of strategic roadmap beyond the technical development is not entirely confidence-inspiring, in my personal, humble, possibly-ignorant opinion.
It's also been noted that the programming language they've chosen to use isn't the easiest to code in - thus creating a potential bottleneck, with developers wishing to create apps on the blockchain either having to already be specialized in that coding language or go through another learning curve - as opposed to something like EOS, which is being developed to simplify for a wider range of programmers already versed in compatible languages. This is a fairly significant point, which could potentially put limitations on adoption.
Also worth a read, for anyone doing their research on Tezos, is the following Reddit thread that provides some interesting info and perspectives worth consideration:
And, one other great overview by @kyle.anderson that gives a great simplification of the project and some questions worth asking:
We don't need to Hardfork: a questionable story about Tezos. - [ICO July 1st]
Of course, we here all make our own decisions. Though in consideration of all these points - I, personally, will not be putting my money into this one.

Okay, now… I'm not gonna even begin trying to offer explanations on Tauchain.
This one isn't exactly straightforward or easy to understand. But, it must be introduced.
It had been in my peripheral for a while, and then came more focused into my attention via @dana-edwards.
You know how they say, if you wanna be successful, be the dumbest person in the room? ("surround yourself with people who are smarter than you.") Well, Dana is in that room you wanna be in. For as smart as I can get feeling sometimes, engaging in Dana's writing constantly humbles me with the level of his - or maybe 'her', not yet totally sure with the unisex name - intelligence. Dude or lady… @dana-edwards is one very smart being whose opinion I've come to highly respect and take in weight some weight of significant expertise. So when Dana started translating more of what Tauchain was about, I paid attention. And while I didn't grasp it all, I got enough that my curiosity was piqued.
There is no synopsis I can create to do justice to how Dana has spelled out some of the scenarios for what may lie ahead with Tauchain - thus, here is the collection of his stories on it that would be recommended reading for anyone wanting to learn more:
Though to offer my humble summary and viewpoint…
I haven't spent the necessary time to understand Tauchain. It's complex. It's deep. It's kinda overwhelmingly technical. But, I'm pretty sure it's absolute fucking genius.
Others have said Ohad Asor, the creator, is a genius. Like, next-level genius. And from what I've grasped it's true.
The leaps in evolution encapsulated in the theories forming the foundation for Tauchain are pretty awe-inspiring. Rather difficult to translate. But profound.
Catch is, it's still essentially in concept-phase.
Those investing in the AGRS token aren't backing a tested-prototype. They're placing their bets of faith in one man and his promises to carry through an idea.
The concept of a blockchain platform with AI integrations and automated programming - the two key ideas that stood out for me when researching Tauchain - is powerful. The depth and detail that's gone into planning this for the last couple years, is quite impressive. Yet, it's advanced. The technicals, the foundational background context & theories, and the implications of what could result from its success.
And, this advancement poses challenges to its success. Essentially, cuz it'd fly right over the heads of many people who aren't at a genius level. Much work is needed to translate the vision, organize presentations into coherent, simplified, digestible marketing materials, and ground it all down into language much more comprehendible to the average man than what content is currently available explaining it all.
Nonetheless, as these challenges are risen to, Tauchain could potentially be one of the biggest game-changers in the blockchain space yet.
Dig in if you dare, though be warned that it's not light reading and will take plenty of time invested to even begin grasping it.
It might very well be a worthwhile investment, though.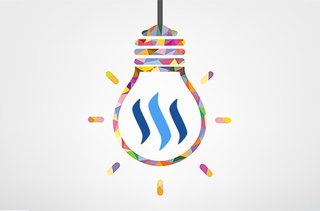 And in the east…
Last but not least, this story would be incomplete without at least making small mention of both Qtum and Antshares/Neo.
Both these China-based blockchains have been getting some buzz. The momentum of the blockchain revolution is growing strong in the land of the rising sun, and while numerous projects are popping up in the east, these two are probably the main ones that have had the news syndicated far enough to generate attention in the west.
Antshares - which recently rebranded as "Neo" - has been pitched as something like "China's Ethereum," with some upgrades including the support of multiple programming languages to make dapp development easier for programmers. The price of their ANS token has risen a fair amount over the last month or so, with news coming out about potential partnerships with Microsoft, the founder's discussions with Vitalik Buterin, and positive outlooks for what may come on this platform.
As far as Qtum goes, I can't honestly say I've researched enough about it to confidently comment with any insight - which probably means it hasn't been that hyped up, though might be one to check out for anyone desiring to really get deeper into the scope of projects currently out there.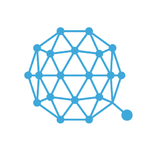 And that's that.
Invest wisely. And that entails your time just as much as money.
Because really, it's one's knowledge of these realms which enables smarter, more well-informed investment decisions. Some of those decisions are monetary. Some are strictly a matter of what projects, teams, and ideas we align our energy with to support and contribute to.
There are numerous opportunities ahead in this space - and not just for simple financial returns, but for collaboratively designing new socio-economic structures building a better world. Our little writings on Steemit are just the start. Much bigger things are yet to come, should we choose to engage in this blockchain revolution and lend it our vision, talents, and passion. And learning about these developing platforms and ecosystems is key in knowing how & where we may best step to participate in the ways we're most suited for, where our skills and knowledge may best serve.
Onwards and upwards...