The long-distance running of EOS has only just begun
At 1:50 on June 15th, 2018, EOS main network voting rate has exceeded to 15%, EOS main network has been activated and formally launched! Up to 17:00, the voting rate has reached 17.24%.
Currently, OracleChain (oraclegogogo) has obtained 10,989,460 votes, ranking 39th temporarily. We are so grateful to have you guys believing in us and voting for us, also congratulating the first 21 block producers that were successfully elected.
We have always believed that EOS BP elections are only part of the overall ecology and there are many things to do. The game has only just begun. The main line is just the starting gun for the entire long-distance run.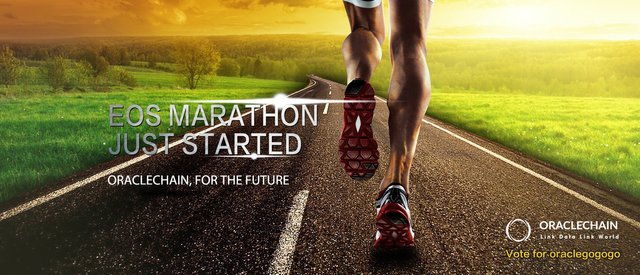 OracleChain will continue to work in the EOS ecosystem and we will do things for the entire ecosystem in these areas:
Open source tool development
The OracleChain team has currently released six projects including EOSDevHelper, EOSBenchTool, PocketEOS-Android, PocketEOS-IOS, EOS-BP-Security Proposal, and EOSDACToken. This project will be continuously iteratively updated. More EOS open-source tools will be available in the future.
Technical output
The OracleChain team will continue to organize blockchain high-end technology salons and continue to export core blockchain technologies to China's blockchain projects and enterprises. At present, the three themes we have organized are "Smart Contract Security," "Cryptographic Attack in Privacy Protection," and "The Most Powerful Tool in the Blockchain - Consensus," a high-end technology salon that promotes the core technology of blockchain.
EOS Developer Training Program
The OracleChain team will launch the EOS Developer Training Program to encourage more EOS developers, especially EOS Dapp developers, to get more exposure opportunities, Digging out the outstanding projects and promoting EOS ecological rapid landing.
EOS popularity and promotion
The OracleChain team will continue to promote EOS smart contract development across the country and explore decentralized business models. We have just held the world's first "EOS Developer Conference" and invited 20 teams from 10 countries around the world to participate. We have organized a series of "Linking Dapp Times and Blockchain offline technology salons nationwide" activities in Beijing, Shanghai, Shenzhen, and Chengdu. We actively invited the local EOS project development team in the event cities to participate in the promotion of EOS Ecology in China. More similar activities will be launched in the future.
Cooperation with freeCodeCamp Chinese Community
The OracleChain team will collaborate with the freeCodeCamp Chinese community (https://www.freecodecamp.cn/). freeCodeCamp is the open source project on GitHub which has the most stars, covering more than 160 countries, 2000 cities, and about 2 million developers (of which about 120,000 developers are in China). In the future, the OracleChain team will use its existing developer community and organizational model to cultivate and incubate more EOS developer communities globally.
Node security support
The OracleChain team has a background in senior information and system security and has reached an in-depth strategic cooperation with security giant 360. We will strive to provide comprehensive security solutions and security support for the EOS ecosystem, especially the EOS brick blocks.
The long-distance running of EOS has only just begun.
Thanks for all your support,
It will be our pleasure to keep serving this community
If you like us
Vote for: oraclegogogo