OracleChain block producer report II
We are OracleChain team. We are both the EOSIO block producer candidate and the builder of the EOS oracle service infrastructure. We believe that a candidate should be judged more based on what he/she currently does than what he/she claims to be doing.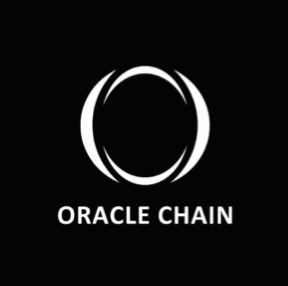 As the world's first application built on an EOS ecosphere, OracleChain needs to meet the demands of the Oracle (oracle machine) ecosystem by efficiently linking blockchain technology services with various real-life scenarios, thereby delving into this immense ten of billions of dollars valuation market. As a decentralized Oracle technology platform based on the EOS platform, the autonomous Proof-of-Reputation & Deposit mechanism is adopted and used as a fundamental service for other blockchain applications. In addition to Oracle services that provide real-world data to the blockchain, Oracle services that provide cross-chain data are also offered.
Given that OracleChain can accomplish the functions of several prediction market applications, such as Augur and Gnosis, OracleChain can also support smart contract businesses that require high-frequency access to outside data in certain scenarios, such as Robo-Advisor. OracleChain will nurture and serve those blockchain applications that change the real world. Our mission is to "Link Data, Link World," with the aim of becoming the infrastructure linking the real world with the blockchain world. By achieving intra-chain and extra-chain data connectivity, we aspire to create a service provisioning platform that can most efficiently gain access to extra-chain data in the future blockchain world.
This report is trying to answer Two New Check Mark Criteria questions outlined by @eosgo in their BP candidates criteria post(https://forums.eosgo.io/discussion/740/two-new-criteria-for-eos-block-producer-candidates-in-report-9#latest).
#1 - Block Producer Candidate Roadmap on values, community project timeline, finances, transparency, or any other topic the candidate deems important. Please show the direction and future of your candidacy in a Steam post for the community.
Any roadmap labeled as such by the block producer candidate will earn a check mark - community gauges the effort.
The value of the OracleChain team is to contribute more to the ecology of EOS, especially to the ecology of EOS developers, and to grow together with EOS Ecology.
The OracleChain community already has considerable supporters around the world. The world has established a community of 12 different languages. Our English community has more than 7,000 community members. The Chinese community also has nearly 8,000 community members. The Russian community has also nearly 2 thousand community members. In the future, we will continue to promote the construction of OracleChain's community, attract more people to pay attention to EOS technology and EOS community, and will attract more technology developers to enter the EOS ecosystem for development and promote the commercial landing of EOS application scenarios.
The financial principle of OracleChain BP node is that we will use all of the block rewards for the entire EOS ecology. Based on the current regulations of the EOS constitution, we have proposed EOS-BP-DAO.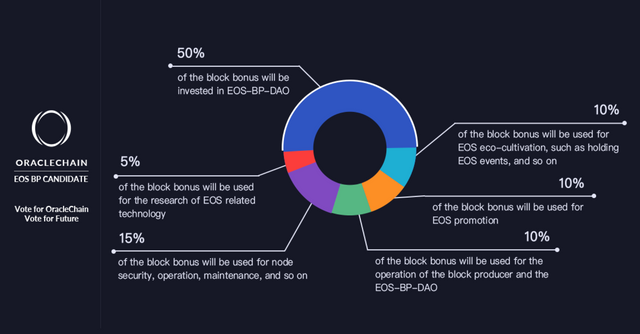 Based on the understanding of EOS ecology, we have proposed such a BP block rewards distribution plan. We believe that through such an allocation scheme, the use of BP block rewards can be maximally monitored by the entire community. At the same time, this allocation scheme can also balance the interests of all parties in a fair and equitable manner, and it can ensure that nodes have sufficient human and financial resources to provide the hardware, software, and human resources required for the successful operation of the BP node and continue to develop themselves. If you want to visit more details about EOS-BP-DAO, please visit the following link: https://forums.eosgo.io/discussion/656/eos-bp-dao-oraclechains-proposal-on-eos-bp-block-rewards-distribution-scheme#latest。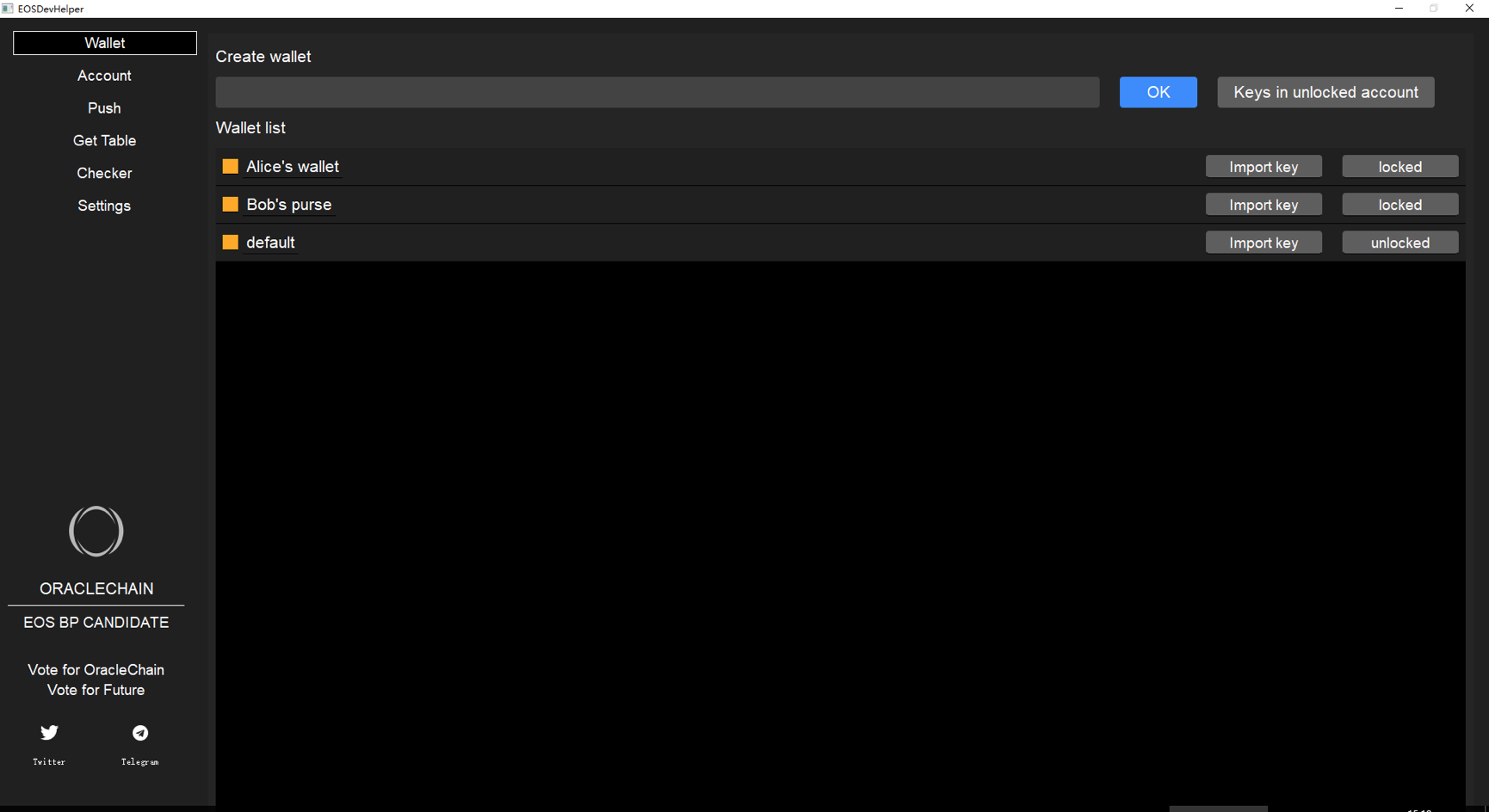 In addition, OracleChain is also released and open sourced the first EOS desktop cross-platform wallet development tools named EOSDevHelper。https://forums.eosgo.io/discussion/667/oraclechain-launches-and-opensources-the-first-eos-desktop-cross-platform-wallet-development-tool#latest
In this convenient desktop interface, integrated basic wallet functions, it includes private-key cryptographic management, signature verification module, and supports transfer, search, calling smart contracts and other functions. Developers can use EOSDevHelper to connect to the EOSIO network, view network interactions mechanism, test and develop the interfaces of wallets, accounts, and contract. In the near future, we will also open source EOS performance testing tools and will launch a larger EOS-tools open source plan. Please pay close attention to our latest announcement.
As the day of the EOSIO launch are approaching, the community is actively discussing the BP node's operational strategy both before and after the main network is launched. The most important issue is how to provide users with stable and reliable comprehensive on-chain services based on the security of the block-based nodes. In response to security problem of BP nodes, OracleChain combined the top resources in the security field and designed a security scheme for EOSIO BP nodes. A brief introduction picture of this scheme is shown below.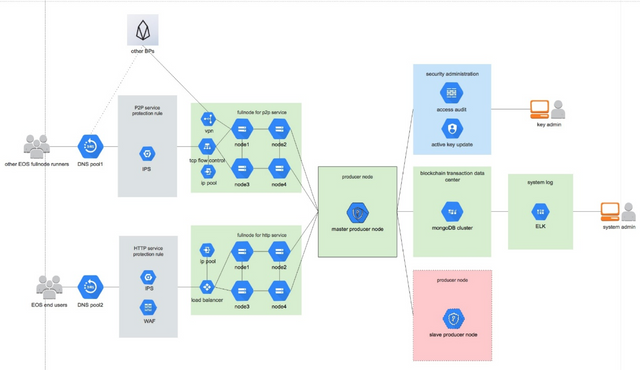 OracleChain will then elaborate and explain the plan in more detail, and will announce it to the entire EOS community as soon as it is completed.
2 - Position on Dividends (The sharing of Block Producer inflation rewards with unaffiliated voters, AKA "vote buying.")
Please describe the block producer candidate's stance on sharing inflation rewards and/or paying dividends to EOS token holders.
• Will the organization offer payment to EOS token voters for any reason, including BP elections AND worker proposals?
• Does the organization have a written policy of no-payment for votes? If so, please provide a link.
Based on the current EOS constitution, OracleChain will never offer EOS token payment to EOS token voters for any reason, including BP elections AND worker proposals. OracleChain will review this issue if the related terms of EOS constitutions are modified in the future.
Our above views are currently being published on Steemit in writing. The link is:https://steemit.com/eos/@oraclechain/oraclechain-block-producer-report-ii