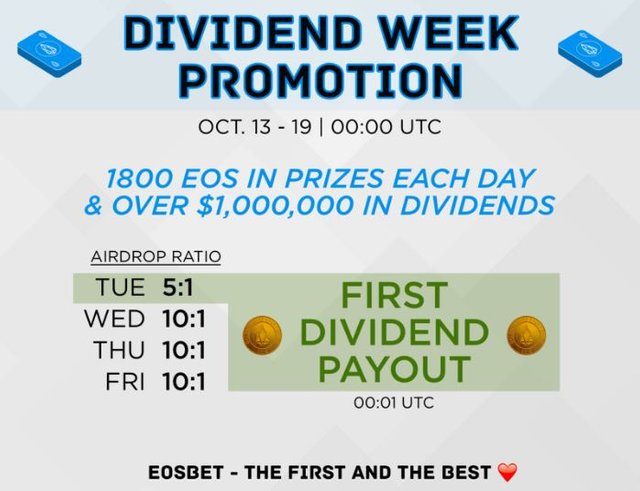 Yes, EOSBet was hacked, but like before they will always come back stronger! Being the first casino and one of the leading dApps in EOS or in Crypto as a whole (from the start about 1.5 month ago), they of course had a BIG target on their back. Yes they should have checked their code better, but we live and we learn. And as the EOS Blockchain is still relatively untested after being launched only about 4 months ago we expect more uncharted territory to be discovered. Some of which will be good and some will be bad.
However, what about the stronger part?
Well EOSBet doesn't back down and specially not for criminals. So the dividends have been paid to all BET  holders as promised!! And they also increased the current promotion even more to a 5:1 ratio today and 10:1 the rest of the event. So for every 5 EOS wagered you'll receive 1 free BET token.
Of course the daily prize of 1800 EOS is still on the table till the end of the 19th of October.
Just to show how they bounced back, look at this actions chart from https://voters.eostitan.com/labs:

Not enough?
 You can use this link to receive a 0.5% extra win reward every bet you make:
https://dice.eosbet.io/?ref=ge2temzrgene
Good luck, have fun and get those cheap BET fast!