BTC/EOS Analysis And Trading Tips:
From the analysis it is quite clear that there is not moment in the near weeks on BTC EOS so its a nice time to trade with this pair and make some more BTC on the current bearish market.
As we are aware of the market that BTCEOS is not going to go higher to we need to focus on different strategey in order to increase the number of satoshi or EOS.
From My analysis and prediction i came to the conclusion that the market wil be in between 0.006892 & 0.00092412 So we are at the current time we need to exchange the EOS to BTC as it is at the highest point and we need to buy EOS again after a short period of time as this pair go a bit Drop.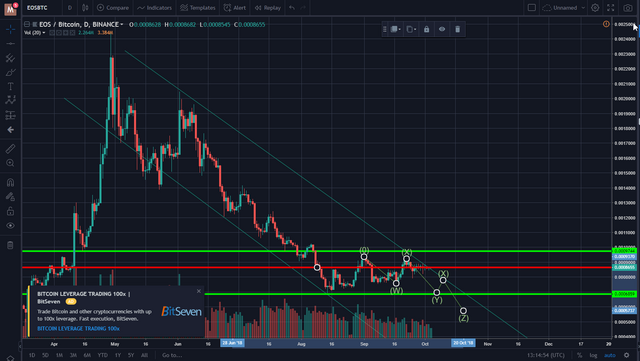 | Current Price | Resistance At | Support At |
| --- | --- | --- |
| 0.0008642 | 0.00092311 | 0.00065344 |

Disclaimer:
This is for the entertainment for the trading and not a 100% sure trading tips. We are not forcing you to follow our rules and out trading tips all loss will be your and profit too .please try to learn the trading with us and try to follow different pairs. You have to keep in mind that this trading is for taking a small profit for a short term of trading we cannot placed a long term trading on the cryptocurrency as the volatility is very high on the crypto market so we will try trade in short terms only.




Details Of Source :
Binance.com