First EOS Hackathon in Brazil: HackaBlu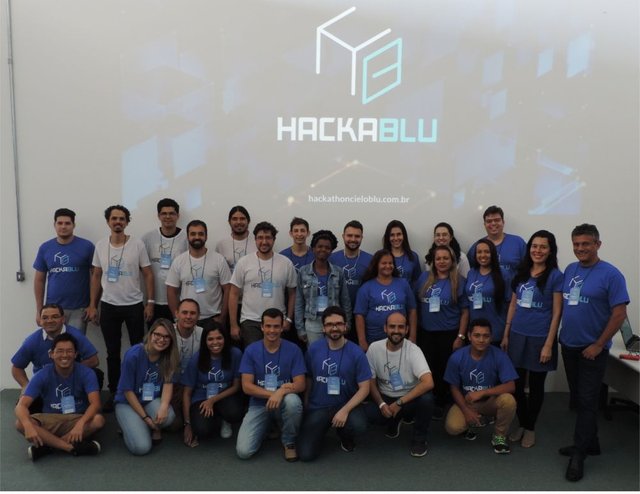 Last weekend I had the opportunity to be mentor and judge of HackaBlu, the first EOS Hackathon in Brazil (at least that we know!).
HackaBlu was a wonderful activity organized by CieloBlu, and conceptualized by Rubens Rocha Jr. CEO of Cielo Blu, Ranulfo Paiva Sobrinho, blockchain expert (and my partner in crime and life) and myself, as an effort to promote the new mindset needed to create truly transformative blockchain solutions. Hackablu was held in April 21st and 22nd in CieloBlu new headquarters in the city of Campinas, Sao Paulo.
Fun Fact: Campinas is considered the Silicon Valley of Brazil)
The challenge
HackaBlu's participant teams had a big challenge: corruption. Participants were encouraged to think outside the box and spend 27 hours together developing blockchain solutions to help reducing corruption at any level: local, national, private, public or any area in which they identified a pressing need and an opportunity to contribute. Prizes included R$ 5.000 and the chance to be hired by CieloBlu, for their new blockchain unit.
This video was played as inspiration at the beginning of Hackablu (source: BRS Explica)
Why EOS?
As established in Hackablu's Terms and Conditions, teams must build their solution using EOS. EOS is a blockchain operative system that enables scalable decentralized applications.
From their own whitepaper: "EOS is a blockchain architecture that may ultimately scale to millions of transactions per second, eliminates user fees, and allows for quick and easy deployment and maintenance of decentralized applications, in the context of a governed blockchain".
We believe EOS is going to solve many of the current weakness of other blockchains, particularly the ones related with scalability and cost. And is important for developers and entrepreneurs to be aware of its potential and learn fast how to build applications on top of it.
Mentoring the future
It was exciting to see how the teams started with a rough idea and during the afternoon, night and next day morning, were able to design their solution, put together a pitch, and also run their basic smart contracts using EOS.
During that time me and my fellow mentors, Rubens, Ranulfo and also Vitor Motta and Faister Carvalho (blockchain experts from CieloBlu development team) were able to help them in different areas from business strategy and communications, to blockchain and programming.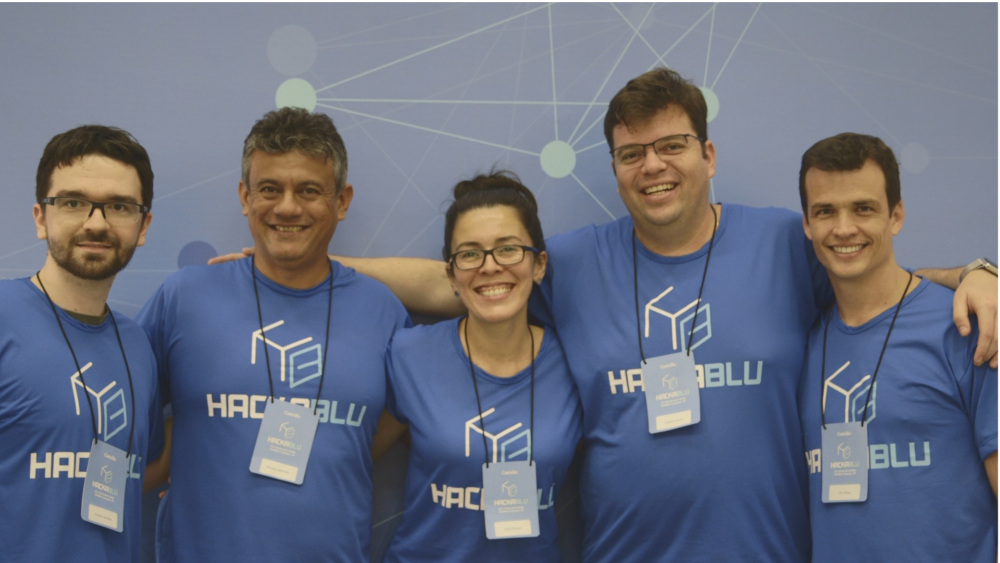 Mentors from left to right: Faister, Ranulfo, Karla, Rubens and Vitor.
The Solutions
After 27 hours of hard work and innovation the teams came up with two solutions called "Cadê o meu IPTU?" and "Presta Conta", the first one focused on budget management and allocation at city government level, and the second one focused on political campaign funding from individuals (crowdfunding) and how political parties expend those funds during electoral times.
Although both solutions were well rounded and presented, a competition needs a winner! and we decided to give the prize to the BluBlok team for "Cadê o meu IPTU?". BluBlok was formed by Anselmo Rosa, Fagner Benedito, Luís Augusto Pinheiro and Ulisses Rocha. They were able to present not only a clear and impactful pitch but also a functional prototype with a frontend able to interact with their smart contract on EOS blockchain.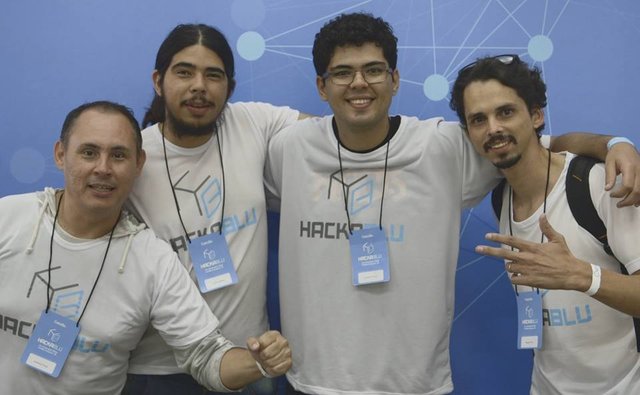 Our winners: BluBlok team for their solution called "Cadê o meu IPTU?"
---
Photo credits: Oscar Fujiwara - CieloBlu
---