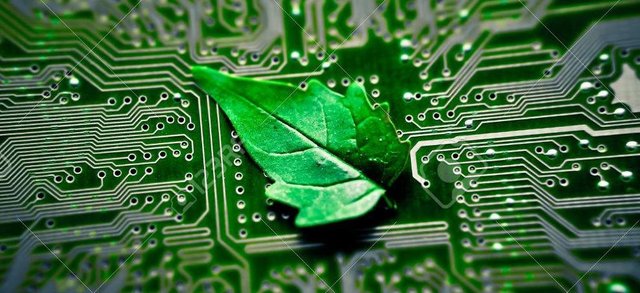 Introducing - EOS Green - Team
We are block producer candidates ready to build reliable and scalable block production system for the EOS blockchain. We provide with appropriate equipment to take part of block production for EOS blockchain. We are planning to use EOS as the next-gen blockchain to close the economic loop and to provide incentives to the users. By doing so, we believe that we will move forward altogether towards a healthy society where transparency, trust, and quality are valued.
Marcin Chilik, founder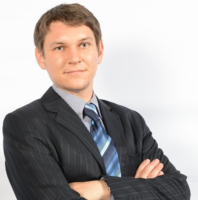 He finds himself as a very cooperative and competitive person which likes new challenges. To be the manager of blockchain company means more to him than any money he could make out of it.
Monika Reszka, advisor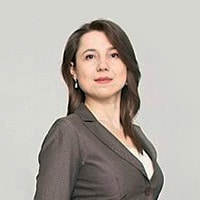 French-Polish Executive, Managing Director, Business Development Director and Managing Consultant graduated from ENST in Paris with over 16 years' experience working in an international and multicultural environment in Poland and France.
Agata Chilik, communication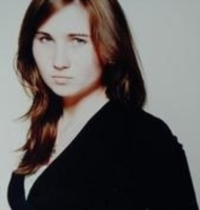 She loves to work with people for people focused on our common interest and determined to keep going unstoppable.
Sukesh Tedla, dapp entrepreneur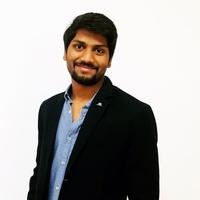 He is a young entrepreneur who envisions in building innovative applications for the community with an essence of transparency, democracy, and equality as core values.
Proposed EOS Blockchain Infrastructure & Service Architecture
Below is a topological representation of our Block Producer Design for our initial Cloud/Private service state. We understand that storage will not be ready before June, therefore we will have two "full nodes & storage" run as pure full nodes for now.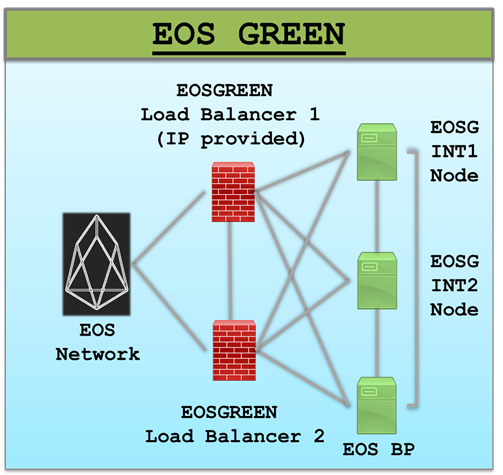 EOS Green: Block producer Node:
Primary: Dual Xeon, 256 GB RAM (upgradeable to 1.5 TB), 512 Gb SSD
Backup #1: [similar as above]
EOS Green: INT1 Full Node:
Primary: Dual Xeon, 96 GB RAM (upgradeable to 1.5 TB), 512 Gb SSD
EOS Green: INT2 Full Node:
Primary: Dual Xeon, 96 GB RAM (upgradeable to 1.5 TB), 512 Gb SSD
Scaling
Each individual machine will receive additional RAM and SSD upgrades as soon as block rewards start coming in. We are also preparing our storage machines to be ready for the IPFS integration with EOS as soon as we will know a bit more about the final solution.
Internet connection info
In the diagram, there are two IPS with fibre-optic line connection with 1 Gbps capability .
ISP #1:
Used to connect our primary producer to the other Block Producers (via a full node).
ISP #2:
Used to connect our producers, full nodes on the second location. This should allow us to stay synced even if attacked heavily.
Load balancer #1:
Used to connect my nodes to the network. Hosted in a datacenter.
Load balancer #2:
As a secondary will be configured to balance traffic between the full nodes and the incoming p2p connections (this way I can easily scale and provide fast access to the blockchain). Hosted in a datacenter.
Checkout our website: http://eosgreen.io