Anyone can participate in the EOS AirDrop.

The air drop is unfamiliar and often passes by.
In the case of EOS, there are many airdrops ahead of the announcement of the main net, so it is a great opportunity to pass by.
Token Distribution The tokens will be airdrop exclusively to registered EOS ERC20 tokens holders with a balance higher than 100 tokens. The Airdrop will take place from May 15th- 30th
EOS AirDrop Find out how to get involved and make money by participating.
The first thing to do to participate in the AirDrop is to get an EOS key from EOS.IO. Then register EOS KEY with MyEtherWallet (MEW).
The method of receiving EOS key from EOS and IO is as follows.

When the EOS.IO site opens, it will appear as "GET EOS" when it reaches the middle part. Click on it.

EOS agree popup appears. Check all and click "CONTINUE".

CONTINUE Click to see the title "Participation Instructions".

At the bottom of the Participation Instructions title, you can see Buy / egister / Claim / Transfer. Select egister here.

Click Register to view the MetaMask / MyEtherWallet / Ethereum Wallet. Here we choose the MyEtherWallet.

After selecting MyEtherWallet, press "Generate EOS keys" immediately below.

The Public key / Private key appears. Copy and save.
Public key / Private key Once you have made a copy and ready to use it in MyEtherWallet, all the steps in EOS.IO have been done.
The next step is to register your EOS KEY in MyEtherWallet (MEW).
(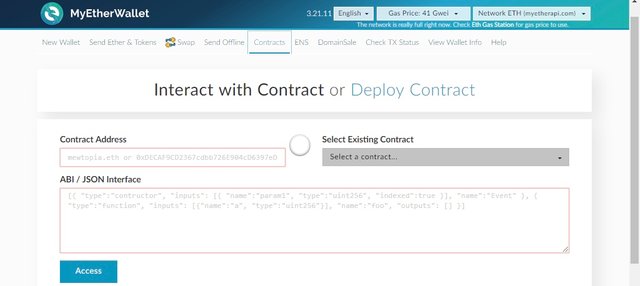 )
Log in to MyEtherWallet and enter the contract page at the top of MyEtherWallet.

Under Contract Operation or Contract Distribution Title, click Select an existing contract.

Select EOS in the contract. Then click Access.

Press Access to see several items. Press Select a Fuction at the bottom.

In the open selection window, click Register. You will be told to insert the EOS Public Key from EOS.

Insert the EOS Public Key and log in to the MyEtherWallet.

Press "Write" at the bottom. Pop-up appears. Do not touch anything and press Create Transaction!

If you see the transaction that occurred, click Yes. When the green bar below appears, the airdrop is ready.

If EtherScan has a history of EOS crowd sale at the address of MyEtherWallet, the airdrop preparation is successful.
Earn money by participating in the AirDrop prior to the announcement of the EOS Main Net.
In my opinion, BTC thinks it will come up once again in 2018 with plans to surge as in 2017.
We believe that EOS will be included in coins that can soar like BTC. It is expected to make a big profit if it is a little bit private.