EOS Token Live On the Bancor Network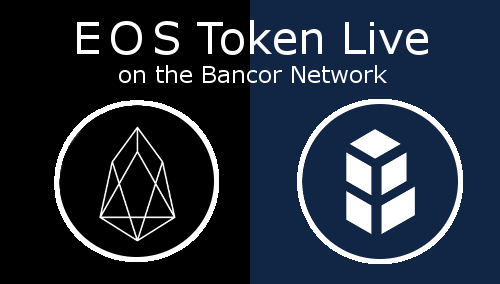 On 1st Feb 2018 EOS was activated on the Bancor Network, and can be converted with other tokens on the network directly from within Web 3 wallets E.g., Metamask, Ethereum Wallet and Parity .
Bancor is a Decentralized Liquidity Network that allows you to hold any Ethereum token and convert it to any other token in the network, with no counter party, at an automatically calculated price, using a simple web wallet.
The addition of EOS is significant as one of the main draw backs with convertibility between ERC20 tokens is the requirement for Ethereum computational transaction gas that carries a fluctuating cost, in ETH, depending on the demand for network resources.
When public EOS IO blockchains go live in June 2018 current EOS ERC20 tokens will be frozen on the Ethereum blockchain and new EOS IO core tokens (e.g. EOS) will be able to transact FOC with other tokens on the EOS IO network.
The prospect of Bancor deploying their smart contracts on a public EOS IO blockchain is a welcome one, performance features of EOS IO over ethereum combined with zero fee transactions would have obvious benefits not least for the user experience.
As always comments & questions welcome, share 🤔, resteem 🔃 like 👍 and most of all enjoy! 😃