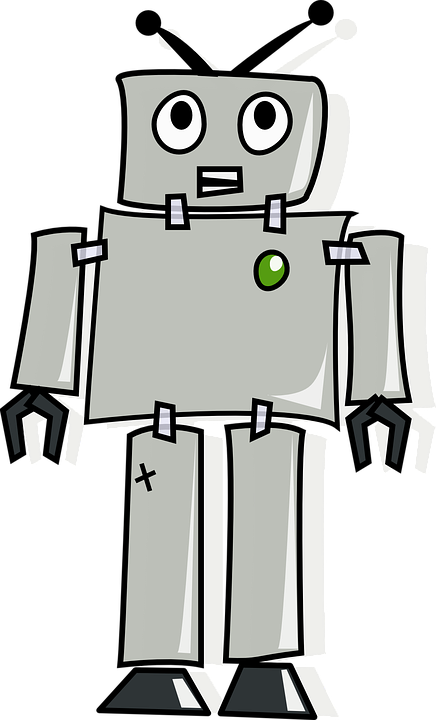 ---
Introduction
Dear EOS Holders,
Today I am here to introduce Telegram chat-bot which supports
checking EOS price
checking EOS balance of your EOS account
This is originally developed by my own needs, "I want to know any actions on my account very easily". Because for checking account actions changes, going some website maybe troublesome.
Assuming hacker change my private key, unstake EOS from CPU or Bandwidth. After 3 days later, he or she can transfer all EOS to his account. To prevent this, I may visit a certain website to check my account history. This is really tiresome.
So I developed this telegram bot to notify significant changes on my EOS account.
---
How to use
Let's see the usage.
Go to telegram bot "https://t.me/EOSAlarmEBot" This English version and "https://t.me/EOSAlarmBot" is Korean version.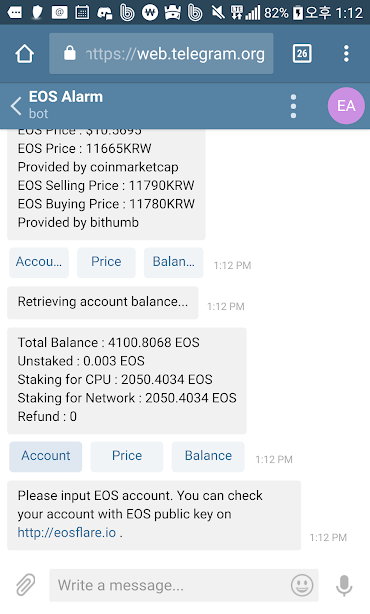 At first, press "Account" button and input your 12 letter EOS account.(NOT EOS Public key)
Then you can use it freely.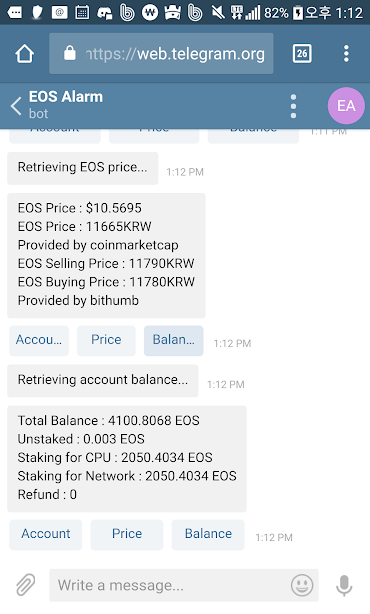 Touch "Price" button, then you can see EOS price from coinmarketcap.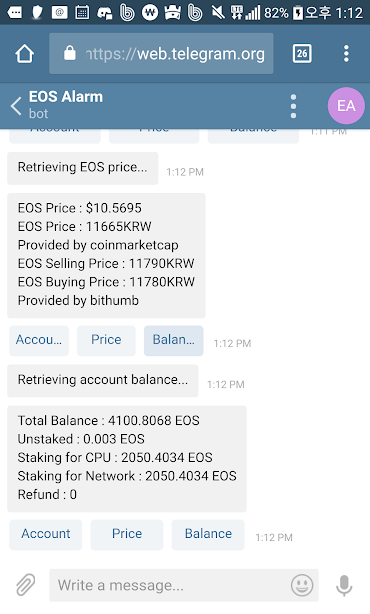 Touch "Balance" button, then you can see your balance with detail information(Total balance, unstaked, statking, and Refund). In here, refund meant "on refunding from staking to unstaking". So you can check what happen in your account.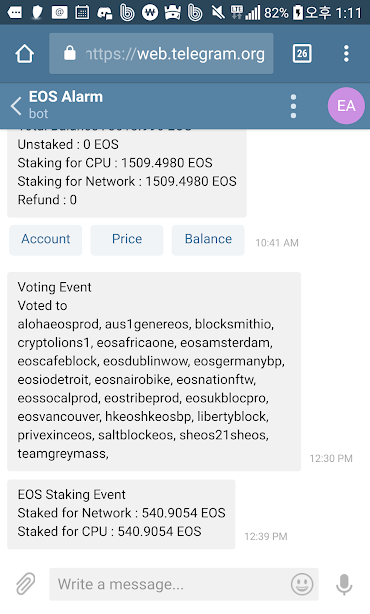 Also if you vote some BPs or If you stake EOS or if you unstake EOS, then this will alert you as a new message.
If you have any feedback or opinion, please do not hesitate to contact me or please leave a reply comment in this article.
---
Further More
and in near future, I will release
Supporting Multi Accounts
Supporting more events and actions
Supporting querying account actions history
Price from more exchanges
Anything what you want
Please support eoscafeblock, EOS.Cafe Korea to create this kind of tools to enrich EOS ecosystem through voting.
Special thanks to Syed, EOS Cafe Calgary, Troi Bryan, EOS.Cafe DAC.