Karma update version 1.0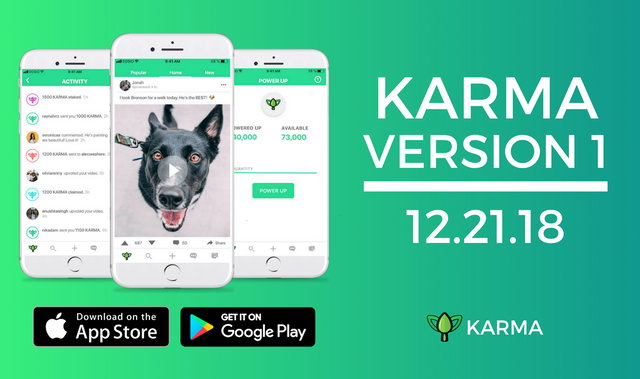 KARMA, the social media where you get rewarded for good deeds, is now live for Android in the Google Play store. You will need your EOS active key to create your profile!
For IOS device you will need to download from testflight -Apple Store using this below link
https://testflight.apple.com/join/lpnVgcmV
While android device can also access the Karma app via play store using this link also
https://play.google.com/store/apps/details?id=io.karmaapp.karma&hl=en_US
KARMA Rewards For Early users
This KARMA will flow as bonus rewards to users who have their KARMA Powered Up and are actively using the application daily. KARMA is a social network for good and it makes the most sense to reward early adopters of KARMA and help to create a better world.
However they're few temporal change with the official Launch of KARMA there are some changes made to powering up. You no longer have to wait seven days to claim, instead you can now claim daily. Additionally, you can no wait longer than seven days and still receive your full daily reward.
To facilitate these awesome changes we had to do a table migration. This means you may temporarily see a powered up balance of 0. It is NOT actually 0… we are just updating wallets with the new information. Rest assured, your KARMA is powered up and earning rewards!
the purpose of karma app is more them just the fun of social media phartform but to bring a collection of good people from the different work of life,
The question is now that the app has officially released. Are there any plans of implementing other wallets like meet.one, tokenpocket or other to interact with the DAPP? Similar to how wallets are implemented with EOSknights. I don't want to enter my private key every time I sign in as everything is done by the wallets ? which is yes. from the upcoming update and version they will a features when you can run your account without key