GenerEOS snapshots Staked EOS Tokens!
Now you can take snapshots of Staked EOS!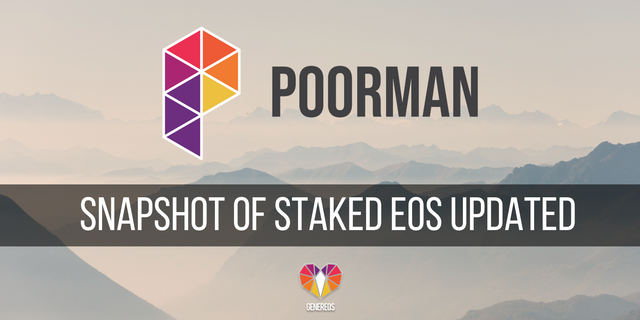 Team GenerEOS who created EOSToolkit has delivered a new, exciting and more effective tool for their POOR snapshot. Anormal snapshot take's EOS public keys and balances. It's the Liquid EOS or staked balance of the account that adds up to the total token balance accordingly.
A Hidden Gem
GenerEOS is now capable of snapshotting EOS that is staked in CPU & NET to other accounts. If you've staked EOS into CPU or NET onto a friends account, your tokens will be caught in the snapshot! As long as you continue to Vote each day the more POOR you will receive.
GenerEOS has been able to find or retrieve more information based on EOS accounts. This information will include Staked and Unstaked EOS balances, along with users who have voted or used a proxy to vote and can determine if the user has participated in any Air Grabs.
Users are able to gather name accounts, e.g. Billmeeteos1, in the EOS network and export it as a .csv file. Users can also orchestrate payments and token distributions using the snapshot.
More in depth and review of GenerEOS of the code can be found on our Github
Vote & Get Rewarded!
GenerEOS has brought along more incentive to vote in recent times. Voting for 25 BP's minimum every day will grant you to be rewarded in Poorman tokens each month. The snapshots would be taken at an arbitrary undisclosed time near the end of each month, so people don't stake and vote only for the airdrop. Tokens within the EOS Ecosystem sponsor the smart contract "bepoornomore". When you transfer your Poorman token to "bepoornomore", your POOR will be BURNT from the supply and will exchange with you the Sponsor token at the set rate.
E.g. 100 POOR: 1 KARMA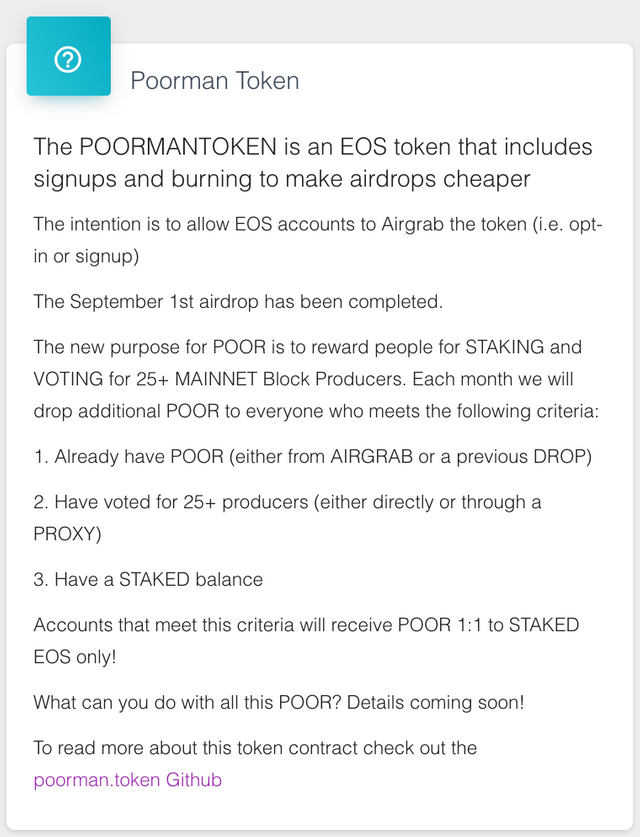 Remember, vote for 25 BP's or more daily to be eligible. Snapshot is monthly at an undisclosed date or time. Do your research on BP's and vote for the Progress of EOS!
For further discussion Join our Telegram.
Help Us, Help You! At GenerEOS, we strive to deliver the most up to date & credible information to the EOS Community. Vote for us so we can continue our passion & continue giving to the EOS community.
Vote for: aus1genereos
Help is here!
No matter what hurdle you come across or if you're in general need of help, you can always come & join our Telegram channel. Or feel free to join us in our new & exciting HelpDesk with additional Support! As the EOS community does, we will support you!
About the US
GenerEOS is a social enterprise block producing candidate with a mission of promoting and supporting scalable and highly reliable block production whilst giving back block rewards to Charities and the Community.
Based out of Sydney, Australia, GenerEOS is founded by a team of like-minded blockchain enthusiasts with diverse backgrounds and a passion to make a difference in the world and fostering the spirit of generosity by giving back.
The Future of Giving
Website: https://www.genereos.io
Twitter: https://twitter.com/GenerEOSAus
Steem: https://steemit.com/@genereos
Telegram: https://t.me/generEOS
Reddit: https://www.reddit.com/user/GenerEOS
Github: https://github.com/generEOS
Medium: https://medium.com/@generEOS
Facebook: https://www.facebook.com/generEOS