EOS Help Desk - GenerEOS x Blockgenic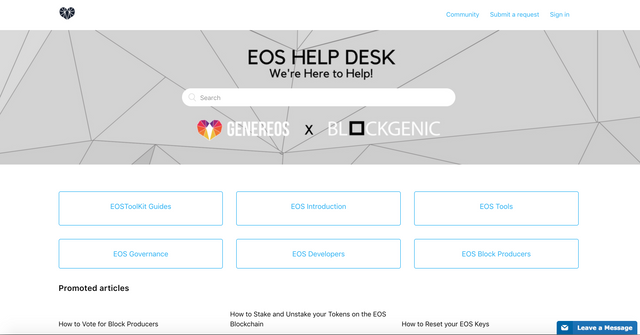 ---
We have teamed up with Blockgenic to create a comprehensive EOS Help Desk for everything EOS related. After building EOSToolkit.io there have been endless requests for technical and non-technical issues that token holders are facing on a daily basis within the community. We try and help as many as we can but feel Telegram and other social channels are not the best platforms to retain information in an easy to find location. At GenerEOS, education is one of our core values. We truly believe that if EOS is going to be widely adopted, we need to share our knowledge and educate as many new people as possible.
We felt an area lacking in this department was a "Help Desk" of sorts for our great blockchain. Somewhere where we can post guides and tutorials and users can interact and comment with questions that they have so the information is collated and stored for the next user. We have also included live chat support(when we are online) to immediately help users not only on EOSToolKit.io but users who are trying to perform any task with their tokens or who are just trying to learn. We are hoping to roll out more agents who can help keep live support open for more hours of the day.
If you would like to add value to the Help Desk by creating content or support you can apply for reimbursement of your time through our donations back to the community
Current Guides / Tutorials
How to Stake and Unstake your Tokens
How to Reset your EOS Keys
How To Claim Airgrabs
How do I set up and attach a Scatter account to EOSToolKit?
How to Create a New EOS Account?
How to use Multi signature transactions
How to Use Proxies
How To Vote for Block Producers
Multisig Tutorial
EOSIO Single Node Testnet Setup on Mac OS
EOSIO Single Host Multi-Node Testnet
Airdrops and Snapshot Tools
Plus lots more...
Feedback is always welcome, we hope this adds value.
Blockgenic socials
Website
Twitter
Youtube
Meetup
Steem
About US
GenerEOS is a social enterprise block producing candidate with a mission of promoting and supporting scalable and highly reliable block production whilst giving back block rewards to Charities and the Community.
Based out of Sydney, Australia, GenerEOS is founded by a team of like minded blockchain enthusiasts with diverse backgrounds and a passion to make a difference in the world and fostering the spirit of generosity by giving back.
GenerEOS: The Future of Giving
Public Presence
Website: https://www.genereos.io
Twitter: https://twitter.com/genereossydney
Steem: https://steemit.com/@genereos
Telegram: https://t.me/generEOS
Reddit: https://www.reddit.com/user/GenerEOS
Github: https://github.com/generEOS
Medium: https://medium.com/@generEOS
Facebook: https://www.facebook.com/generEOS