We Support the Best dApps and Services - Part2
EOSphere partner and support the Best dApps and Services in the EOSIO ecosystem, this article is a continuation of Part 1 which you can find here where we aim to introduce you to the excellent offerings from our supported partners.
MEOW (My EOS Wallet)
Well-known EOSIO developer altShiftDev has made excellent strides in the incorporation of the Ledger Nano S hardware wallet technology on EOSIO. Currently altShiftDev supports EOS, Telos, Worbli, BOS, Jungle and Kylin Networks through his innovative ledger enabled My EOS Wallet web app.
Lately altShiftDev has taken this functionality to the next level by launching the
MEOWnet
which allows dApps to interact directly with hardware wallets without any intermediary software. EOSphere are proud sponsors of altShiftDev's work and look forward to this exciting code being adopted by many dApps going forward.
Coinflow offer a set of accounting solutions that range from API's to convert blockchain ledger data into accounting ledger data, to automated bookkeeping and financial controlling solutions for platforms, enterprises and blockchains.
Accurate cryptocurrency book keeping is becoming quite essential as blockchain is increasingly being adopted by mainstream business and everyday users that need to accurately present their gains when compiling tax returns or showing compliance. We are currently working with Coinflow to structure their platform effectively for the EOSIO ecosystem.
Our favourite media partner Trybe is an EOSIO-focused crypto community where knowledge can be shared, latest news is presented, and content creators can come together to get their message out - all while earning TRYBE tokens at the same time!
We announced our partnership in December 2018 and are looking forward to growing our brand alongside the amazing roadmap and grand vision of where they see their platform going.

New features such as a lighting fast media web app, comprehensive EOSIO wallet, a fully fledged DEX, as well as a crypto-fiat gateway directly into the EOS ecosystem are what we can expect in the future.
You can start earning TRYBE tokens now by registering on their site: https://trybe.one
The theEOSwriter is an EOS focused news website built and maintained by an Australian journalist - Kenny. The idea behind theEOSwriter is to provide a source of EOS content of only the highest quality and to present it in a clean, clear and aesthetically pleasing website dedicated to supporting and growing the community.
EOSphere appreciate the opportunity to support and partner on this excellent community focused initiative. theEOSwriter site also offers EOS focused advertising for an extremely modest price.. contact Kenny here (
https://www.theeoswriter.io/contact-us
) to get your dApp or Block Producer Campaign in front of the community.
Do you consider yourself an artist or even just like to express your creativity? pixEOS is the perfect place for you as it is an art, gaming and blockchain platform built on a foundation of profit-sharing that rewards participants in the collaborative canvas on its interactive EOS dApp pixEOS Paint. The pixEOS roadmap will see the opening of an Auction House for the sale of NFT (Non-Fungible Tokens) tokens representing finished canvases, an Art House for artists to showcase their talents, and the launch of a wide range of games and interactive dApps.
The pixEOS Team and Community are easily the friendliest and most inclusive group in the entire EOSIO ecosystem which can be expected when you see the colorful personality of pixEOS CEO Fred Nogueria.
One of the key reasons pixEOS and EOSphere partnered back in December 2018, is we both have a community first ethic and we both want to grow the EOS ecosystem through adoption of the EOSIO platform.
We are also very interested in working with pixEOS because they are developing a NFT platform; this type of digital scarcity has amazing potential and we believe pixEOS using EOSIO will be the platform to bring mainstream awareness to this unique token.
Ultimately EOSphere was one of the first pixEOS strategic partners due to our values aligning and we are extremely excited to be on this journey with Fred and the Team. If you haven't experienced the warmth and awesome craziness of the pixEOS community and platform yet join their telegram and check out the paint canvas.
Play pixEOS Paint at: https://paint.pixeos.art/ and start earning rewards now!
End of Part 2... Continue to Part 3
---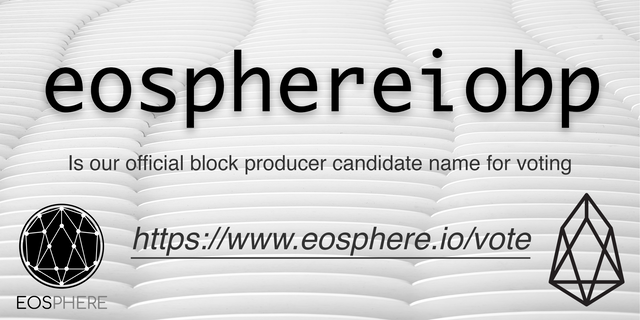 Website https://www.eosphere.io
Telegram https://t.me/eosphere_io
EOS Voter https://eosvoter.eosphere.io
EOSphere are a passionate group of EOS enthusiasts and data centre professionals currently Standby Block Producers providing services for the EOS Mainnet and Block Production services across multiple sister chains.
Based in Australia, EOSphere are focussed on supporting the EOS community and serving the entire EOSphere through provision of infrastructure, governance and community benefit initiatives.
Follow us @eosphere - twitter @eosphere_io - YouTube EOSphere - Facebook EOSphere- Medium EOSphere