F2Pool, One Of World's Largest Ethereum Miners, Purchases $3.1 Million USD worth of EOS Tokens. Update: Now owns 500K EOS or $7.31 MM USD worth.
Edit: Here is the TX ID link https://etherscan.io/tx/0x92c4045bfda9ff2e44ea2b91e213b14b8e06854e5d527f57655b8e393fdc428d
Update: F2Pool has increased their holdings to 500,000 EOS or $7.31 Million at the time of this update on 1/28/18.
https://etherscan.io/address/0x61c808d82a3ac53231750dadc13c777b59310bd9
On 21 January 2018 during the 214th EOS ICO period, F2Pool, the Bitcoin and Ethereum mining pool which accounts for ~25% (https://etherscan.io/stat/miner?range=7&blocktype=blocks) of the Ethereum network's hash power, purchased just under 215,000 EOS at $18.0889 per token bringing their total EOS holdings to 227,077 or $3.13 million at current EOS market value of $13.77 each. Their contribution helped make this round the second most expensive ever (#2 @ 41.17 per ETH). At time of writing, they are the 257th largest EOS holder in the world.
Remarkably, F2pool caused a spike in the early part of the 214th contribution period, as seen here: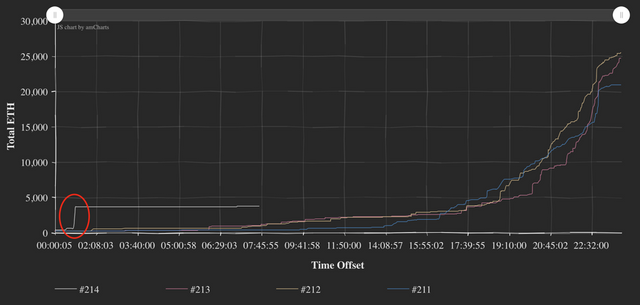 This has gone against the prevailing strategy of "wait and see" that the market usually takes with the EOS ICO. The vast majority of contributors will wait until the final minutes to attempt to obtain tokens under or at the market value. It did not play out that way this time as F2Pool contributed a whopping 10.7% percent of the entire rounds worth of Ether.
We're happy to have F2Pool aboard. We believe that EOS will be the dominant distributed network that will be capable of decentralizing the internet, a truly massive and revolutionary undertaking. To have such an established mining pool such as F2Pool commit over $3,000,000 in exchange for future EOS tokens shouldn't be understated. It means that the incumbents are starting to take notice.
F2Pool's mining operations are spread across BTC, LTC, ETH, ETC, ZEX, SC, DASH, and XMR. Are they looking to add EOS to that list? Here at EOS New York we've been wondering what their motivation is. Could they be looking to stake those tokens to vote themselves as a Block Producer once the main network launches? They certainly have the capability to add value to the network but would EOS token holders support F2Pool and vote them in as a Block Producer? The scope of a Block Producer's responsibilities are far wider than simply running servers. A Block Producer not only needs to run a high-performance low latency network, but also needs to be active in the community, continuously add value to the network, and ensure responsiveness with network constituents. F2Pool certainly knows the hardware side of things, but will their hardware expertise translate well into the markedly different governance dynamics on the EOS network?
Then again, F2Pool could see EOS as a good investment and believe in the tokens ability to rise in value. However, there are also still over 240 Ether addresses that hold more tokens than F2Pool. It will be interesting to see if other large mining pools begin to dip their toe, or as F2Pool has done, dive headfirst into what will be a game-changing network.
Welcome F2Pool to the EOS community!
---
EOS New York is the preeminent Block Producer candidate for the EOS blockchain network on the eastern seaboard of the United States. Founded by Rick Schlesinger and Kevin Rose, it aims to ensure the successful launch of the EOS network, educate users, and execute a plan to continuously add value to the network.
To keep up to date on our meetups, developments, and the communications we keep with Block.One, follow us on our social media accounts @eosnewyork
Our first meetup will be on February 8th. We are coordinating with a special guest for a possible second meetup within February due to high demand.
https://www.eosnewyork.io/
https://twitter.com/eosnewyork
https://medium.com/@eosnewyork
https://steemit.com/@eosnewyork
https://www.meetup.com/EOS-New-York/