Unico.Global the first Italian DAPP to rotate on EOS with a project related to digital collecting, has started its Bounty campaign. Follow these instructions to receive UNI tokens.
EOS ITALIA and Unico are partners thus the safety of the Bounty campaign is guaranteed.
Step 1: Download the Unico APP on your smartphone
iOS: https://itunes.apple.com/us/app/unico-collector/id1313566164?mt=8
Android: https://play.google.com/store/apps/details?id=co.in.tokk.unico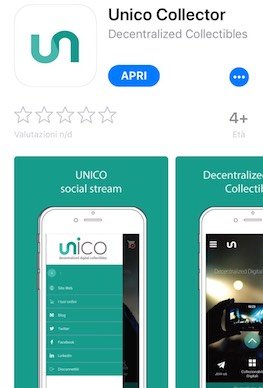 Step 2: Sign up
Enter your email address and all required data
Step 3: Confirm your email
Open your email and confirm your registration (Also check in the spam / junk mail folder).
Step 4: Return to the APP and access the Bounty campaign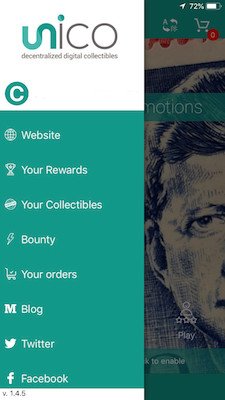 Return to the APP and open the menu by clicking the three lines at the top left and select the item BOUNTY
Step 5: Complete the form
Enter the bounty page and fill out the form.

Enter your email address
Enter EOS ITALIA under the heading Network (your support is important to us)
Enter the email address of a friend who invited you (optional)
Insert the telegram id: click on Instructions: you will need to enter on @unicoglobal chat and then start the chat with the @userinfobot bot at this point copy and paste the ID provided in the form
Follow @unico_global on Twitter and enter your twitter id without @!
Save the data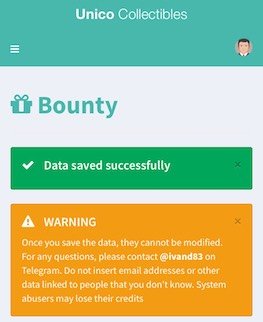 END
Written by Alessandro Pecoraro and translated by Aneta Karbowiak