[En] EOSeoul Hybrid Infrastructure for EOS Platform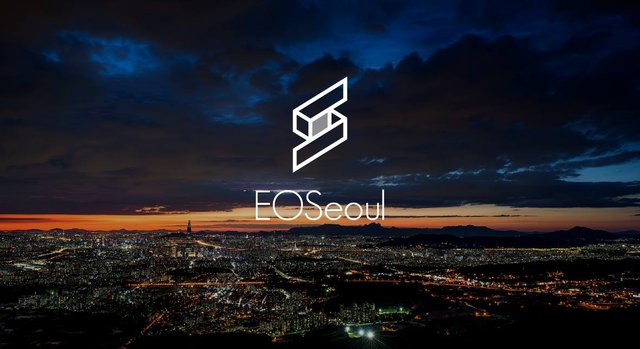 Hi, it is EOSeoul.
From the last posting on our infrastructure, we have an important update.
This is the hybrid infrastructure architecture that we feel that it should fully accommodate the needs of performance, stability and security for the operation of the EOS Mainnet. (Please note that future update is always possible.)
EOSeoul Infrastructure Architecture on EOS Mainnet Launch
This post is about the technical reasons behind our choice.
In order to build and operate in this structure, we believe there will some threshold criteria, namely a large IT investment cost, technical expertise as well as the large scale service experience. As we have been running PC games for more than a decade, we were able to design it without much difficulty.
The risks associated with the cloud or bare-metal environments can be overcome with the hybrid one.
Is cloud safe?
It really depends on your need. For an environment where a high performance and a high level of trust are required, it would not be suitable as you will need to have a complete control and to perform thorough verifications.

So are we implying we shouldn't use the cloud?
Currently all the major services are already using the cloud and we also have been using it for our games at a global level through Neowiz, our gaming arm. The advantages of the cloud have already been proven time and again with a quick deployment and easier scalability.
After our technical analysis of EOS platform, we decided the following;

Full Node
A full node, acting as a frontend, is hosted as a cloud service in anticipation of handling user requests as well as likely exposure to a sudden high workload.
Also it has another layer of protection by using security solutions provided by the cloud service firms for better security and stability.

BP Node
The BP node, hidden from the users, is extremely important as it will produce blocks. It is highly likely that the level of security threat will increase, but the node is expected to keep producing blocks regardless. Therefore the producers prefer to have the bare metal in IDC in order to have an easy control as well as performing a thorough verification as they will have direct control to manage the IDC.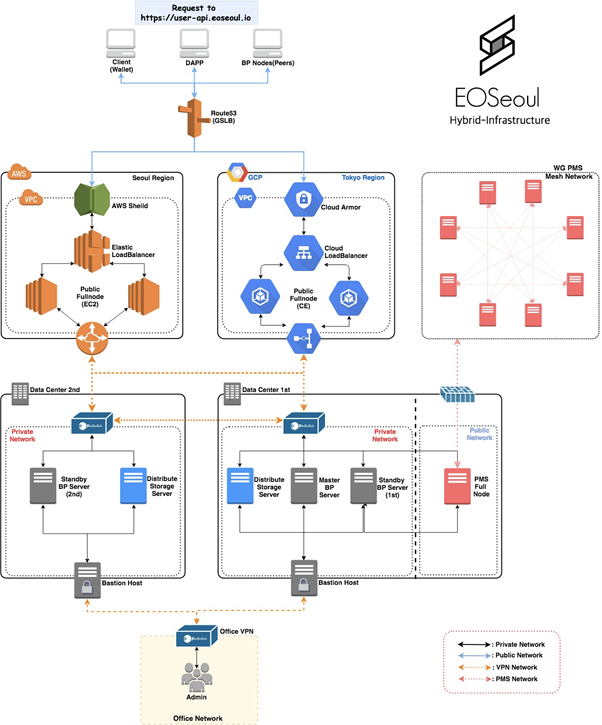 As can be seen from the figure, EOSeoul has built a hybrid Infrastructure to accommodate the potential risks of cloud and bare metal environment.
Also the physical location of the server, with the regional parallel setup, has a significant role in bringing a stable service in case of unexpected errors. (Some will be implemented soon)
Additionally, other similar hybrid Infrastructure environments by BPCs are referred below;
HKEOS has a full node in cloud, BP Node in baremeta soon. And additional EOS Nodes will be setup by DataChu in Bhutan.
Reference) HKEOS — Bhutan EOS Supernode Partnership Announcement
Secure Infrastructure Proposal for BPs
Proposal by HKEOS, EOS Rio, Sw/eden, eosDAC and EOS_Tribe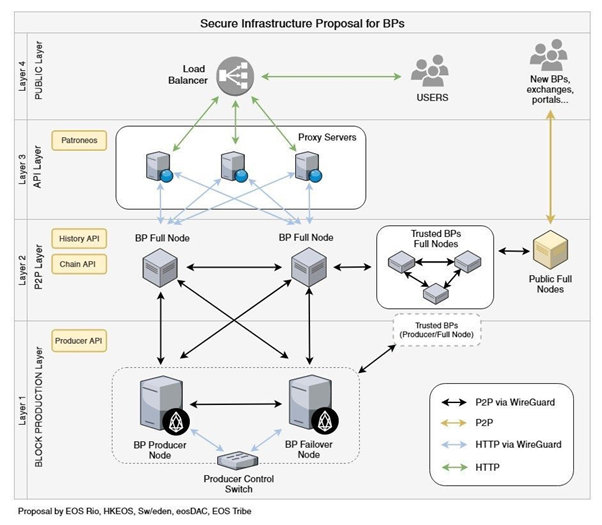 We would like to thank HKEOS for sharing this information.
Any BPCs wish to know more, please contact us.
Next post will be on building the security system in this environment.
Any feedback is welcome
EOSeoul can be reached on the following channels for any discussion on EOS.
Telegram(한국어) : http://t.me/eoseoul
Telegram(한국어, developer) : http://t.me/eoseoul_testnet
Steemit : http://steemit.com/@eoseoul
Github : http://github.com/eoseoul
Website : http://eoseoul.io
Twitter : http://twitter.com/eoseoul_kor
Facebook : http://www.facebook.com/EOSeoul.kr
微信公众号: EOSeoul