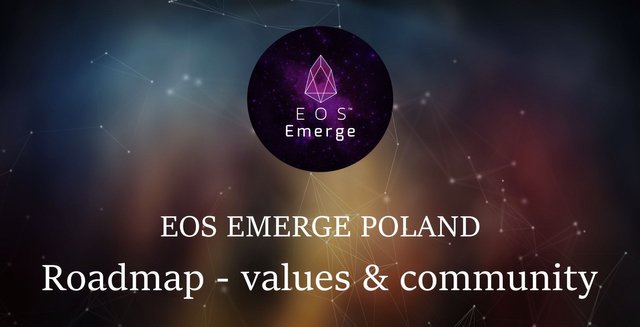 Block Producer Candidate Roadmap on values, community project timeline, transprency and more...
Values
Ethics and Transparency
Ethics in business and in our relations with people are the superior values that we have been guided by in all our activities since the beginning of our operations. As long as we can trust the other party, we do our best to approach them in the most ethical manner.
Transparency is somewhat a natural consequence of ethical behavior. Transparency of block maker activities should be particularly important for the EOS community. Using voting and delegation of duties, we encourage transparency, which has been an issue all over the world regardless of the country for many years now.
We cannot build a new system while repeating the same mistakes that have made for hundreds of years.
In addition, while many people are complaining about insufficient EOS decentralization, it is up to the block producers to uphold the independence and impartiality of the network. BPs are trusted by a community that is not necessarily able to understand the technical aspects of the EOS ecosystem - but they expect a smooth, trouble-free network in which the interest of all is the highest value.
There should not be room for individual interests here.
Commitment
When we started our adventure with getting to know the blockchain technology, from the very beginning we knew that understanding its essence and the basics of individual projects would not be possible in the normal 8-hour day of work. Having the opportunity to learn about this fascinating technology, we treated it as an unprecedented opportunity already in the initial stages of its formation.
As a result, we spend not only whole days but also nights, and weekends on blockchain-related projects. Blockchain is now part of our DNA, and the momentum of development does not allow for stopping or slowing down the pace.
By sacrificing all our time to blockchain and redirecting our professional careers and goals towards this technology, we are putting everything on one card and showing our our commitment to this project. We are happy that in the EOS community we meet people like us who are working hard for the development of the project. We believe that the sleepless nights, liters of coffee and countless days spent on learning all the secrets of the project will result in the application of this breakthrough technology to life.
Community plans
Preparing for launch
Our current activities focus primarily on the technical aspects of block production. We adjust our equipment to the current requirements, we stay online for the vast majority of the day - all in order to be able to simulate work as a block producer. Thanks to our participation in testnets (JungleTestnet - Racoon, Community Superhero Testnet - Thor) we have the possibility to track what problems block producers have to deal with, especially lately with new Dawn 4.0.
After starting the main chain, however, there will be no room for errors, so we want to be ready for any case scenario.
Helping DAPPs developers
We do not know to what extent the scope of responsibilities of the block producers will be. Ensuring that the operations of the EOS blockchain are smooth and trouble-free is only the beginning. From our perspective, the key task will be to help programmers who will finally be able to take full advantage of the full potential behind EOS. It is particularly important that as soon as EOS ceases to be just a promising project, that it becomes a useful platform from which many exciting projects will emerge.
It is our help to programmers and application developers that is more important in our opinion than just spreading information about what EOS is and what it helps achieve. Most people do not have experience on the technical or IT side. However, they are ready for solutions that on the Internet are still nonexistent. Above all, these solutions are completely safe thanks to the decentralization. That is why it is so important that the end user could receive a ready application as soon as possible, which is what the EOS project is here for.
If EOS and all widely understood blockchain technology will not slow down, the IT market will soon be full of developers who will want to start working on this platform - and we want to be their first contacts.
We learned about EOS thanks to our earlier fascination with BitShares. We were amazed to see how many interesting financial instruments could be created there and what opportunities they could offer. In our opinion, however, it was missing the "final product" that would lead to a revolution.
Education
As far as our relation to everyday people, we started conducting our educational and training activities even before we learned about the latest project of Dan Larmier. We regularly translate the essence of blockchain at various levels, to people of different ages. Regardless of the level of understanding of this subject, the idea of decentralization and a new order of the internet are absolutely appealing to everyone.
We will continue these activities, regardless of the outcome of the election.
Contact:
E-mail: support@eosemerge.io
Website: https://eosemerge.io
BP Listing: https://bp.eosgo.io/listing/eos-emerge-eos-poland-2/
Steemit: https://steemit.com/@eosemerge
Telegram: https://t.me/eosemerge
Twitter: https://twitter.com/eos_emerge