swedencornet (Core Net) is a MEET.ONE Block Producer candidate from Sweden with Mainnet BP ID: "swedencore.m". It's headquarter is located in Stockholm, Sweden.
This is 1st week of swedencore.m to start producing at MEET.ONE Testnet. The MEET.ONE network will go live tomorrow at "26/02/2019 13:00 (GMT)" - https://github.com/meet-one/sidechain
swedencore.m
swedencornet (Core Net)'s MEET.ONE Production chain BP ID: swedencore.m
https://meetone-test.eosx.io/account/swedencore.m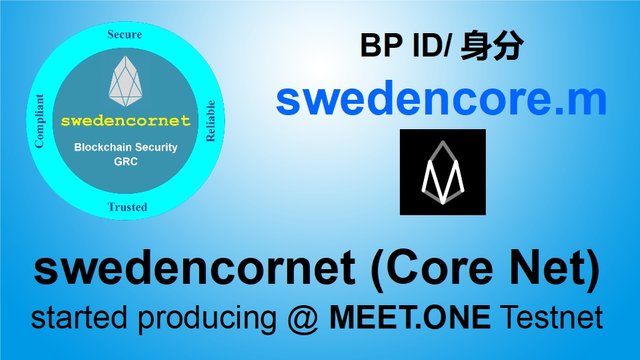 According to Aloha EOS Block Producer Benchmarking results, we are among top few leaders in CPU execution times. We have it around 1.22-1.23 ms (on average) @ MEET.ONE Testnet.
https://www.alohaeos.com/tools/benchmarks#networkId=8&timeframeId=2
Source: Aloha EOS Block Producer Benchmarks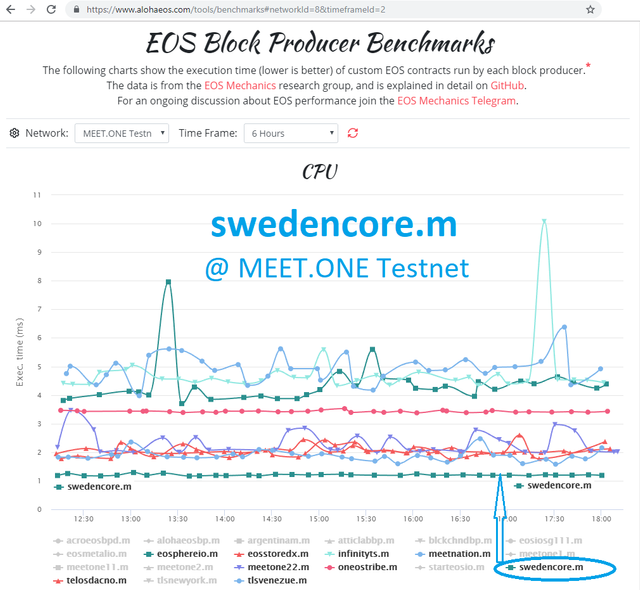 We also have slimier performance in other EOSIO Chains e.g. for Telos Mainnet. Please note that swedencornet (Core Net) manages complex Blockchain Hybrid-Cloud Infrastructure. It has competency in Information Security, Privacy, Reliable Operations, Governance, Compliance and Risks Management.
VOTE and support for swedencornet (Core Net)
VOTE and support for swedencore.m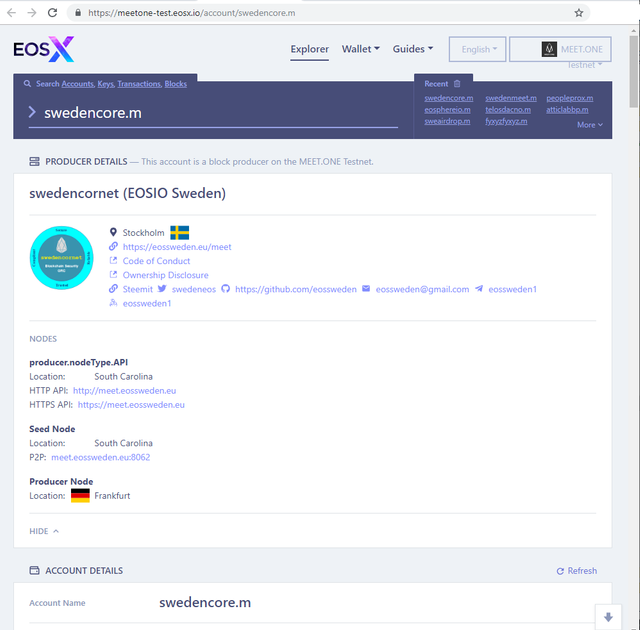 We welcome anyone who is EOSIO Blockchain Enthusiast and is willing to positively contribute for the greater good within EOSIO blockchain ecosystem(s) and supports the applicable governance models that enable the protection of the stakeholders (including, but not limited to: EOSIO individual token holders) who are part of the valid chain.
As top priority, our role is both to produce block and secure the EOSIO blockchain ecosystem. We will play an integral role for the awareness, education and future growth of EOSIO echosystem.
Bribes and Buying Votes:
We have strong policy "against" bribes and paying money to buy votes. We do "not" accept any sum of money or other inducement offered or given to bribe someone.
Giving Back:
We will give back to the community by Education, Awareness Activities and Meaningful Innovation. We will use part of surplus revenue to support and develop innovative DApps to help global and local communities. As we grow with time, depending on circumstances, we will also focus on developing innovative "surplus revenue sharing models" within the applicable legal and ethical boundaries.
Holistic Approach to Information Security and Privacy
swedencornet (Core Net) emphasis on fundamentals and sound principles of Information Security and Privacy in all aspects (ISO 27001/2, 27017, 27018, CSA CCM, OWASP, CIS L1, L2, EU GDPR, …); including, but not limited to:
People (Awareness, Culture, Ethics)
Processes (including Governance, Audit & Fraud Detection, Data Breach Notification process)
Technology (including Vulnerability Scanning, OWASP, Pen Testing, Fraud Detection, Forensics, Auditing)
Environment
Legislation (including Compliance, EU GDPR, EU-US Privacy Shield, China Cyber Security Legislation)
Geo-Politics, Organization,
….





Links/Social for MEET.ONE
Links/Social for swedencornet (Core Net)