https://steemit.com/eos/@eosgo/block-producer-candidate-report-9-may-16-2018

On May 16th (UTC Time), EOS GO published the Block Producer Candidates Report #9, showing 41 new block producer candidates, the totality of global BPCs, and test scores of all of them. Candidates who won 8 checkmarks all released this good news to show their competence.
Only 10 days left before EOS MainNet launch means that this BP competition is turn to the second half and its ending is coming. At present, the situation of this BP election is just like the sea, calm on its surface while simmering in depth.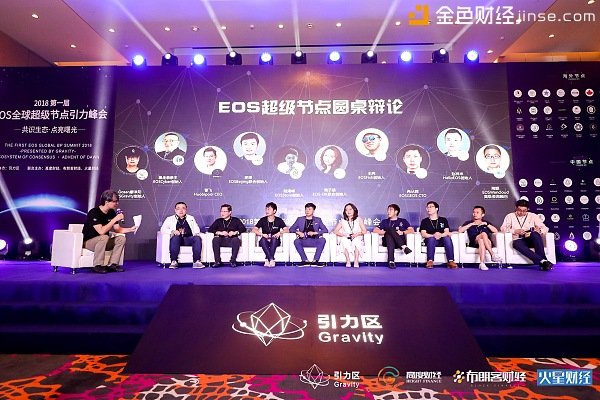 Nowadays, hotspot topics about EOS are non-stop, with EOS Block Producer Show sponsored by Huobi Pool in early days and EOS Global BP Summit on May 19th in Shanghai. The Shanghai summit got many well-known BP candidates and famous people in digital currency field together, including BPCs as EOS Gravity, EOS Cannon, and EosStore and stars like Gongming and Li Xiaolai, which made EOS become hotly discussed again.
What does 8 checkmarks mean for the election?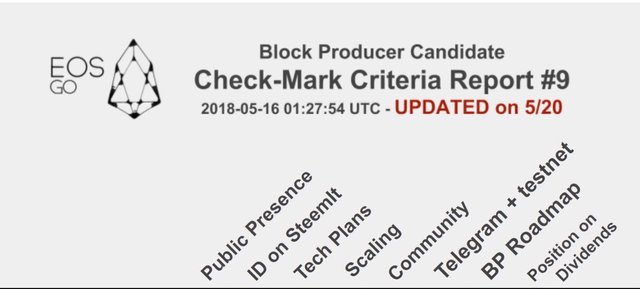 Seriously, as 8 criteria for EOS.IO to evaluate all BPCs, 8 checkmarks contain public presence, ID on Steemit, Tech plans, scaling, community, telegram+testnet, BP roadmap and position on dividend. A candidate passing all these criteria means it is quite well-prepared and accepted by EOS.IO.
Comprehensively, there are nearly 100 candidates winning 8 checkmarks, while the number of BPs is only 21. BP election will be a fierce competition among these teams on all-round strength.
What about competitions among these famous leading candidates in China?As EOS holders, how to follow up the development of  EOS? How to do with their votes? All these issues should be concerned by EOS holders, especially at the late stage of the election.
Who will win the second half competition?
EOS is a block chain operation system based on decentralized applications, the features of which determine that candidate team could select their roles from protector, developer and investor during the ecosystem construction process. A protector is set to guarantee the stable operation of the public chain; A developer plays a role in introducing development teams and incubating them; while investors mostly use their fund to support the sustainable development of the ecosystem and make it live and full of energy.
OracleChain, highlighting technology, tends to be as a protector to support EOS ecosystem in hardware, sustaining the stable operation and competence of the public chain.
Boasting about a community with over 30,000 members, HelloEOS is good at community operating and marketing. It is reported that HelloEOS, inclined to be as a developer and also a protector, has a professional team responsible for reviewing and incubating DApp development.
As a community based candidate, EOS Cannon is the same with EOS Gravity on community scale and both of them incline to become investors.
Huobi is an all-rounder who has a big plan. At block producer summit on May 19th, it declared to establish a platform gathering all BP candidates, making it easier for EOS holders to follow up dynamics of all BPCs.
EosStore is a new comer. Although it announced to focus on the practical use of commercial scale applications, its 8-digit EOS incubation fund made it more like a investor. However, accompanied with various kinds of online and offline activities, EosStore has the tendency to become an all-rounder.
Lu Haifeng, the founder of EosStore, expressed that EosStore's announcement of running for BP election at the late stage was not an abrupt decision. The team has always been preparing at previous stages, including single node test, whole testnet and operation and development of DApps on testnet. EosStore would not announce its candidacy before it accumulated its technical storage and technology strength and built its whole testnet. EosStore's operation mode based on EOS ecosystem has been clearly defined. A closed loop ecosystem with a fund, a community and a DApp store being three in one will be created.
As for why the team chose EosStore as its name, Lu Haifeng mentioned that they understand and support BM's original intention, which is focusing on the practical use of commercial scale applications and incubating, investing and serving developers in the whole ecosystem. For easier understanding, nowadays most people use products of Apple Inc. , while the first and foremost one for the whole Apple ecosystem is its APP Store. If we say "EOS ecosystem" will be same with the "Apple ecosystem", then EosStore is expected to become "APP Store" in the future.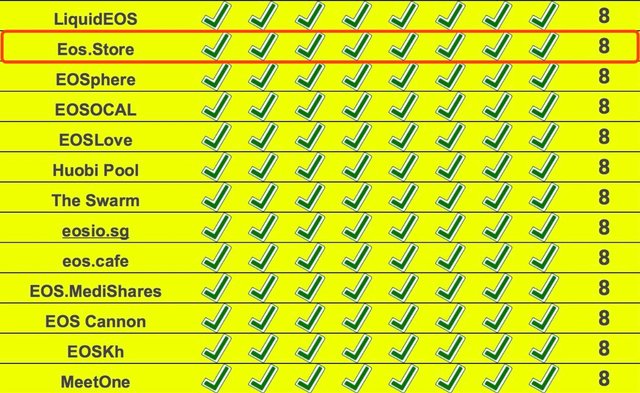 It could be noted that EosStore also got 8 checkmarks in the Report and ranked top comprehensively. BlockData published a ranking table named as" Top 10 BP Candidates in China" several days before showing that EosStore took a leading role among all other competitors.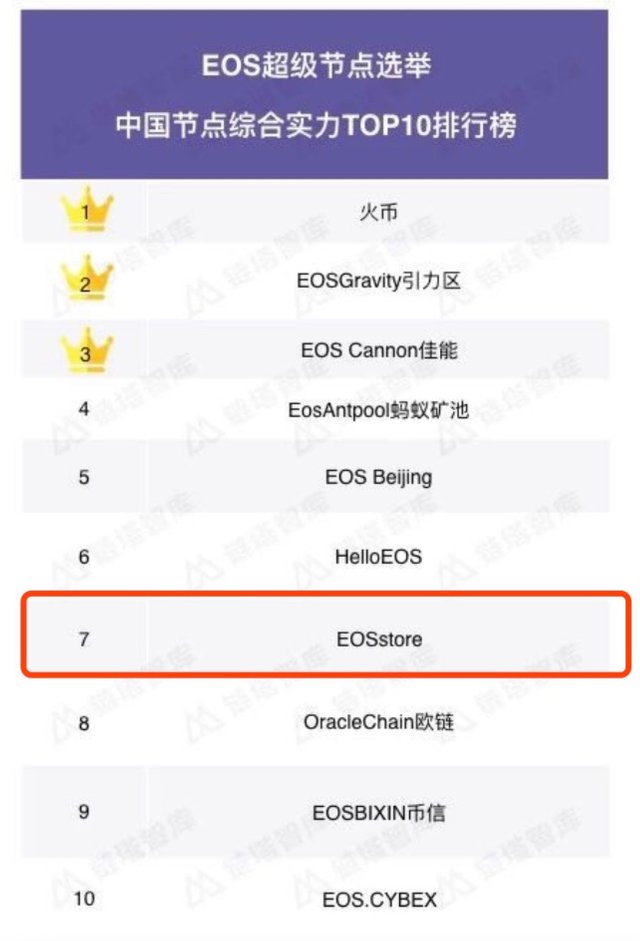 As a black horse becoming a blockbuster in the final stage, EosStore kept a high profile on announcing its candidacy and its fund initially. Later, the team showed its solid technical reserve, its belief in EOS ecosystem and efforts to preserve its development. All theses things made the author review the meaning of EOS held in hand. From the perspective of a traditional investor, EosStore could be regarded as a perfect BP for its position on the initial intention of EOS ecosystem and its plan for future development, plus the Store as its blackout, a closed loop trinity developing mode and superior technical strength and capital.
We could see this EOS BPCs competition from two aspects: on one hand, all candidates run for one of 21 BPs, which depends on candidate's comprehensive strength, influence, initial desire and ultimate goal; on the other hand, the total strength of these 21 BPs will determine the direction of ecological development of EOS.
Mostly, a person is born with a liking of profits, thus some BP candidates organized such activities as dividend and airdrops for this election. In author's view, a BP without enough strength will undoubtedly lead to the collapse of whole EOS ecosystem. If that do happen, then the EOS will be valueless.
In order to appreciate the value of your EOS, keep a somber mind, pay more attention to and vote for those candidates like EosStore who really concern about the EOS ecosystem.

Email: market@eos.store 
Website: http://www.eos.store 
Twitter: https://twitter.com/StoreEos 
Github: https://github.com/eosstore 
Eosgo: https://steemit.com/@eos.store
Telegram: https://t.me/StoreEos