The Future of Food, Event Recap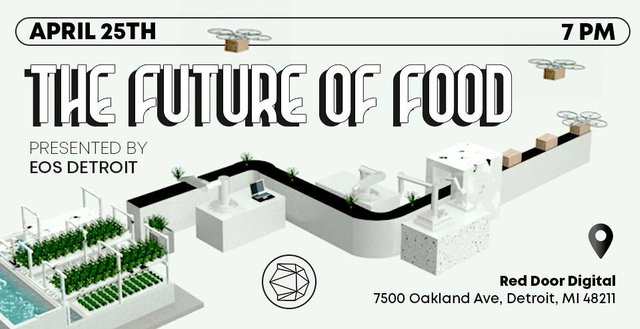 EOS Detroit hosted "The Future of Food" at Red Door Digital on Thursday April 25th featuring speakers Shane Bernando and Sean Kennedy. We had a lively turnout but there's always room for more!
Highlights of the discussions concern how blockchain can impact Food Safety, Food Waste, and Fair Pricing such as:
Contaminated food products can be identified faster and removed from shelves sooner protecting customers.
Widespread adoption of digital supply chain tools could reduce food loss and waste by up to $120 billion annually.
Brand trust can be more readily established to the advantage of consumers, grocers and all points in between.
However, suppliers can make direct mobile payment transactions to the buyers. This eliminates intermediaries and brokers.
---
A few key examples included...
InBev
InBev the ubiquitous beer and malt beverage mega global corporation: AB InBev launched a brand of beer in 2015 that uses cassava, rather than barley, as the primary crop for making the alcoholic beverage. Cassava is an important source of carbohydrates in many parts of Africa, particularly Zambia, where AB InBev's initiative began. However, despite its status as a staple, the cassava market mostly consisted of lots of small farmers eking out a living marginally above subsistence.
So when AB InBev started working with local farmers, its business processes were hindered by a lack of record keeping as well as the fact that most didn't have access to banking.
So in 2018, AB InBev started working with BanQu, a blockchain platform based in Minneapolis that works to connect underbanked people in the developing world to global supply chains. Zambian farmers have access to mobile internet via phones, making it possible to connect them digitally to AB InBev.
Zambian Breweries are able to track the cassava that comes from specific farmers throughout its supply chain, and those farmers in turn have access to near immediate digital payments upon delivery of their product."
Tony's Chocolonely
Tony's Chocolonely a dutch chocolatier: Large chocolate companies want to make as much profit as possible which often times means that farmers are left at the short end of the stick not being able to make a living income from cocoa.
Essentially farmers are not able to 'price' their beans, creating a poverty trap that in turn leads to child labor and modern slavery.
Tracing the path of cocoa beans. They needed a system change and scalable solutions. What they did was create a shared value chain platform from bean to bar called the Beantracker which digitally logs the journey from bean to bar and includes a monitoring tool for all actors in the chain to see where the beans are at any particular moment in time."
---
---
We hope to see more of you at our future events as we continue to explore paths to financial resiliency and empowered customers. Thank you for being a part of our mission.
-EOS Detroit Team
---
EOS Detroit is a community-focused company creating tools for financial inclusion by operating a suite of blockchain-enabled services and building products focused on equitable outcomes, experiential learning, and local economic resilience.
EOS Detroit builds value for the EOSIO community by hosting and live streaming informative EOS meetups. As founders of the Detroit Blockchain Center incubating blockchain projects, advising legislatures, and by supporting projects like DAPP Network and Chintai token leasing market.
Twitter | Telegram | Website | Why Vote EOS Detroit