EOS Detroit launches transparency page, will release quarterly block producer income and expense report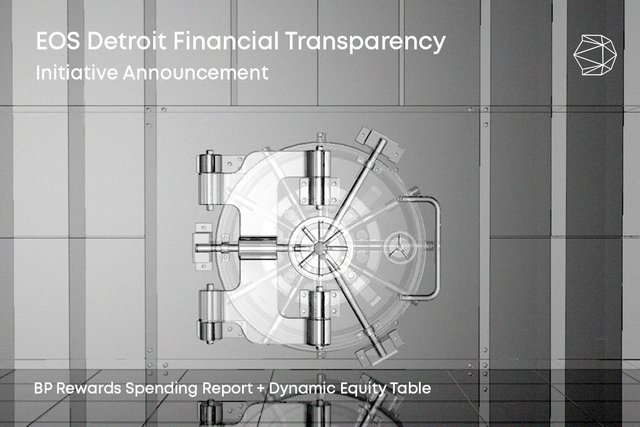 One of EOS Detroit's most cherished values is our dedication to radical transparency. It is the team's pleasure to announce two initiatives aimed at strengthening our commitment to that value.
The first initiative is a transparency page that lists any owners who hold shares in EOS Detroit, regardless of percentage. The page will also list the founder's fair market values and salary amounts that are used to calculate ownership through the company's Slicing Pie dynamic equity arrangement. The arrangement rewards team members with equity relative to the amount of effort and value brought to the company. In addition, it helps keep cash burn low, ensuring the financial security of the block producer.
---
The second initiative is the release of a quarterly financial transparency report for the income of block producer rewards on all EOSIO chains on which it produces blocks. EOS Detroit currently receives block rewards from three EOSIO blockchains; EOS, Telos (TLOS), and Worbli (WBI). EOS Detroit believes it is important to ensure community can see that funds are reinvested in developing the EOSIO ecosystem and maintaining nodes.
The first rewards transparency report will be released in Q2 2019 for the quarters of Q4 2018 and Q1 2019 on EOS Detroit's Block producer transparency page. Ownership information will also be added in Q2.
EOS Detroit is a grassroots block producer that is self-funded and composed of a cognitively diverse and experienced team dedicated to bringing blockchain adoption to the mainstream by providing education, dapps, and other services that align incentives for various market participants to create more efficient and inclusive economic systems.
EOS Detroit builds value for the EOSIO community by hosting and live streaming informative EOS meetups, founding the Detroit Blockchain Center to incubate blockchain projects and advise legislatures, and by supporting projects like DAPP Network and Chintai token leasing market.