CRYPTO CAFE at DETROIT START-UP WEEK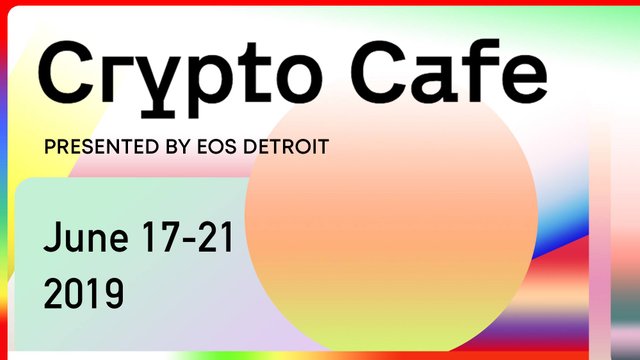 It's time for Detroit Start-up Week again! This year for Detroit Start-up Week, EOS Detroit will be hosting Crypto Café. Crypto Café is serving the best in blockchain technology and cryptocurrency with a week-long series of talks, highlights, discoveries, and discussions. The industry is fast-evolving, it's the perfect time to dig deeper into the new developments and changes that have occurred over the past year. Also, EOSIO is one-year-old so it's time to review what has transpired since the launch.
The EOS Detroit team will be leading discussions each day. Look forward to presentations by Charlie Dumont, our Chief Technical Officer, about token economics and Rob Konsdorf, the Chief Executive Officer, explaining our newest project, Meringue, dynamic equity split on the blockchain. Chief Community Officer, Ingrid LaFleur, will be the host for the week.
If you are in Detroit, come visit EOS Detroit at DSW. If not, we will be recording each session and will make it available after DSW has ended. To find out more about Detroit Start-up Week and for updates on the schedule please visit http://detroitstartupweek.com/
Crypto Café Schedule
Monday, June 17th
What is EOS? The breakdown: EOS, the first governed blockchain and the most used blockchain in the world. Learn why and the latest in EOS governance.
Durfee Innovation Society - Classroom 2
2470 Collingwood St, Detroit
6-7 pm
Tuesday, June 18th
Give me some dApp!: The world of decentralized applications: Get to know the latest and greatest in dApps, decentralized applications that run on a peer-to-peer network of computers rather than a single computer.
Durfee Innovation Society - Classroom 1
2470 Collingwood St, Detroit
6-7 pm
Wednesday, June 19th
Blockchain for the Auto Industry: The power of blockchain is driving innovation and providing solutions across the automotive ecosystem. Find out how and why.
Lear Innovation Center, 4th floor
119 State St, Detroit
3-4 pm
Thursday, June 20th
Dynamic Equity: The slicing pie model on the blockchain. The slicing pie model is considered one of the fairest ways to split equity. EOS Detroit will be presenting a project in development that splits the equity dynamically in real time on the blockchain.
Durfee Innovation Society - Classroom 1
2470 Collingwood St, Detroit
6-7 pm
Friday, June 21st
Token Economics: What makes a digital token valuable? In Token Economics, aka tokenomics, we will be discussing the design of economic systems based on blockchain technology and taking a closer look at the utility token and security token.
Lear Innovation center, 2nd floor
119 State St, Detroit
5-6 pm
--
EOS Detroit is a community-focused company creating tools for financial inclusion by operating a suite of blockchain-enabled services and building products focused on equitable outcomes, experiential learning, and local economic resilience.
EOS Detroit builds value for the EOSIO community by hosting and live streaming informative EOS meetups. As founders of the Detroit Blockchain Center incubating blockchain projects, advising legislatures, and by supporting projects like DAPP Network and Chintai token leasing market.