EOS SOCAL: Statement of Values, Code of Conduct, Community Benefit Timeline & More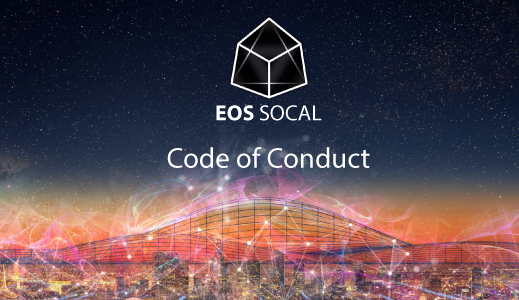 Statement of Values and Code of Conduct
EOS SOCAL is a group established in Southern California whose mission is to support the launch and long term success of EOSIO. We are running as block producers to carry out the fiduciary responsibility of reliable, independent and honest block production, while using block rewards to expand our ability to support the EOSIO ecosystem beyond basic responsibilities.
We hold ourselves accountable to EOSIO token holders as well as to the community in carrying out this responsibility and recognize that as block producers we are required to hold the highest standards of honesty, transparency, accountability, integrity and professionalism, while maintaining full adherence to the EOSIO constitution. We further pledge to avoid misconduct, collusion or any inappropriate action, by any member of our organization, compromising our ability to provide honest and reliable block production.
We shall make our best efforts towards maintaining understanding of our responsibilities as block producers and execute them to the best of our ability by devoting the necessary time and attention to fulfill them.
Community Benefit Projects
In line with our mission, we currently engage in and support a variety of educational and community benefit programs such as workshops, meetups, development of community tools and decentralized applications. We currently are funding these benefits out-of-pocket; however if elected block producers, we will be able to expand on our budget and efforts. We pledge to commit a percentage of our block rewards to expanding these initiatives, to be determined based on our position within the elected block producers and number of votes received; which determines the amount of producer rewards.
Since we are a relatively small, efficient team with low overhead and do not have any investors to funnel rewards to, we can maximize our ability to re-contribute to the community.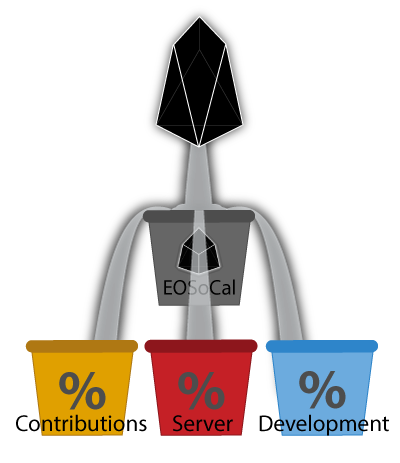 Timeline of Current Benefit Projects
| Community Benefit Project | Objective | Complete By |
| --- | --- | --- |
| dApp Announcement | Announce project details and provide development roadmap. | May 14, 2018 |
| Educational Workshops & Meetups | Schedule EOS user/developer workshops & meetups and scale frequency. | Next scheduled 05/17/18. Tentative second one in May. Scale frequency starting June 2018. |
| Transparency & Accountability Dashboard | Complete and release minimal viable product. | June 1st, 2018 |
| Announce % Committed to Community Benefits | Determine commitment amount based on election results and publish. | June 5th, 2018 |
| dApp Incubation | Begin accepting dapp project submissions for funding and select based on community benefit value. | Accept submissions as of June 15th, 2018. Announce first third party incubation by July 1st 2018 |
| Online Content | Create robust online educational content. | July 1st, 2018 |
| EOS Drops | Redevelop EOSdrops.io as open source EOS smart contract based directory of drops. | End of July 2018 |
| Release Longer Term Timeline of Community Projects | Update timeline and continually add projets. | Continuously updated. |
Independently Operated and Financed
We pride ourselves on being a highly-independent organization not relying on funding by investors and not dependent on block producer rewards for funding.
We may be one of the few groups that plan to continue to operate in support of of EOSIO, regardless of election outcome.
As independent block producers, we aim to maximize the level of decentralization of influence and block production to the network. We are entirely self-funded by our founder, Cesar Diaz, who has accumulated sufficient capital as an entrepreneur to properly fund our operations without dependency of block rewards or investors.
Transparency and Accountability
We promise to maintain full transparency by granting public access to true and accurate information regarding the operations, activities and finances of EOS SOCAL.
In this spirit, we are developing the "Transparency and Accountability Dashboard", allowing us to offer full transparency and accountability to token holders as it relates to our use and allocation of block production token rewards. Further, we hope to inspire similar standards among other block producers by making this this tool available open source.
So far, we are pleased at the level of commitment from various block producers who have offered to adopt this tool once complete and help spread this initiative across other block producers.
EXAMPLE CHARTS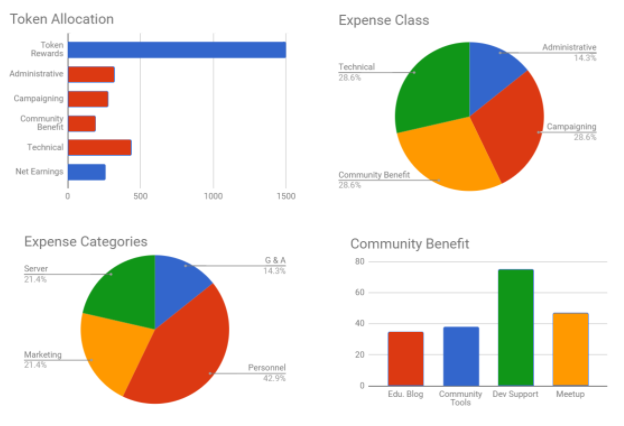 More details on this initiative available here: https://steemit.com/eosio/@eos-socal/introducing-the-block-producer-transparency-and-accountability-dashboard-eos-socal
Position on Dividends "Vote Buying"
We understand that vote buying has been confirmed to be in violation of the constitution of the EOSIO public chain, and we agree that vote buying is harmful to the network, whether for block producer elections or worker proposals.
We are fully against sharing of block production rewards in exchange for votes ("vote buying") and agree to not take part in such practices.
We further discourage this practice among all other block producers in the EOSIO public network and shall make any findings of such practices publicly known.
This document shall serve as our written policy of "no-payment for votes". We will soon be publishing a more formal document on our website outlining our values and serving as our Code of Conduct.
Visit https://eosocal.io to learn more about us.