EDNA Announces Token Staking - Price Leaps Overnight
EDNA: Price Jump. Still Heavily Undervalued.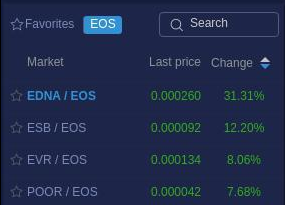 Last night EDNA announced Tokens Staking. This is simply an EOS Smart Contract, where you can send your EDNA's and they will generate passive income for you. EDNA is offering this program for a limited time while we get the software ready to operate the EDNA DAC, and provide even greater value for your EDNA Tokens.
100 million non-inflationary EDNA's are dedicated to the staking program, and the greater the participation in the program, the faster the reward tokens will be distributed. This increases your return on investment, so tell your friends to stake their EDNA's along with yours. You both win!
As Always... Thank you for Supporting EDNA,
Greg