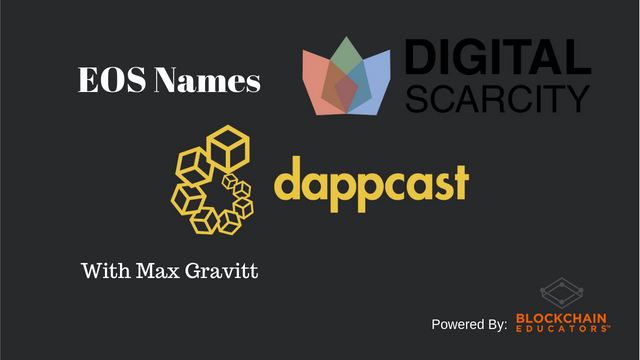 EOSNames.net is the first EOS account marketplace run entirely with smart contract code. We are joined today by the co-founder of the exchange, Max Gravitt. Max is the leading developer for EOS staking algorithms. He helped create EDNA and Eva's staking algorithms and is currently working on the GG Rocket project which is a gaming items marketplace.
Max will take us through the EOS Names' process on how to list an account and what goes on behind the scene. Max and I are now working together to help companies create great dapps with DigitalScarcity.io. I am working on marketing, proposals, and content creation; Max is writing amazing smart contract code. We have other team members on our team and you can find everyone's profile on Digital Scarcity's website.
Max's Links:
Jake, "The Dapp Coach," Bryan's Links:
---
Sponsors:
Blockchain Educators: https://courses.blockchaineducators.org/?ref=87a827 - World leading education with up to date information on the Blockchain and Cryptocurrency space.
Scaling Blockchain: The next EOS based conference is coming to San Francisco! The day after the EOS Hackathon the conference will be a great meeting of the minds with future dapp developers, investors, token holders, and the community at large. Use my code 'dappcast' and get a 10% off of the event. https://scalingblockchain.eventbrite.com?discount=dappcast
---
I am the Dapp Coach and I am looking for clients. I help increase clarity, gain focus, refine your vision, and accelerate your time to market. Providing an outside viewpoint on your business helps avoid group think and accelerates growth and a better product. Your dapp will achieve your starting goals with me as your coach or your money back.