This Week at Cypherglass - May 21, 2019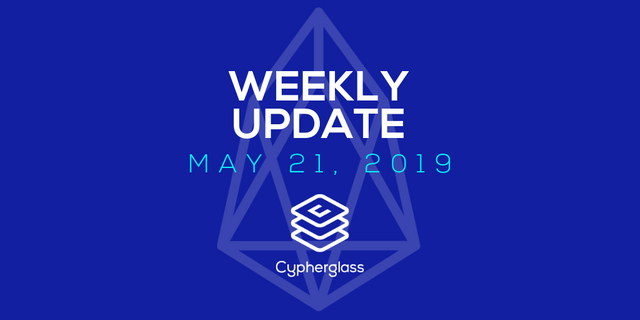 This Week at Cypherglass
Infrastructure Team Update - May 21, 2019
Short update this week. We have moved around between number 27 and 31 in the block producer rankings. There are some newly minted BPs that have vaulted up above us, as well as the good folks at EOS Nation, EOS Canada, EOS Rio Brazil, EOS Argentina, and some other great BPs. We are currently sitting at number 29, and as always we keep working hard to get back into the top 21. Dan Larimer recently had some posts in Telegram on the subject of protecting EOS against collusion. The posts can be found here Dan's solution is interesting, so please let us know how you feel about it.
How about some infra update info...
Our production Windshield server was almost out of space, so we grew the disk to keep it chugging along. In the meantime, we dealt with a problem caused by some updates that kept Windshield from restarting.
Added OS security patches to multiple servers.
There was a typo in the original Lost Key system proposal so we voted for the corrected one here
We reconfigured the way we are doing DDoS protection.
Did some more investigation and planning on some architecture changes we are planning.
The EOS price, along with the greater crypto market, made an impressive upswing this week. Many people are declaring the crypto winter over, let's hope they are right.
Have a wonderful week and as always… Go EOS!!!
-- The Cypherglass Infrastructure Team
Join us in discussions on our Telegram channel here
Tweet us @CypherglassBP Or check out our website at http://www.cypherglass.com