Cypherglass Needs Your Vote On OKex Voting Pursuit!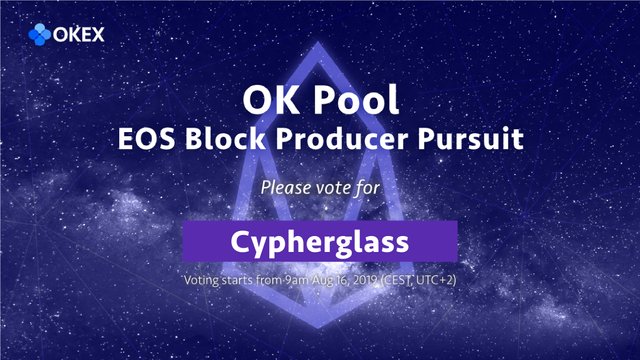 We have officially been added to the voting pursuit on OKex and we need your support to help us gain over 100M votes! We are excited to inform you that the voting session has already started. The voting period is from 9:00 August 16 to 9:00 August 20, 2019 (CEST, UTC+2).
We would like to invite you to click here and vote: https://www.okex.com/pages/pro/eos-race.
Users who have logged in to their OKEx accounts with total account balance >0 can vote every 12 hours.
We have been busy at Cypherglass and to catch you up on all of our initiatives please read our 1st Year Update here: https://medium.com/@cypherglass/1-year-of-cypherglass-in-the-books-b7846c6438f2
Thank you for continuing to support independent and geographically diverse Block Producers on EOS!
Join us in discussions on our Telegram channel here… https://t.me/cypherglass
Twitter… @CypherglassBP
Or check out our website at… http://www.cypherglass.com